Freeze Dried Foods Market Size Overview
The global freeze dried foods market size accounted for USD 67,406 Million in 2020 and is expected to reach USD 129,435 Million by 2028, growing at a CAGR of 8.5% from 2021 to 2028.
Global freeze-dried food market is projected to grow at a healthy CAGR. The demand for these food products is projected to keep on increasing across the globe on account of shifting consumer preferences, increasing disposable income, increasing number of stores and supermarkets keeping freeze-dried food products, rising demand for ready-to-cook frozen meal, among others. Today, all kinds of freeze-dried food products are available in the market including vegetables, fruits, meat and seafood, and poultry.
As per our findings, Europe is projected to lead the global market, which is followed by North America and Asia Pacific. Wherein, Asia Pacific is projected to emerge as the fastest-growing market for freeze-dried food products. Most of the manufacturers are looking at this region as a lucrative market on account of rising employment, increasing urbanization, changing market dynamics, a growing number of supermarkets, and increasing disposable income. India and China are the key markets, which is followed by Japan.
Request Free Sample
COVID-19 Impact Analysis
COVID-19 pandemic has affected almost all sectors across the globe. However, the freeze-dried food market has remained unaffected during this period. On top of that, several leading market players in the region reported improvement in revenue as people found to be stockpiling their favorite freeze-dried food items, especially vegetables, fruits, and meat and seafood. Since they are staying in home for longer time and spending less time outside, they have started consuming more comfort food. For instance, it has been found that 51% of people In Spain prefer meat and fish as their comfort food and the remaining 49% are considering it as their favorite food.
However, the market witnessed a little impact on the retail sale as numerous retail outlets had to shut down their shops. Moreover, consumers could not move freely, which further impacted total sale through this segment. On the other hand, the shut down or limited operation of retail shops has benefited supermarkets and e-commerce sites. In fact, consumers found ordering more than need quantity through online channel. It has also become difficult for many companies to keep up with the increased consumer demand. Freeze-dried is one of the grocery store aisles where there has been a lot of out of out-of-stock products. It is also found that several brands are struggling to keep up with the increased demand. There's also logistics in manufacturing, so a lot of companies are trying to handle extra stress, and workloads on their teams from a logistics standpoint, like even the amount of truck drivers available.
The market may witness a considerable decline in overall consumption after the lockdown restrictions are removed and the pandemic is over. This is because people that have consumed freeze-dried food during the initial period are likely to part their ways from consuming as they are more likely to prefer other fresh and regular alternatives in order to maintain health.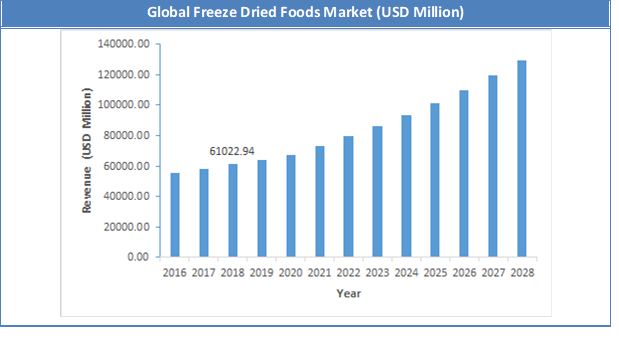 Request Free Sample
Growth Factors
Growing middle-class population, along with rising health-conscious consumers, has been boosting the growth of the market. Shifting consumer preference for healthy and nutritious foods owing to rise in obesity and growing aging population are driving the market for dried fruit. Furthermore, increased acceptance for nutritious packaged food and wide application of dried fruit in the dairy, bakery, snack, and confectionery industries have fueled the demand for dried fruit over the years. Demand for dried fruit has been influenced by research studies highlighting the role of the product in weight management and disease prevention. Numerous scientific studies have stated that certain types of dehydrated fruits and vegetables can help in lowering the risk of progression of specific cancers. For instance, in August 2019, Dried Fruit Intake and Cancer, a research study, suggested that the consumption of dried fruit may reduce the risk of developing certain types of cancers, including cancers of the prostate, pancreas, stomach, colon, and bladder. As a result, consumers have been including dried fruit in their diets.
Many consumers are increasingly looking for a convenient frozen dessert-based snack, which delivers health benefits, tastes good, and offers a healthy snacking experience. The dairy industry in this sector is able to offer products with minimal processing, and low sugar content (particularly beneficial for diabetic patients) for easy eating experiences that go beyond the traditional three-square meal experience (good and filling meal). Frozen desserts provide food rich in nutrients, like vitamin D, calcium; potassium, magnesium, and vitamin A. Snacks also add more calories, protein, and a number of vitamins and minerals. They can, therefore, provide positive nutrition and help reduce nutrition deficiency. The nutrients in dairy-based frozen products include calcium, vitamin D, phosphorus, potassium, and vitamin A. Further, calcium, phosphorus, and protein contained in ice creams, yogurts, etc. drive up the demand for these products among consumers.
Report Scope:
Product Segment Analysis Preview
The freeze-dried vegetables segment held a share of around 40.39% in 2020. It has been found that most of consumers across the globe majorly buying vegetables such as potato, peas, corn, mushroom and leafy vegetables such as spinach. Wherein, corn is expected to register the fastest growth. It has been found the demand for frozen vegetables is primarily driven commercial establishments such as restaurants, hotels, food courts, among others. They are buying such vegetables in bulk for convenience. The global market is witnessing surging demand for mix-vegetables along with corns.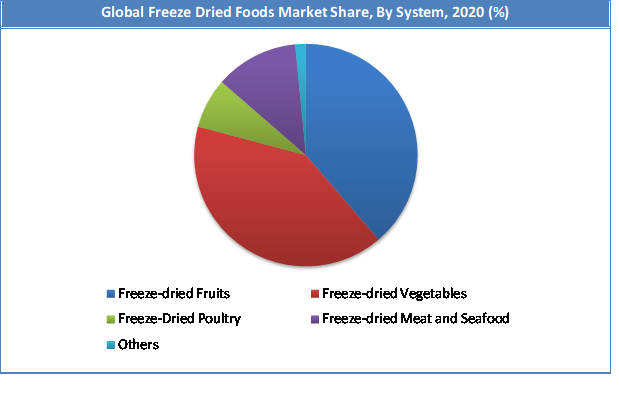 Request Free Sample
Distribution Channel Segment Analysis Preview
Hypermarkets/Supermarkets segment will grow at a substantial CAGR and hold a share of 48.83% in the year 2020. It has been found that consumers based in European and North American countries are predominantly buying the products from this channel. This is further supported by countries based in the Asia Pacific such as Japan, Malaysia, Singapore, India, and China, among others. In the last few years, consumers based in the Asia Pacific and Latin America has more preferably started purchasing such products from supermarkets. This is majorly attributed to the growing number of supermarkets/hypermarkets, easy availability of various brands, heavy discounts, and availability of different flavors.
Regional Analysis Preview
The European region held a share of 32.55% in 2020. The region has several developed economies such as the U.K, Germany, France, Italy, Spain, Russia, Sweden, among others. As per our analysis, Germany is leading the regional market, which is followed by the U.K and France. In Europe, people prefer buying fish, pizza, and meat. In 2016, over 3.5 million tons of freeze-dried food products were sold in Germany alone. On average, each household consumed 109 kg of freeze-dried food in 2020, which was 90 kg in 2016. However, per capita spending on freeze-dried product is considerably high in the U.K. With each passing year, more consumers are turning to freeze dried food. For instance, European purchased 5.8 million tons of freeze-dried fruits and vegetables in 2015. In 2018, over 2.7 billion units of freeze-dried frozen food items were sold in the U.K through supermarket. Wherein, most of the food items were vegetables. Freeze dried meat is less popular in the U.K compared to other countries in the region. The increase in the demand for freeze dried products is primarily attributed to changing lifestyle, growing preferences to eat at home, hectic work schedule, increasing disposable income, and easy availability of these food items with long shelf life if stored properly..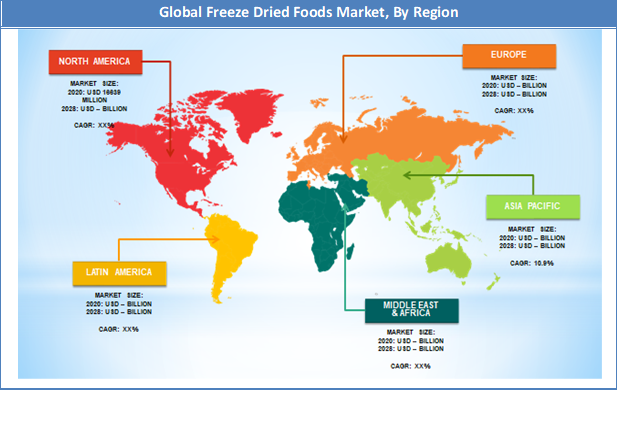 Request Free Sample
The region is holding world's more than 64% of the population. Wherein, 35% of the population is residing in India and China alone. However, the consumption of freeze-dried food products is relatively low in these countries. There are multiple factors that are responsible for the lower consumption of such products such as socio-economic factors, cultural differences, high preferences for fresh fruits, vegetables, fish, and meat, lower number of supermarkets, and limited availability of varieties, among others.
The scenario has started changing in recent years as more consumers have started buying freeze-dried products. To our finding, China is holding a dominant position in the regional market, which is followed by India and Japan. The region is expected to witness the fastest growth in the coming years on account of an increasing number of shops selling freeze-dried products, and a rising number of supermarkets and product manufacturers. The growth is further supported by the rising adoption of the western lifestyle, increasing disposable income, and growing urbanization in China and India.
Key Market Players & Competitive Landscape
Some of the key players in freeze dried foods market are
H. J. Heinz Company,
Pinnacle Foods Corp (Conagra Brands),
General Mills,
AXUS International,
Cargill,
Dawn Foods,
SunOpta,
Meel Corp, and Titan Frozen Fruit,
among others.
Freeze Dried Foods Market: Report Scope
Report Attributes
Report Details
Report Name
Freeze Dried Foods Market Report
Market Size in 2020
USD 67.41 Billion
Market Forecast in 2028
USD 129.4 Billion
Growth Rate
CAGR of 8.5%
Number of Pages
177
Key Companies Covered
H. J. Heinz Company, Pinnacle Foods Corp (Conagra Brands), General Mills, AXUS International, Cargill, Dawn Foods, SunOpta, Inc., Meel Corp, and Titan Frozen Fruit, among others.
Segments Covered
By Product Type, By Distribution Channel, By Application, and By Region
Regions Covered
North America, Europe, Asia Pacific (APAC), Latin America, Middle East, and Africa (MEA)
Base Year
2020
Historical Year
2017 to 2020
Forecast Year
2021 - 2028
Customization Scope
Avail customized purchase options to meet your exact research needs. Request For Customization
The global freeze dried foods market is segmented as follows:
By Product Type
Freeze-dried Fruits

Melons
Citrus
Berries
Mango
Kiwi
Others

Freeze-dried Vegetables

Peas
Mushrooms
Carrots
Beans
Corn
Others

Freeze-Dried Poultry
Freeze-dried Meat and Seafood
Others
By Distribution Channel
Pharmaceutical
Transportation & Logistics
Retail
Others
By Region
North America
Europe

France
The UK
Spain
Germany
Italy
Rest of Europe

Asia Pacific

China
Japan
India
South Korea
Southeast Asia
Rest of Asia Pacific

Latin America

Brazil
Mexico
Rest of Latin America

Middle East & Africa

GCC
South Africa
Rest of Middle East & Africa