The report encloses a forecast and current estimate for food botanicals market on a global and regional force. The study provides historical data for 2016, 2017, and 2018 and the forecast from 2019 to 2025 based on revenue (USD Billion). The study also provides the impact and the descriptive analysis of major drivers, restraints, and opportunities of the global food botanicals market.
The study also offers the market attractiveness and the Porter's Five Forces model analysis to gauge the competitive landscape of major vendors of the global food botanicals market. This comprehensive study also provides a detailed analysis and overview of each segment included in the study.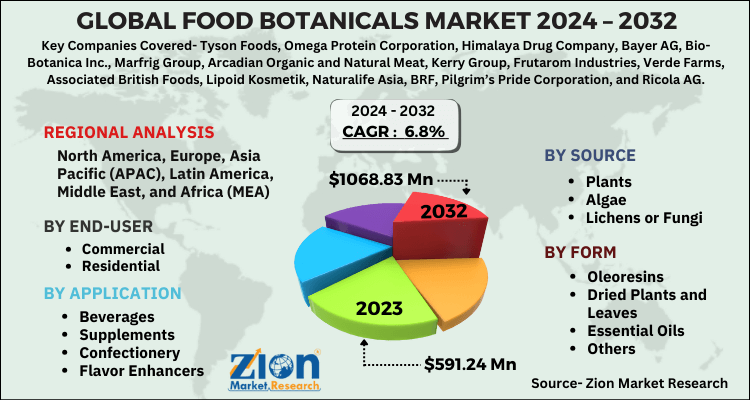 Request Free Sample
The report concludes the major source, form, application, end-user, and region. All the segments have been analyzed based on present and future trends and the market is estimated from 2019 to 2025. The regional segmentation includes the historical and forecast demand for North America, Europe, Asia Pacific, Latin America, and the Middle East and Africa.
Some key players of the global food botanicals market include Tyson Foods, Omega Protein Corporation, Himalaya Drug Company, Bayer AG, Bio-Botanica Inc., Marfrig Group, Arcadian Organic and Natural Meat, Kerry Group, Frutarom Industries, Verde Farms, Associated British Foods, Lipoid Kosmetik, Naturalife Asia, BRF, Pilgrim's Pride Corporation, and Ricola AG, among others.
This report segments the global food botanicals market into:
Global Food Botanicals Market: Source Analysis
Plants
Algae
Lichens or Fungi
Global Food Botanicals Market: Form Analysis
Oleoresins
Dried Plants and Leaves
Essential Oils
Others
Global Food Botanicals Market: Application Analysis
Beverages
Supplements
Confectionery
Flavor Enhancers
Others
Global Food Botanicals Market: End-User Analysis
Global Food Botanicals Market: Regional Analysis
North America
Europe
Asia Pacific
Latin America
Middle East and Africa