Analysis
Botanicals are dried or fresh plants, plant parts, or plants, which are isolated or combined chemical components, extracted in ethanol, water, other organic solvents, essential oils, oleoresins, and other extracts to be used for fragrance, flavoring, functional health benefits, medicine, etc. Food products made with plants are gaining popularity across the world. Herbs and spices are mostly used in the preparation of food, beverages, and drugs.
The increasing prevalence of chronic diseases is the foremost factor expected to drive the food botanicals market globally in the future. Furthermore, technological developments witnessed in the food and beverage industry will increase the use of several botanical ingredients along with the discovery of new ingredients in the future. Botanicals and derivatives made out of fungi or lichens, plants and algae have become extensively available in the European market in the form of food supplements, which have various health benefits. These natural foods are bought over the counter in supermarkets, pharmacies, specialist shops and via online channels. The demand for food botanicals has been increasing due to advanced manufacturing techniques used for making various food products. Plant-based ingredients are widely used across the food industry as edible plant products have high nutritional value. These aforementioned factors are expected to drive the global food botanicals market over the forecast time period.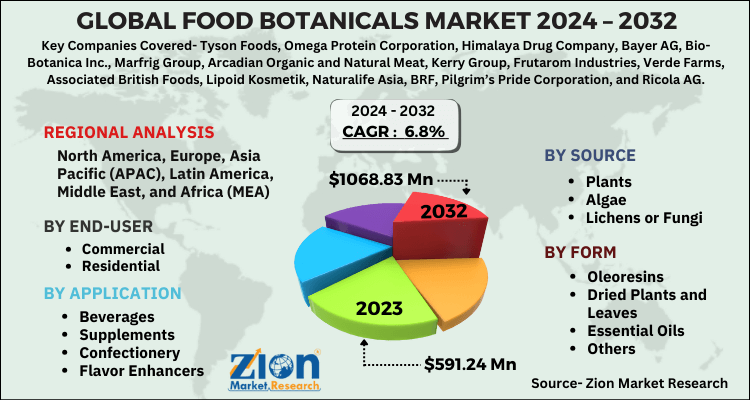 The global food botanicals market is segmented based on source, form, application, and end-user. By source, the food botanicals market includes plants, algae, and lichens or fungi. Based on form, the market is segmented into oleoresins, dried plants and leaves, essential oils, and others. Based on application, the market is fragmented into beverages, supplements, confectionery, flavor enhancers, and others. The end-user segment of this market includes commercial and residential.
By region, the Asia Pacific region is expected to dominate the global food botanicals market over the forecast time period. This can be attributed to the increasing demand for natural food and dietary supplements and the traditional practices in various Asian countries to use botanicals items, such as turmeric, basil, ginger, etc. North America and Europe are likely to hold substantial revenue shares of this global market in the years ahead, owing to the increasing research and development activities and easy availability of botanicals as dietary supplements in the U.S. and Germany.
Some key players of the global food botanicals market include Tyson Foods, Omega Protein Corporation, Himalaya Drug Company, Bayer AG, Bio-Botanica Inc., Marfrig Group, Arcadian Organic and Natural Meat, Kerry Group, Frutarom Industries, Verde Farms, Associated British Foods, Lipoid Kosmetik, Naturalife Asia, BRF, Pilgrim's Pride Corporation, and Ricola AG, among others.