The Global Folate Market Size is set for rapid growth over the forecast period. In terms of revenue, the global Folate market accounted for USD 726.70 Million in 2019 and is expected to reach USD 1,036.23 Million by 2026, growing at a CAGR of 5.20%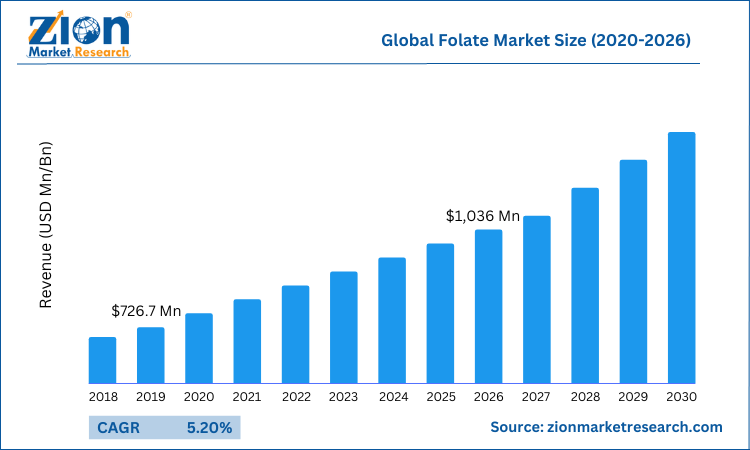 Request Free Sample
Global Folate Market: Overview
Folate or folic acid is a vitamin B-9, which is important for the formation of red blood cells and for healthy cell growth and function. Nutrients are important for reducing the risk of birth defects in the brain and spine during early pregnancy.
Folate is primarily found in dark green leafy vegetables, peas, nuts, and beans. Fruits high in folate are lemons, oranges, melons, strawberries, and bananas. Folic acid is the synthetic form of folate. It is an important element of prenatal vitamins and is present in many fortified foods such as pasta and cereals.
Folate deficiency can result from a diet lacking foods rich in folate or folic acid. It can also affect people with conditions such as celiac disease, as it prevents the small intestine from consuming nutrients from food. This condition is known as malabsorption syndrome.
Global Folate Market: Growth Factors
The key factors driving the growth of the folic acid market are the growing demand for dietary supplements and the increasing use of folic acid in a wide variety of applications, ranging from food & beverages to pharmaceuticals. The increasing customer perception of safe food consumption and growth in disposable income and urbanization have also contributed to the growth of the market.
Research has shown that neural tube birth defects can be avoided with folic acid supplements. Regularly taking prenatal vitamins, specifically three months before conception may help expectant mothers to get enough of this important nutrient. Folic acid supplements can also assist individuals with inadequate diets or conditions that interfere with the ability of the body to absorb folate. All these factors are projected to drive the demand for the folic acid market.
Global Folate Market Report Scope:
Report Attributes
Report Details
Report Name
Folate Market Research Report
Market Size in 2019
USD 726.70 Million
Market Forecast in 2026
USD 1,036.23 Million
Compound Annual Growth Rate
CAGR of 5.20%
Number of Pages
110
Forecast Units
Value (USD Billion), and Volume (Units)
Key Companies Covered
BASF SE, DSM N.V., Emcure Pharmaceuticals Ltd., Jiangxi Tianxin Pharmaceutical Co. Ltd., Medicamen Biotech Ltd., and Zydus Pharmaceuticals Ltd. among others.
Segments Covered
By Type, By Source, By Application And By Region
Regions Covered
North America, Europe, Asia Pacific (APAC), Latin America, Middle East and Africa (MEA)
Countries Covered
North America: U.S and Canada
Europe: Germany, Italy, Russia, U.K, Spain, France, Rest of Europe
APAC: China, Australia, Japan, India, South Korea, South East Asia, Rest of Asia Pacific
Latin America: Brazil, Argentina, Chile
The Middle East And Africa: South Africa, GCC, Rest of MEA
Base Year
2021
Historical Year
2016 to 2020
Forecast Year
2022 - 2030
Customization Scope
Avail customized purchase options to meet your exact research needs. Request For Customization
Global Folate Market: Segmentation
The application segment is divided into food beverages, pharmaceuticals, nutraceuticals, and others.
In the pharmaceutical industry, folic acid is commonly used in nutritional therapy for the treatment of nervous system and urinary disorders, and cardiovascular diseases. Research has also proven its benefits for birth defects, depression, dementia, and even to even reduce the risk of cancers.
In the nutraceuticals industry, this product is used in the manufacture of supplemental vitamin tablets, powders, and cosmetics. It is commonly used as a skincare product for expectant mothers in the cosmetics industry.
Folate is available as an oral preparation, either in conjunction with other vitamins and minerals or as an aqueous solution for infusion purposes. It is widely used in a number of food items such as cereal, flour, soft drinks, salt, beverages and baby food. Increased consumer demand from end-users is anticipated to accelerate the supply and demand of vitamin B9 during the forecast period.
Global Folate Market: Regional Analysis
By Geography, the folate market is segmented into North America, Europe, Latin America, Asia Pacific, and the Middle East and Africa.
Asia Pacific is expected to see rapid growth during the forecast era, mainly due to growing demand for nutritious food products and increasing awareness of healthy foods, especially in China and India. The region's biggest cash cow is the therapeutic and medical industries. Huge investments in product development and research and development facilities are frequently seen in the region. An increased production base in the sector, coupled with the introduction of advanced technologies and expertise, is predicted to affect regional growth in the next nine years.
The development of folic acid materials has been impressive in Europe. Such demand was due to the presence of strict control on the intake of additional nutraceuticals including the proper diet. In addition, it is predicted that the European Union's favorable regulations and reforms will boost regional development over the forecast period.
Global Folate Market: Competitive Players
The major players in the global folate market include
BASF SE
DSM N.V.
Emcure Pharmaceuticals Ltd.
Jiangxi Tianxin Pharmaceutical Co. Ltd.
Medicamen Biotech Ltd.
Zydus Pharmaceuticals Ltd.
The report segment of the global folate market are as follows:
Global Folate Market: Type Segment Analysis
Tablets
Soft Gels
Lozenges
Others
Global Folate Market: Source Segment Analysis
Global Folate Market: Application Segment Analysis
Food & Beverages
Pharmaceutical
Nutraceuticals
Others
Global Folate Market: Regional Segment Analysis
North America
Europe

France
The UK
Spain
Germany
Italy
Rest of Europe

Asia Pacific

China
Japan
India
South Korea
Southeast Asia
Rest of Asia Pacific

Latin America

Brazil
Mexico
Rest of Latin America

Middle East & Africa

GCC
South Africa
Rest of Middle East & Africa