Market Overview
The Global Feminine Hygiene Products Market accounted for USD 20000 Million in 2020 and is expected to reach USD 30717 Million by 2028, growing at a CAGR of 5.6% from 2021 to 2028.
Personal care items for women that are used during vaginal discharge, menstruation, and other bodily functions involving the vagina and vulva are termed as feminine hygiene products. Tampons, sanitary napkins, menstrual cups, panty liners and period panties are some of the products that may be used. Feminine wipes, soap and douches are examples of feminine hygiene items that are used to clean the vagina or vulva.
Increased awareness of menstruation health and hygiene among women worldwide, due to television, social media and government programs, rising female population and female literacy, rising disposable income, and government policies, rapid urbanization and women empowerment is boosting the market for feminine hygiene products. Key market players are looking at sustainable solutions for developing feminine products using natural fibers or eco-friendly products.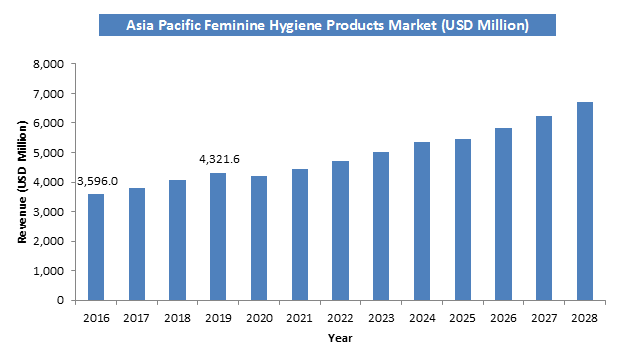 Request Free Sample
COVID-19 Impact Analysis
Access to feminine hygiene products has been significantly hampered by the COVID-19 epidemic. Due to societal distancing conventions and lockdown, manufactures of feminine hygiene products had to halt operations. The availability of these items, particularly disposable and reusable sanitary pads, has decreased in rural areas as production has been restricted. Due to the absence of public transportation and mobility limitations imposed by the lockdown, consumers who could previously obtain items at local markets were unable to do so.
Consumers with lesser incomes have been affected by stockpiling, which has resulted in a price increase during the lockout. Due of the COVID-19 epidemic, women who rely on free feminine hygiene products from schools, social assistance centers, government health clinics, and medical institutions suffered shortages.
Growth Factors
Raising literacy among young girls in developing and underdeveloped nations has had a favorable influence on feminine health management. Female literacy is predicted to have a favorable influence on overall feminine health management and, as a result, is directly connected to the use of feminine hygiene products.
Furthermore, UNICEF considers menstruation health and hygiene to be a fundamental right of women and girls, and has designated it as a priority goal in its Sustainable Development Goals (SDGs) for 2030, boosting future demand for feminine hygiene products.
Furthermore, due to the increasing penetration of social media and the various initiatives taken by the NGOs and government to increase awareness about the benefits of using menstrual hygiene products, countries around the world are witnessing an increase in the number of educational sessions and promotions.
Report Scope: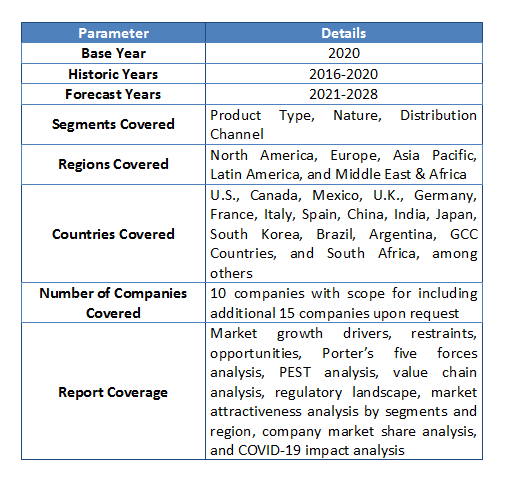 Request Free Sample
Product Type Segment Analysis Preview
The Sanitary Napkin segment held a share of around 35% in 2020. This is due to greater knowledge in comparison to other feminine hygiene products, as well as their accessibility. The ease of use is also one of factors in the grater usage of sanitary napkins as a sanitary napkin is a product that is externally worn, unlike menstrual cups and tampons, which are worn by inserting them in the vagina.
The Asia-Pacific industry continues to favor sanitary pads, while the American market is progressively turning to menstrual cups and tampons. Various types of sanitary napkins/pads, such as those with wings, thin pads, excellent absorbents, scented pads, cotton-filled pads, and so on, may be found in supermarkets and even convenience stores, increasing the segments global market share.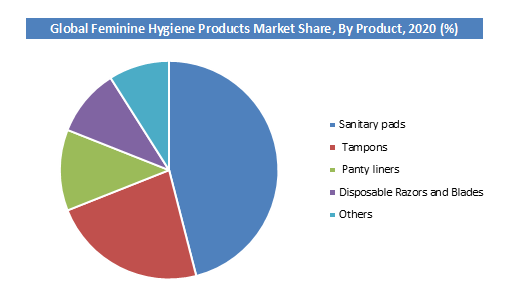 Request Free Sample
Nature Segment Analysis Preview
Disposable segment held a share of over 70% in 2020. This is attributable to the easy accessibility and use of the products in this segment. Disposable feminine hygiene items such as sanitary napkins, panty liners and, tampons are included in this category. Sanitary napkins, Internal tampons, or towels are used during menstruation, and panty shields to protect the undergarments from mild menstrual flow, spotting, or vaginal discharge while maintaining hygiene are among the products available. This market is being driven by the growing awareness and usage of disposable feminine hygiene products such as sanitary pads and tampons as opposed to reusable feminine hygiene products.
Regional Analysis Preview
The European region held a share of over 25% in 2020. This is attributable to the growing awareness of the feminine hygiene products and the rising disposable income of the consumers in this region. A common trend has been noted that sales of full-size or maxi pads are drastically declining across nations, allowing ultra-thin pads to flourish. Furthermore, demand for sophisticated feminine hygiene products like panty liner and tampon is increasing.
The Asia Pacific region is projected to grow at a CAGR of over 5% over the forecast period. The surge can be attributed to the large female population in nations like China and India. The market in this region is being driven by rising disposable income, more awareness about menstruation hygiene, and rapid urbanization. Various government initiatives undertaken to promote the use of feminine hygiene products is propelling demand. For instance, the Indian government has launched a plan to ensure that women in rural regions of the country have access to sanitary napkins. These developments will further boost the demand for feminine hygiene products.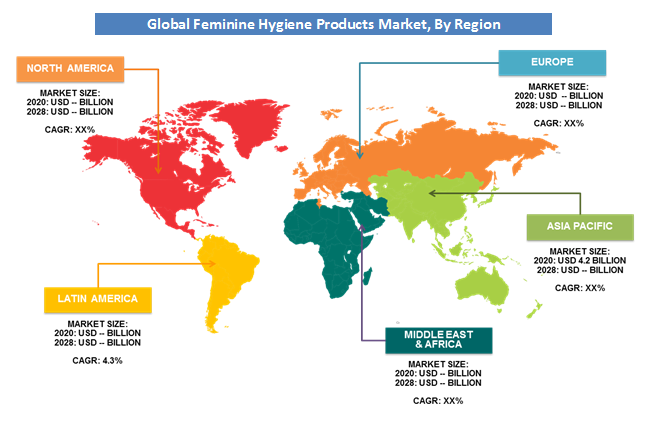 Request Free Sample
Key Market Players & Competitive Landscape
Some of key players in Feminine Hygiene Products Market are Johnson & Johnson, Kimberly-Clark, Kao Corporation, Procter & Gamble, Essity Aktiebolag, Daio Paper Corporation, Unicharm Corporation, Ontex, Hengan International Group Company Ltd., Premier FMCG, and First Quality Enterprises, Inc., among others.
With the existence of different global and regional players, the global feminine hygiene industry is extremely competitive. To increase their market share, the key players have been involved in regular launches of products that have are newly developed and incorporate latest technology in potential and developing countries.
The Global Feminine Hygiene Products Market is segmented as follows:
By Product
Sanitary pads
Tampons
Panty liners
Disposable Razors and Blades
Others
By Nature
By Distribution Channel
Supermarkets/ Hypermarkets
Drug stores
Pharmacies and Beauty Stores
Online
Others
By Region
North America
Europe

France
The UK
Spain
Germany
Italy
Rest of Europe

Asia Pacific

China
Japan
India
South Korea
Southeast Asia
Rest of Asia Pacific

Latin America

Brazil
Mexico
Rest of Latin America

Middle East & Africa

GCC
South Africa
Rest of Middle East & Africa