Emulsifiers Market Size & Industry Prospective:
The global emulsifiers market size was worth around USD 8.91 billion in 2021 and is predicted to grow to around USD 15.15 billion by 2030 with a compound annual growth rate (CAGR) of roughly 5.54% between 2022 and 2030. The report analyzes the global emulsifiers market drivers, restraints/challenges, and the effect they have on the demands during the projection period. In addition, the report explores emerging opportunities in the emulsifiers market.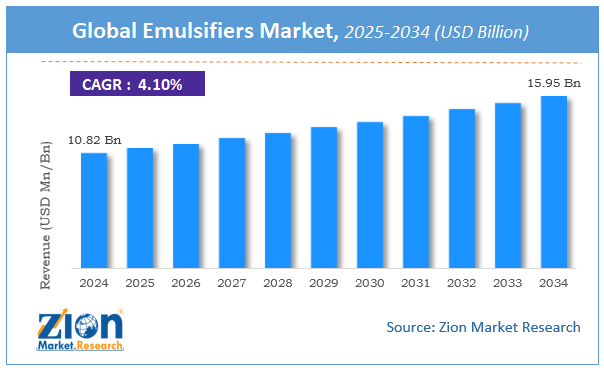 Request Free Sample
To know more about this report, request a sample copy.
Emulsifiers Market: Overview
An emulsifier is defined as an additive or external agent used to stabilize the mixture of two or more liquids by increasing the kinetic stability of the individual components. Chemical kinetics is the brand of physics that deals with the study of the rate at which chemical reactions occur. Emulsifiers fall under a larger umbrella of compounds called surfactants, chemical agents used to reduce surface tension between a gas and a liquid, or two liquids.
They can also be used to reduce the interfacial tension between a solid and a liquid. In the current modern world, emulsifiers are used extensively in the food industry along with growing applications in the personal care and cosmetics sectors. In the food industry, emulsifiers are used as food additives that help food containing two or more liquids that cannot form a uniform mixture on their own to create a bond resulting in the end-product achieving or maintaining the desired texture. Most of the emulsifiers are used in processed and pre-packaged food like ice creams, mayonnaise, chocolate, salad dressing, and others.
These compounds can be used to reduce food stickiness. Emulsifiers in the personal care segment are some of the most essential ingredients because without them market players would find it impossible to create products that are emulsive. Colloidal dispersion would be impossible to achieve without the use of emulsifiers.
Key Insights
As per the analysis shared by our research analyst, the global emulsifiers market is estimated to grow annually at a CAGR of around 5.524% over the forecast period (2022-2030)
In terms of revenue, the global emulsifiers market size was valued at around USD 8.91 billion in 2021 and is projected to reach USD 15.15 billion, by 2030.
The global emulsifiers market is projected to grow owing to the ever-expanding food & beverages (F&B) industry.
Based on source segmentation, the plant was predicted to show maximum market share in the year 2021
Based on application segmentation, food & beverages were the leading applications in 2021
On the basis of region, North America was the leading revenue generator in 2021
Emulsifiers Market: Growth Drivers
Growing demand in the food sector to propel market growth
The global emulsifiers market is projected to grow owing to the ever-expanding food & beverages (F&B) industry. With constant product innovation and the launch of new food items globally daily, emulsifiers have become integral to the growth of the F&B sector. Both industries stand to benefit from one another resulting in a loop of continuous growth. With rampant modernization and globalization, players in the food industry are looking for opportunities to expand their consumer database thus entering new markets and adopting exhaustive measures to market and sell the products. The innovative measures adopted by the players like launching regionally influenced products to attract local consumers are an excellent way of leaving an impact. The use of emulsifiers in food products can make the consumables more additive and consumers end up re-purchasing the products resulting in higher demand in the market.
Emulsifiers Market: Restraints
Risk associated with synthetic emulsifiers to restrict market expansion
Synthetic emulsifiers can have negative implications on human health if consumed regularly for a longer time. International health agencies have warned consumers against the regular consumption of food products produced using artificially created emulsifiers. Some of the associated risks are obesity, gut flora deterioration, and other chronic diseases like inflammatory bowel. These factors could restrict market expansion as consumers may refrain from consuming synthetic emulsifiers in any form.
Emulsifiers Market: Opportunities
Growing awareness about natural emulsifiers to provide excellent growth opportunities
The global emulsifiers market players may benefit from the rising awareness amongst consumers about the benefits associated with the use of natural emulsifiers in food products. They do not leave any unwanted impact on health while making the food more nutritious. Consumers have become aware due to the large-scale presence of the internet and accessibility to such information. Market players should invest in the development and extraction of more natural emulsifiers to gain higher trust amongst consumer groups.
Emulsifiers Market: Challenges
High cost of extraction to challenge higher revenue
Extracting natural emulsifiers is a lengthy task and requires high investment in terms of cost and labor resources. This could potentially be one of the toughest challenges faced by the market players resulting in higher use of synthetic emulsifiers that can be created rather easily as compared to their counterparts. However, a way around this is the use of semi-synthetic emulsifiers that can provide a mixture of benefits of natural and synthetic compounds at the same time.
Emulsifiers Market: Segmentation
The global emulsifiers market is segmented based on application, source, and region
Based on application, the global market divisions are personal care, food & beverages, pharmaceuticals, and others. In 2021, the largest segmental market share was held by the applications in the food & beverages industry. The food sector has undergone an evolution over the years and in the modern world, aided by growing knowledge of food and its components along with the adoption of technology from researching and developing more ingredients to the end-production of food products, the industry has witnessed a drastic change in the last couple of years. Although some of the naturally sourced emulsifiers have been in existence for decades, market players have managed to develop artificially enhanced emulsifiers that can provide added benefits. The chocolate industry, one of the biggest consumers of emulsifiers, was valued at USD 129 billion in 2019.
Based on source, the global market divisions are animal, plant, and synthetic. In the last few years, plant-based emulsifiers have led the segmental growth because some of the widely used emulsifiers come from plants. Agar-agar, gellan gum, soy lecithin, and xanthan gum amongst many others are some forms of highly regarded emulsifiers in the global market. The soy lecithin market generated more than USD 730 million in 2020.
Recent Developments:
In October 2022, Siltech Corporation, a US-based producer of silicone compounds that are completely organo-functional, announced the launch of a new silicone emulsifier modified with sugar. The product called Silube Sustain-S was announced at a trade event held in March 2022. It is a glucose-modified novel emulsifier with a 100% natural and completely biodegradable carrier
In July 2021, Seppic, a leading healthcare company launched Simaline L80, a new range of liquid emulsifiers to be used as a topical drug and in medical devices. The raw materials used in the manufacturing comply with the European Pharmacopoeia and are launched in association with the Sepineo range of polymer solution
Emulsifiers Market Report Scope:
Report Attributes
Report Details
Report Name
Emulsifiers Market Research Report
Market Size in 2021
USD 8.91 Billion
Market Forecast in 2030
USD 15.15 Billion
Compound Annual Growth Rate
CAGR of 5.54%
Number of Pages
280
Forecast Units
Value (USD Billion), and Volume (Units)
Key Companies Covered
Spartan Chemical Company, Inc, Spartan Chemical Company, Inc., Dow Chemical Company, Puratos Group, Stepan Company, and Kerry Group.
Segments Covered
By Application, By Source and By Region
Regions Covered
North America, Europe, Asia Pacific (APAC), Latin America, Middle East and Africa (MEA)
Countries Covered
North America: U.S and Canada
Europe: Germany, Italy, Russia, U.K, Spain, France, Rest of Europe
APAC: China, Australia, Japan, India, South Korea, South East Asia, Rest of Asia Pacific
Latin America: Brazil, Argentina, Chile
The Middle East And Africa: South Africa, GCC, Rest of MEA
Base Year
2021
Historical Year
2016 to 2020
Forecast Year
2022 - 2030
Customization Scope
Avail customized purchase options to meet your exact research needs. Request For Customization
Emulsifiers Market: Regional Analysis
North America to lead with the highest CAGR during the forecast period
The global emulsifiers market is expected to be dominated by North America by 2030 following the trend in the last few years. This can be attributed to the presence of key market players in the United States across the top sectors that use emulsifiers on a large scale namely the F&B, pharmaceutical, and personal care industries.
The region is home to some of the largest exporters of emulsifiers owing to increasing approvals from the US Food & Drugs Administration department, the authoritative figure that regulated the compositions of drugs and food in the region. There are more than 1600. The exceptionally high growth rate of the food industry of the US, Canada, and Mexico is a major contributor to the regional revenue due to the high-grade food products in quality and elevated export rate. 40% of the US food products are exported to other regions and the country tops the list of largest food exporters in the world.
Emulsifiers Market: Competitive Analysis
The global emulsifiers market is dominated by players like:
Spartan Chemical Company Inc
Dow Chemical Company
Puratos Group
Stepan Company
Kerry Group.
The global emulsifiers market is segmented as follows:
By Application
Personal Care
Food & Beverages
Pharmaceutical
Others
By Source
By Region
North America
Europe

France
The UK
Spain
Germany
Italy
Rest of Europe

Asia Pacific

China
Japan
India
South Korea
Southeast Asia
Rest of Asia Pacific

Latin America

Brazil
Mexico
Rest of Latin America

Middle East & Africa

GCC
South Africa
Rest of Middle East & Africa