Industry Prospective:
The global electric lunch box market size was worth around USD 600 Million in 2022 and is predicted to grow to around USD 1000 Million by 2030 with a compound annual growth rate (CAGR) of roughly 6.62% between 2023 and 2030. The report analyzes the global electric lunch box market drivers, restraints/challenges, and the effect they have on the demands during the projection period. In addition, the report explores emerging opportunities in the electric lunch box industry.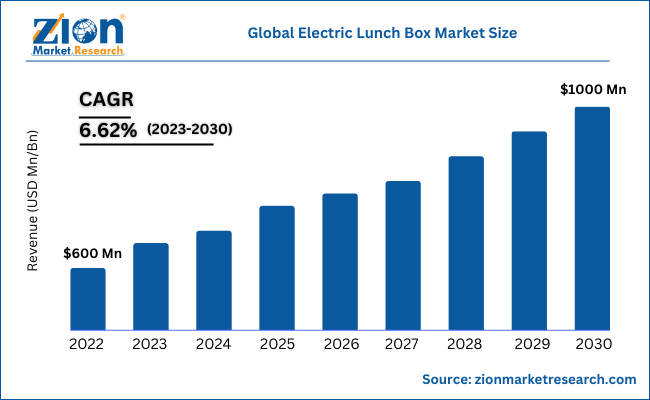 Request Free Sample
Electric Lunch Box Market: Overview
Electric lunch boxes are portable containers that make use of electricity to warm up or heat stored food items. They are also known as portable food warmers or electric food warmers. The intention of designing and manufacturing electric lunch boxes is to allow users to warm up the food on the go and without the need for a standing kitchen. Typically, electric lunch boxes are built with a heating mechanism that can be easily plugged into an electric outlet, like other electrical devices. Once the food is placed inside the container and closed, it can be heated using the heating element.
Key Insights:
As per the analysis shared by our research analyst, the global electric lunch box market is estimated to grow annually at a CAGR of around 6.62% over the forecast period (2023-2030)
In terms of revenue, the global electric lunch box market size was valued at around USD 600 Million in 2022 and is projected to reach USD 1000 Million, by 2030.
The electric lunch box market is projected to grow at a significant rate due to the convenience offered by electric lunch box
Based on material used segmentation, plastic was predicted to show maximum market share in the year 2022
Based on application segmentation, food was the leading application in 2022
On the basis of region, Asia-Pacific was the leading revenue generator in 2022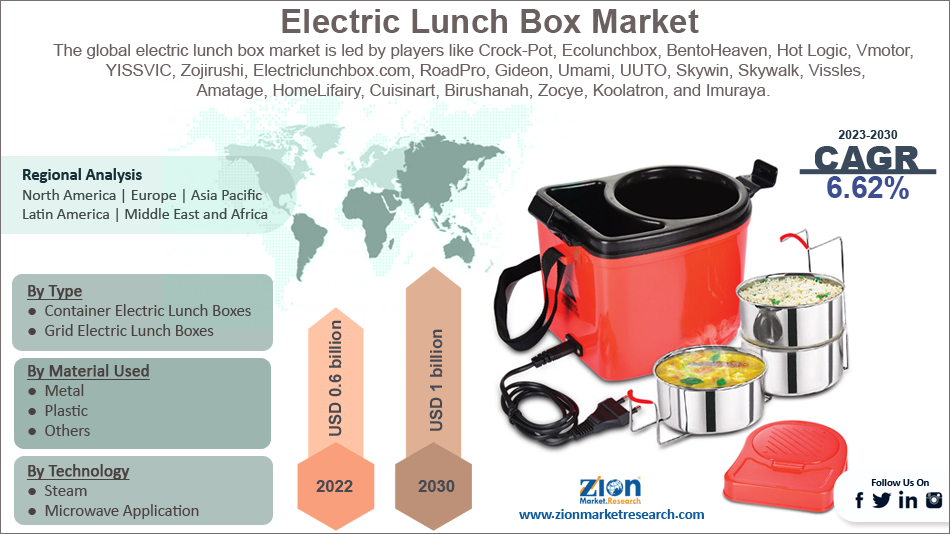 Request Free Sample
Electric Lunch Box Market: Growth Drivers
Convenience offered by the device to propel market growth
The global electric lunch box market is expected to register high growth owing to the exceptional convenience offered by electric lunch boxes. Since these tools are lightweight, they can be easily carried to work or while traveling. Furthermore, users do not require a standing physical kitchen to heat up the food item for consumption. Since the easy mechanism of the lunch box allows it to warm up the food with a low-voltage electric supply making it an ideal choice for people who work in fields or who are regularly traveling and may not have access to a microwave oven or stove. In addition to this, the lunch boxes are available across price range and hence suits the needs of a large consumer group.
Electric Lunch Box Market: Restraints
Safety concerns to act as a growth restriction
Electric lunch boxes pose a safety threat if they are not used properly or they are mishandled. Furthermore, they should be kept away from the reach of children. In case of any circuit glitch, the lunch box can be of danger to the people around it. Moreover, they are highly prone to overheating which can be a leading cause of electrical fires.
Electric Lunch Box Market: Opportunities
Strategic measures adopted by industry players to provide growth opportunities
The global electric lunch box industry is expected to benefit from the rising strategic partnerships undertaken by various players in the market. For instance, manufacturers of electric lunch boxes are collaborating with kitchen appliance producers or food delivery services to expand consumer reach or product offerings. Such events are also expected to assist the companies in leveraging the benefits of each other's strengths and assets for further innovation. The increasing investments in rural infrastructure, especially for electricity products, can create a higher influx of new consumers over the coming years.
Electric Lunch Box Market: Challenges
Existing competition from traditional substitutes to challenge market growth
Parents or guardians may not prefer charging electric lunch boxes for students since they may deem it hazardous. Furthermore, schools are likely to take a stand against the use of electricity-powered lunch boxes. There is intense competition from traditional lunch boxes since they are efficient and safe to use. The electric lunch box market is fairly new and industry players have to invest in marketing techniques to ensure that they can gain the necessary confidence from the consumer group which is expected to challenge industry growth.
Electric Lunch Box Market: Segmentation
The global electric lunch box market is segmented into application, type, material use, technology, and region.
Based on application, the global market segments are vegetables, food, drink, and others. In 2022, the industry registered the highest growth in the food segment, especially items that are prepared at home. The tools meet the exact requirements of people working in the field or in corporate offices who may not have timely access to other food heating options. There are certain electric lunch boxes that can efficiently heat beverages or liquid items, but typically the lunch boxes are designed to warm up solid food items, vegetables, grains, meats, and other dishes. Another application for an electric lunch box is to store food at a warm temperature. Most electric lunch boxes are designed to operate on the standard household voltage of 110-120V in North America or 220-240V in other parts of the world.
Based on type, the global market is divided into container electric lunch boxes and grid electric lunch boxes.
Based on material used, the global industry is segmented into metal, plastic, and others. In 2022, the industry witnessed the majority of revenue being generated in the plastic segment along with stainless steel. The former is used during the production of lightweight, durable, and affordable electric lunch boxes and hence are more popular in the consumer groups. Stainless steel, on the other hand, is more durable and offers a high degree of insulation. But they are heavy in terms of weight as compared to their plastic counterparts. There are some products that are made of glass and aluminum but they are less common as compared to plastic and stainless steel products. National Fire Protection Association (NFPA, the leading cause of home fires in the US between 2014-2018 was an electrical failure that led to an average of 45,210 fires per year.
Based on technology, the global market divisions are steam and microwave application.
Recent Developments:
In September 2022, Jaypee, a leading homeware brand, announced the launch of its electric segment which also includes electric chafing dishes and lunch boxes. The entire collection covers power meal with a steel electric lunch box, an electrical chafing dish, Spark 4 Cherry lunch box, and a hot-line electric plastic Lunch Box with 4 Steeliness Steel
In September 2020, LunchEaze, a US-based maker of electric lunch boxes, announced the launch of the world's first heated, cordless lunch box meant specifically for construction workers in the country. As per the company description, the lunch box works like a slow-pressure cooker and requires at least 2 hours before the food is ready for consumption. It can heat up any type of food products and is spill-proof due to double sealing
Electric Lunch Box Market: Report Scope
Report Attributes
Report Details
Report Name
Electric Lunch Box Market Research Report
Market Size in 2022
USD 600 Million
Market Forecast in 2030
USD 1000 Million
Growth Rate
CAGR of 6.62%
Number of Pages
200
Key Companies Covered
Crock-Pot, Ecolunchbox, BentoHeaven, Hot Logic, Vmotor, YISSVIC, Zojirushi, Electriclunchbox.com, RoadPro, Gideon, Umami, UUTO, Skywin, Skywalk, Vissles, Amatage, HomeLifairy, Cuisinart, Birushanah, Zocye, Koolatron, and Imuraya.
Segments Covered
By Application, By Type, By Material Used, By Technology, And By Region
Regions Covered
North America, Europe, Asia Pacific (APAC), Latin America, Middle East, and Africa (MEA)
Base Year
2022
Historical Year
2017 to 2021
Forecast Year
2023 - 2030
Customization Scope
Avail customized purchase options to meet your exact research needs. Request For Customization
Electric Lunch Box Market: Regional Analysis
Asia-Pacific is a major shareholder in the market
The global electric lunch box market is expected to witness the highest growth in Asia-Pacific as it is currently the largest shareholder in the global market. China, Japan, and South Korea are the leading revenue generators in the segment mainly due to easy product adoption and the presence of multiple domestic brands that cater to the changing food consumption patterns of their dynamic population. Furthermore, the regions are witnessing a rise in the number of people who have busy work schedules or intense traffic conditions leading to loss of valuable time. This has led to many people opting for convenient choices like electric lunch boxes to save more time for other purposes.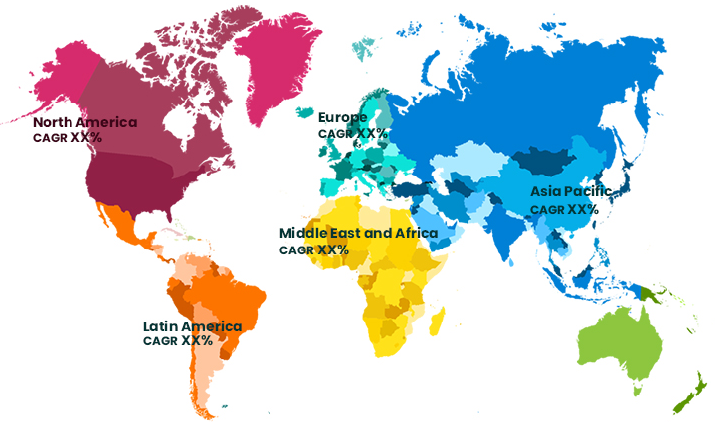 Request Free Sample
Growth in North America is mainly driven by the growing segment of construction workers or people with on-field jobs. The US is home to some of the leading and game-changing market players who are consistently working toward the better promotion of their products. The United States is a major market for electric lunch boxes, with a growing preference for products made from sustainable and eco-friendly materials.
Electric Lunch Box Market: Competitive Analysis
The global electric lunch box market is led by players like:
Crock-Pot
Ecolunchbox
BentoHeaven
Hot Logic
Vmotor
YISSVIC
Zojirushi
Electriclunchbox.com
RoadPro
Gideon
Umami
UUTO
Skywin
Skywalk
Vissles
Amatage
HomeLifairy
Cuisinart
Birushanah
Zocye
Koolatron
and Imuraya.
The global electric lunch box market is segmented as follows:
By Application
Vegetables
Food
Drink
Others
By Type
Container Electric Lunch Boxes
Grid Electric Lunch Boxes
By Material Used
By Technology
Steam
Microwave Application
By Region
North America
Europe

France
The UK
Spain
Germany
Italy
Rest of Europe

Asia Pacific

China
Japan
India
South Korea
Southeast Asia
Rest of Asia Pacific

Latin America

Brazil
Mexico
Rest of Latin America

Middle East & Africa

GCC
South Africa
Rest of Middle East & Africa