Elastomeric Foam Market: Industry Perspective
The report covers a forecast and an analysis of the elastomeric foam market on a global, and regional level. The study provides historical information for 2015, 2016, and 2017 with a forecast from 2018 to 2024 based on both volume (Kilotons) and revenue (USD Billion). The complete study covers the key drivers and restraints for the elastomeric foam market. It also provides the impact of the market within the forecast period. Furthermore, the study also includes the opportunities accessible within the elastomeric foam market on a global level.
In order to offer the users of this report a comprehensive read on the elastomeric foam market, we have enclosed the detailed value chain analysis. To know the competitive landscape within the market, an analysis of Porter's Five Forces Model for the elastomeric foam market has additionally been enclosed within the study. The study includes a market attractiveness analysis, where all segments are benchmarked to support by their market size, rate, and general attractiveness.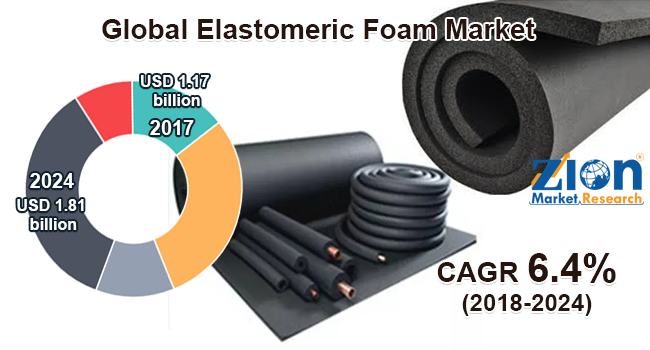 Request Free Sample
The study also includes the market share of the key participants operating in the elastomeric foam market across the globe. Besides, the report covered strategic development together with acquisitions & mergers, agreements, partnerships, collaborations, and joint ventures, and regional growth of key players within the market on a regional basis.
The study provides a crucial view of the elastomeric foam market by segmenting the market based on its segmentation. The segmentation included type, end-user industry, and region. All the segments have been analyzed based on present and future trends and the market is estimated from 2018 to 2024. Based on the type, the global elastomeric foam market includes natural rubber/latex and synthetic rubber. Further, the synthetic rubber segment is segmented into nitrile butadiene rubber (NBR), ethylene propylene diamante monomer (EPDM), chloroprene (CR), and others. Based on the end-user, the global elastomeric foam market includes HVAC, automotive, electrical and electronics, healthcare, and others. Additionally, the regional classification includes Europe, North America, Latin America, Asia Pacific, and the Middle East and Africa. The regions are further subdivided into major countries, such as the U.S., UK, Germany, Canada, France, China, Japan, and Brazil, among others.
The study provides exhaustive company profiles of the worldwide market along with an in-depth description of the players. Some of the key manufacturers included in this study are Armacell, Hira Industries, Zotefoams plc, L'ISOLANTE K-FLEX, Kaimann, Huamei Energy-saving Technology Group, Jinan Retek Industries, Aeroflex USA, NMC SA, and An avid Insulation Products, among others.
The report segments the global elastomeric foam market as follows:
Global Elastomeric Foam Market: Type Analysis
Natural Rubber/Latex
Synthetic Rubber

Nitrile Butadiene Rubber (NBR)
Ethylene Propylene Diamine Monomer (EPDM)
Chloroprene (CR)
Others
Global Elastomeric Foam Market: End-User Analysis
HVAC
Automotive
Electrical and Electronics
Healthcare
Others
Global Elastomeric Foam Market: Regional Analysis
North America
Europe
Asia Pacific
Latin America
The Middle East and Africa