Free Analysis
An elastomer is a polymer with excellent elasticity and viscosity. Elastomeric foam has superior properties and is most suitable for insulation material. Elastomeric foam is used in a broad range of applications, such as for insulation materials in HVAC. These foams are widely used across industries like automotive, healthcare, and electrical and electronics, among others.
Elastomeric foam market is projected to grow at the fastest rate with an increased demand for insulation materials. Over the last few years, there has been a rise in the overall demand for elastomeric foam due to increasing awareness regarding indoor air quality (IAQ). Elastomeric foam does not contain fibers or formaldehyde and has very low volatile organic compounds or VOCs, which have found wide acceptance among the indoor air quality advocates. Considering all these factors, it is likely that the demand for elastomeric foam will increase and have a positive impact on the overall market growth. In addition, it is the rapid industrialization in emerging countries, such as Mexico, Brazil, India, China, and Indonesia, that is propelling the demand for elastomeric foam market. These foams are widely used in the automotive industry in seat covers and designing further boosting the market growth. But, the fluctuating prices of elastomeric foam might hinder the market growth in the future. However, improvements in the technologies of elastomeric foam are expected to drive the demand for insulation materials, thereby, creating lucrative growth opportunities for elastomeric foam market in the upcoming years.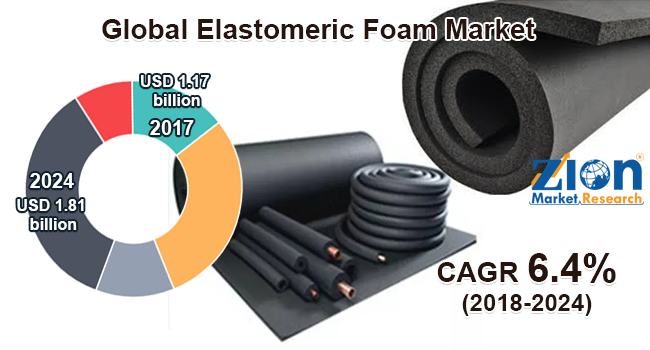 Elastomeric foam market is segmented based on the type and end-user industry. By type, the elastomeric foam market is bifurcated into synthetic rubber and natural rubber/latex. The synthetic rubber segment is further divided into ethylene propylene diamine monomer (EPDM), nitrile butadiene rubber (NBR), and chloroprene (CR), and others. Nitrile butadiene rubber is anticipated to dominate during the upcoming years, as it is extensively used in several end-use industries and is less expensive as compared to other synthetic rubbers. By end-user industry, the global elastomeric foam market includes HVAC, automotive, electrical and electronics, healthcare, and others. Increasing preference for HVAC systems in several industries across the globe is likely to enhance the elastomeric foam market growth. Rising focus on the construction of energy-efficient buildings is further projected to surge the demand for elastomeric foams.
The geographic analysis of the elastomeric foam market includes North America, Europe, Asia Pacific, Latin America, and the Middle East and Africa. In 2016, Asia Pacific was the leading regional market for the elastomeric foam and is likely to continue its dominance in the future. The growing construction industry is projected to drive the elastomeric foam market growth within the region. Additionally, increasing demand for elastomeric foam from several industries, such as automotive, electrical and electronics, and HVAC, is also anticipated to fuel the elastomeric foam market growth in the near future.
The global elastomeric foam market consists of a large number of players and is highly fragmented. These players are predominantly focusing on introducing novel products and material offerings. Companies involved in this market are Zotefoams plc, Hira Industries, Kaimann, L'ISOLANTE K-FLEX, Jinan Retek Industries, Huamei Energy-saving Technology Group, NMC SA, Anavid Insulation Products, Aeroflex USA, and Armacell, among others.