According to the report, global demand for dried blueberries market was valued at approximately USD 391.9 Million in 2019, and is expected to generate revenue of around USD 597.1 Million by end of 2026, growing at a CAGR of around 6.2% between 2020 and 2026.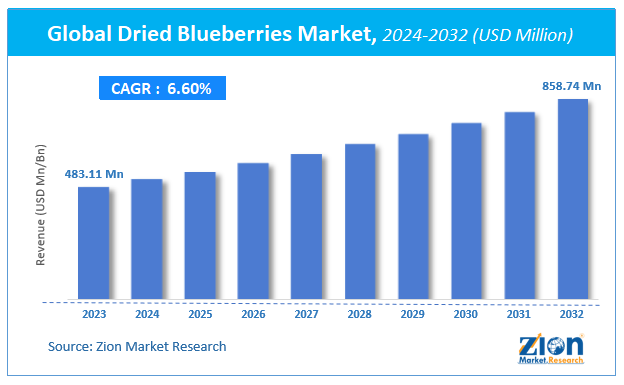 Request Free Sample
Global Dried Blueberries Market: Overview
Blueberries are constantly blossoming plants having purple as well as blue berries on them. They can easily perish and can get spoiled very easily. In order to avoid blueberries from getting spoiled and utilize them in myriad applications, they are dried for removing the water present in them.
Global Dried Blueberries Market: Growth Factors
The removal of water from the blueberries is likely to extend the shelf life of blueberries and will enhance the nutritional value and flavor of the product. This, in turn, is projected to drive dried blueberries market trends. Rising health consciousness and wellness along with the massive use of dried blueberries in bakery items & confectioneries will craft a profitable roadmap for dried blueberries market in the years ahead. Additionally, thriving ecommerce activities and new product introduction with dried blueberries as the main ingredient will offer impetus to dried blueberries market and will further enhance the business scope.
Alterations in the dietary habits of the consumers along with the ability of the customers to pay premium price for the products will expand dried blueberries market size in the years ahead. Furthermore, the products are prominently used in cereals & snack bars, yogurts, biscuits, confectioneries, and cakes. The popularity of the dried blueberries is rising across the globe due to the presence of phenolic acids and flavonoids as its ingredients. With growing health awareness among the consumers and preference for convenient & healthy snacks, the market is rapidly gaining traction across the globe.
Global Dried Blueberries Market: Segmentation
The global dried blueberries market can be classified into nature, end user, form, and distribution channel. Based on the nature, the market can be sectored into organic and conventional. On the basis of end user, the dried blueberries market can be segmented into confectionaries, bakery products, dairy products, retail, beverages, cosmetics & personal care products, food supplements, cereal & snack bars, foodservice providers, and others. Based on the form, the dried blueberries market is classified into online retailing, convenience stores, hypermarkets, forecourt retailers, specialty stores, supermarkets, independent small groceries, and other grocery retailers. Based on the form, the dried blueberries market is divided into slices & granulates, whole dried fruits, and powder.
Global Dried Blueberries Market: Regional Analysis
Based on region, the global dried blueberries market can be divided into five main regions: North America, Europe, Asia Pacific, Latin America, and the Middle East and Africa. Escalating demand for the product in the countries such as South Korea, India, and China, owing to its stable shelf life and consumption as snacks will enlarge the scope of the business in the Asia Pacific region. Additionally, these products can be supplied in stores and are convenient as well as have the ability to bring improvement in the health of an individual. These fruits are also very popular in the Middle Eastern countries, thereby driving the dried blueberries market size in the Middle East and Africa. North America and Europe markets have humungous growth potential and are likely to register lucrative growths in the years ahead.
Global Dried Blueberries Market: Competitive Players
Few of major participants in dried blueberries market are Karen's Naturals, True Blue Farms, Graceland Fruit, Bergin Fruit and Nut Company Inc., Oregon Berry Packing, Inc., Kiantama Oy, Royal Nut Company, Del Monte Foods, Inc., Shoreline Fruit, LLC, CAL-SAN Enterprises Ltd., Helsu International BV, Meduri Farms, and Naturipe Farms, LLC.
Global Dried Blueberries Market: Regional Segment Analysis
North America
Europe
The Asia Pacific
Latin America
The Middle East and Africa
What Reports Provides
Full in-depth analysis of the parent market
Important changes in market dynamics
Segmentation details of the market
Former, on-going, and projected market analysis in terms of volume and value
Assessment of niche industry developments
Market share analysis
Key strategies of major players
Emerging segments and regional markets
Testimonials to companies in order to fortify their foothold in the market.