Digital Radar Speed Signs Industry Prospective:
The global digital radar speed signs market size was worth around USD 231.06 million in 2022 and is predicted to grow to around USD 258.41 million by 2030 with a compound annual growth rate (CAGR) of roughly 1.43% between 2023 and 2030.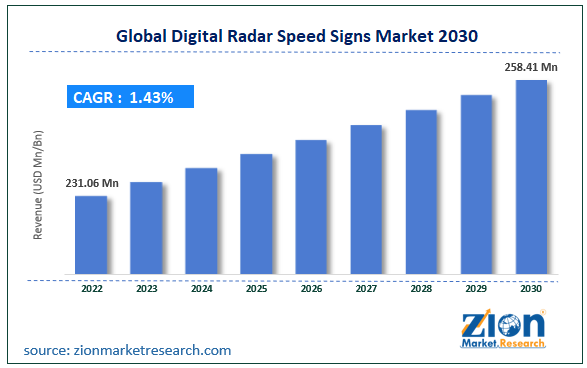 Request Free Sample
Digital Radar Speed Signs Market: Overview
Digital radar speed signs are modern devices that make use of digital technology to promote road safety and traffic management. These devices are interactive signs made with the help of a series of light-emitting diodes (LEDs) and display vehicular speed when the vehicle passes through the point where these devices are played. The main aim of using radar speed signs is awareness generation by displaying the vehicle driver the speed at which they are driving especially in case the speed is over the allowed limit. The device has proven to be of extreme help in calming traffic and best works with other modes of traffic control such as rumble strips and speed bumps. Although the generic name for such devices are digital radar speed signs, they have different naming conventions across the globe including names such as Vehicle Activated Sign, driver feedback sign, radar feedback sign, and many more. The most common places where radar signs can be found are near hospital or school zones, residential areas, highways, and work localities. The global digital radar speed signs market size may currently appear limited but it has the potential to grow during the forecast period.
Key Insights:
As per the analysis shared by our research analyst, the global digital radar speed signs market is estimated to grow annually at a CAGR of around 1.43% over the forecast period (2023-2030)
In terms of revenue, the global digital radar speed signs market size was valued at around USD 231.06 million in 2022 and is predicted to grow to around USD 258.41 million, by 2030.
The digital radar speed signs market is projected to grow at a significant rate due to the rising number of road accidents
Based on application segmentation, city roads were predicted to show maximum market share in the year 2022
Based on type segmentation, AC-powered was the leading type in 2022
On the basis of region, Europe was the leading revenue generator in 2022
Digital Radar Speed Signs Market: Growth Drivers
Rising number of road accidents to drive market growth
The global digital radar speed signs market is expected to grow owing to the growing number of road accidents globally. The Indian Ministry of Road Transport and Highways has stated that more than 1.5 lakh people die every year due to accidents on the road. The global statistics, indicated by the World Health Organization (WHO), estimate the number to be close to 1.3 million people due to road traffic crashes. The growing number of vehicles on the road influenced by factors such as the rising middle-income group, growing access to financial aid, product portfolio expansion in the automotive industry, and the generally changing lifestyle, results in a higher rate of intense traffic on the roads. A recent report by NBC New York claimed that New York City is currently one of the most congested cities in the globe. The residents lost over 102 hours due to traffic in 2021. A similar trend is observed worldwide, especially in regions with high economic value. The need for effective traffic management is higher and it is expected to intensify in the coming years as the world population continues to rise. Since digital radar speed systems leverage the benefits of visual appeal, they may prove to be extremely helpful in managing global traffic problems.
Growing initiatives by the regional government toward road safety to provide higher revenue
Regional governments in partnership with several private players are working toward increasing spending or investment to improve road safety. For instance, in 2023, officials in the United Arab Emirates (UAE) introduced novel traffic systems to curb accidents and create a safe environment for pedestrians and motorists. As a part of the initiative, the Abu Dhabi Police has installed a new road alert system across all highways in the capital. The device imitates radar speed signs and will also send weather alerts to the driver. In December 2020, the government officials of North Seattle introduced two solar-powered digital speed radar signs on Aurora Avenue, one of the roads with the highest number of pedestrian deaths in North Seattle. Similar measures are being observed globally which could trigger higher demand for the global market products.
Digital Radar Speed Signs Market: Restraints
High dependency on selective attention for results to restrict market expansion
The impact of digital radar speed systems cannot be measured objectively. While it is possible to determine if the number of accidents has reduced or traffic management has improved after installing the signs, there are several other factors that work in coherence with these digital signs to improve road safety. This is mainly because the impact of such signs depends largely on selective attention. Some drivers may pay attention to the number on the board and slow down while some may choose to ignore it or miss it altogether when moving at high speeds. Hence digital radar speed signs cannot be trusted completely for minimizing or eliminating road accidents. They have to be used with other methods such as heavy penalties for traffic rule breakers, speed bumps, and more innovative methods.
Digital Radar Speed Signs Market: Opportunities
Growing adoption of solar-based speed signs to create growth opportunities
There is a thriving segment of solar-powered devices and this includes digital radar speed signs powered using solar energy. Several countries are adopting these advanced signs as a means to become more environmentally responsible. In September 2022, Jenoptik, a leading player in the market, launched an advanced and intelligent power solution that is supposed to work for its Temporary Automated Speed Cameras At Roadworks (TASCAR). The technology will run on a combination of wind, solar, and hydrogen energy to power TASCAR and will also assist in reducing carbon dioxide emissions.
Technical advancements to create higher growth opportunities
Rising investment toward technical advancements in digital radar speed signs could open more doors for further growth of the digital radar speed signs industry. This includes incorporating artificial intelligence (AI) and machine learning (ML) capabilities in the systems that can help with predictive analysis. This can help officials make data-backed decisions and even work toward personalizing product deliverables. Additionally, the rate of growth observed in smart city investment could benefit from the use of technologically advanced radar speed systems.
Digital Radar Speed Signs Market: Challenges
Lack of implementation infrastructure to challenge expansion opportunities
Several countries lack the supporting infrastructure required to ensure that drivers are following the signs and adhering to the traffic or road safety rules. Since such implementation policies require dedicated resources, certain countries and regions may not have the necessary monetary or non-monetary backup. For instance, a recent survey in India concluded that more than 90% of drivers in the country are not aware of all the driving rules. Africa is one of the regions with a high number of traffic rule breakers and this problem is not specific to a certain country.
Digital Radar Speed Signs Market: Segmentation
The global digital radar speed signs market is segmented based on application, type, and region.
Based on application, the global market segments are city roads, highways, and others. The highest revenue was generated in the city roads segment as it includes essential areas where efficient traffic rules and systems ensure the protection of pedestrians and motorists along with large vehicle owners. It comprises a school zone, workplaces, hospitals, and residential areas. Since they are at a higher risk of accidents, digital radar speed signs have proven efficient in promoting road safety. However, installation of the devices on highways, especially the ones interlinked to city roads and heavy traffic has improved over the years. Rising government investments toward road safety on highways could assist further growth. The US government allotted USD 155 million for the Highway Safety Research and Development programs in fiscal year 2022.
Based on type, the digital radar speed signs industry segments are AC-powered, solar-powered, and battery-powered. The highest growth rate can be expected from the solar-powered segment as there is growing emphasis on environmental sustainability and most of the devices installed on roads are being powered using renewable sources of energy out of which solar energy is the most popular. Europe is one of the leading regions adopting solar-powered digital radar speed signs. In 2022, the region witnessed an increase of 20% in global solar photovoltaic investments in terms of capacity.
Digital Radar Speed Signs Market: Report Scope
Report Attributes
Report Details
Report Name
Digital Radar Speed Signs Market
Market Size in 2022
USD 231.06 Million
Market Forecast in 2030
USD 258.41 Million
Growth Rate
CAGR of 1.43%
Number of Pages
201
Key Companies Covered
SWARCO, Carmanah Technologies, Solar Technology Inc., LACROIX City, TAPCO, IRD, Traffic Logix, Elan City, MPD Inc., Fortel Traffic, Wanco, Stalker Radar (Applied Concepts), Ver-Mac, TraffiCalm (MOR), American Signal Company, Radarsign, HMI Technologies, and others.
Segments Covered
By Application, By Type, and By Region
Regions Covered
North America, Europe, Asia Pacific (APAC), Latin America, Middle East, and Africa (MEA)
Base Year
2022
Historical Year
2017 to 2021
Forecast Year
2023 - 2030
Customization Scope
Avail customized purchase options to meet your exact research needs. Request For Customization
Digital Radar Speed Signs Market: Regional Analysis
Europe to register the highest growth rate during the coming period
The global digital radar speed signs market is expected to witness the highest growth in Europe. The region boasts of one of the most efficient road networks with an equal focus on the safety of all types of vehicle drives and pedestrians. As per certain estimates, the European Union spends over USD 11 million per year on road safety projects. Norway has been regarded as the top-performing nation in terms of road safety with the fatality rate of the road standing at 2.02 per 100,000 population. The country works with the 'Vision Zero' strategy and has aimed to reduce the rate to 0 fatalities in the coming years. Increased government spending on road & traffic management, the presence of excellent implementation policies, and the adoption of solar-powered digital radar speed signs will help the region grow further. North America is likely to contribute at a significant CAGR with growing issues over traffic management and road accidents. In 2021, the US registered around 40,000 fatal accidents. The country has one of the highest number of drivers which increases the probability of road accidents.
Digital Radar Speed Signs Market: Competitive Analysis
The global digital radar speed signs market is led by players like:
SWARCO
Carmanah Technologies
Solar Technology Inc.
LACROIX City
TAPCO
IRD
Traffic Logix
Elan City
MPD Inc.
Fortel Traffic
Wanco
Stalker Radar (Applied Concepts)
Ver-Mac
TraffiCalm (MOR)
American Signal Company
Radarsign
HMI Technologies
The global digital radar speed signs market is segmented as follows:
By Application
City Roads
Highway
Others
By Type
AC-Powered
Solar-Powered
Battery-Powered
By Region
North America
Europe

France
The UK
Spain
Germany
Italy
Rest of Europe

Asia Pacific

China
Japan
India
South Korea
Southeast Asia
Rest of Asia Pacific

Latin America

Brazil
Mexico
Rest of Latin America

Middle East & Africa

GCC
South Africa
Rest of Middle East & Africa