The global Hydrogen Market, which was estimated at 137.5 (USD Billion) in 2019 and is predicted to accrue earnings worth 197.7 (USD Billion) by 2026, is set to record a CAGR of nearly 6% over 2020-2026. The report offers valuation and analysis of Hydrogen Market on a global as well as regional level. The study offers a comprehensive assessment of the industry competition, limitations, sales estimates, avenues, current & emerging trends, and industry-validated market data. The report offers historical data from 2017 to 2019 along with a forecast from 2020 to 2026 based on value (USD Billion).
Introduction
Hydrogen can be derived from bio-mass and fossil fuels as well as from water which is a key source of hydrogen. Reportedly, hydrogen is obtained from natural gas as it contributes nearly three-fourth of overall hydrogen production approximating nearly 70 million tons. Moreover, hydrogen is an odorless, colorless, and flammable gas that merges with oxygen resulting in water formation. Furthermore, various kinds of fuels possess the ability of producing hydrogen. For instance, renewables, coal, oil, and nuclear plants along with natural gas produce hydrogen. The element is used in fuel cell vehicles and with flourishing automotive sector, the scope of the hydrogen market is likely to receive a boost in the upcoming years.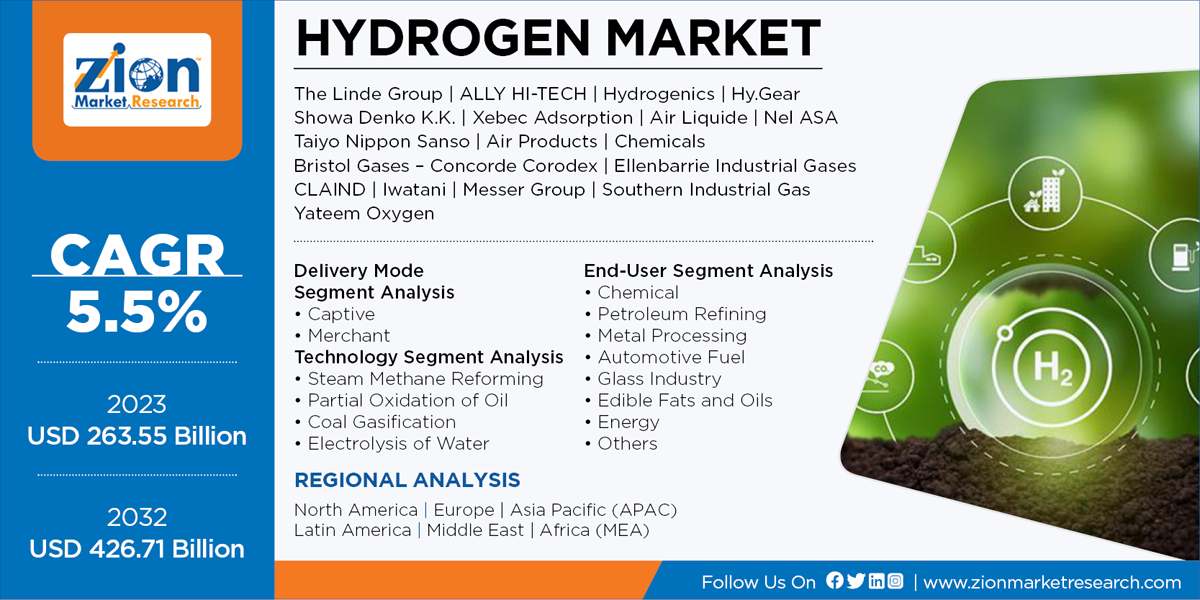 Request Free Sample
Market Growth Dynamics
Large-scale demand for hydrogen in transport, power generation, and construction sectors will propel the business growth over the forecasting years. Escalating use of hydrogen in chemical and iron & steel industries will promulgate the market expansion over the estimated timeframe. Moreover, hydrogen is transferred through pipeline as a gas and in liquid form through ships and these features will favor the expansion of the market size in the years ahead. With overall power & energy industry in flux, the versatile nature of the element has generated keen interest among various sectors across the globe.
Furthermore, hydrogen is utilized significantly in refinement of oil as well as manufacturing of fertilizers, thereby driving market trends. Apart from this, massive funding in production of hydrogen by various governments can result in technological & industrial growth across the globe and will create new job avenues for skilled professionals. This, in turn, will further contribute towards the overall market value over the assessment period.
Moreover, massive use of clean hydrogen at industrial ports along with growing efforts initiated by the developed countries to introduce hydrogen trading through international ship routes can favorably impact the global energy sector, thereby steering the growth of hydrogen industry over the forthcoming years. Nonetheless, manufacturing hydrogen from low-carbon energy has proved expensive and this will retard the business growth in the near future. Apart from this, availability of less number of hydrogen refueling stations and slow growth of hydrogen infrastructure can create hurdles in the path of growth of hydrogen market over the ensuing years.
North American Market To Register Massive Growth Over Forecast Timeline
The expansion of the hydrogen industry in the sub-continent over the assessment timespan can be credited to humungous presence of oil refining units as well as chemical producing plants in the gulf-coast of North America. Apart from this, reduced costs of natural gas in North America resulting in lowest production costs for hydrogen will define the expansion of the hydrogen market in the region over the forecast timeline. Apart from this, presence of giant manufacturers in the countries like Canada and the U.S. will contribute sizably towards the regional market revenue over the forecast timeframe.
Key participants influencing the business growth are The Linde Group, ALLY HI-TECH, Hydrogenics, Hy.Gear, Showa Denko K.K., Xebec Adsorption, Air Liquide, Nel ASA, Taiyo Nippon Sanso, Air Products and Chemicals, Bristol Gases – Concorde Corodex, Ellenbarrie Industrial Gases, CLAIND, Iwatani, Messer Group, Southern Industrial Gas, and Yateem Oxygen.
This report segments the global hydrogen market as follows:
Global Hydrogen Market: Delivery Mode Segment Analysis
Global Hydrogen Market: Technology Segment Analysis
Steam Methane Reforming
Partial Oxidation of Oil
Coal Gasification
Electrolysis of Water
Global Hydrogen Market: End-User Segment Analysis
Chemical
Petroleum Refining
Metal Processing
Automotive Fuel
Glass Industry
Edible Fats and Oils
Energy
Others
By Region
North America
Europe

France
The UK
Spain
Germany
Italy
Rest of Europe

Asia Pacific

China
Japan
India
South Korea
Southeast Asia
Rest of Asia Pacific

Latin America

Brazil
Mexico
Rest of Latin America

Middle East & Africa

GCC
South Africa
Rest of Middle East & Africa