Industry Prospective:
The global Digital Health Market was worth around USD 143.9 billion in 2021 and is estimated to grow to about USD 367.2 billion by 2028, with a compound annual growth rate (CAGR) of approximately 16.9 percent over the forecast period. The report analyzes the Digital Health Market drivers, restraints/challenges, and the effect they have on the demands during the projection period. In addition, the report explores emerging opportunities in the Digital Health Market.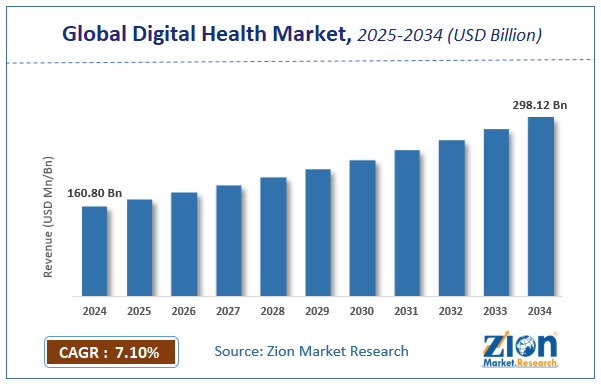 Request Free Sample
Digital Health Market: Overview
The integration of information technology and electronic communications with various healthcare activities is referred to as digital health. Rapid developments in healthcare IT infrastructure, as well as professional use of cloud-based storage solutions, are major factors driving market expansion. Doctors and other healthcare providers are increasingly using technology such as cellphones and tablets to monitor and track the health of their patients. Additionally, substantial advances in processing and storage technology have made computing resources more economical, efficient, and accessible, allowing for on-demand delivery of these services to patients via the internet. Moreover, widespread government backing and the introduction of favorable regulations to stimulate the adoption of digital health solutions are increasing the demand for the technology. Other factors such as the growing elderly population, rising healthcare expenditure levels, and the rising prevalence of diseases such as Chronic Obstructive Pulmonary Disease (COPD) and diabetes are expected to drive the market even more.
Covid-19 Impact
The COVID-19 pandemic is still underway, and healthcare mobile applications have created an opportunity for enormous progress during this period of crisis, changing people's opinions of the health industry worldwide. The COVID-19 epidemic is expected to have a beneficial influence on the digital health business since it has increased the demand for analytics platforms to track and monitor the total number of cases worldwide. In addition, the enormous number of cases and the need to track the long-term impact of vaccines has increased the demand for EHR systems and healthcare analytics. The spread of COVID-19 has prompted governments all over the world to adopt strict social distancing standards and lockdowns. In this context, digital health technologies such as telemedicine offer a great opportunity for medical providers to treat patients while adhering to lockdown restrictions. This, in turn, is predicted to increase product acceptance, as well as positively impact market growth in the future years.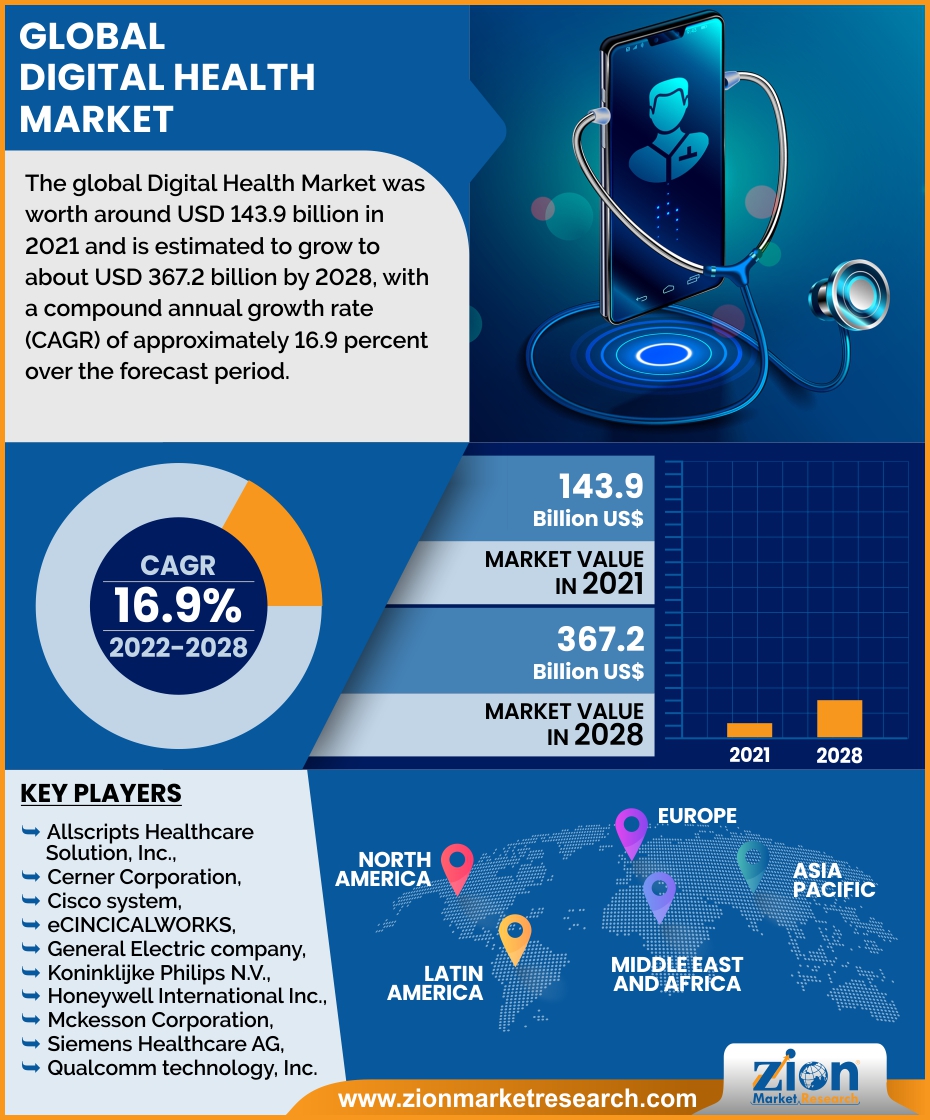 Request Free Sample
Digital Health Market: Driver
The growing use of smartphones and other mobile applications will drive the growth of the digital health market.
The use of cell phones by physicians has increased significantly in the United States, leading to an expansion in the practice of digital health. Smartphones, tablets, and other mobile platforms are used by one-third of all U.S. adults, with physicians using them twice as much as the general population. This has resulted in a massive increase in the number of mobile applications for healthcare needs, fuelling the industry's expansion. In addition, rapidly increasing IT infrastructure, favorable government activities, rising demand for remote patient monitoring services, and greater venture capitalist investment would raise sector income.
Digital Health Market: Restraint
Concerns about the security of patient data may cause a slowdown in market demand.
Concerns about patient data security may detract from the industry's value. The use of digital health solutions such as electronic health records, e-prescriptions, and medical apps necessitates strict data protection. A breach in data security can result in massive losses of essential and personal information, such as medical records, which frequently contain social security numbers, insurance IDs, addresses, and medical details, negatively impacting the reputation and outcomes of operations. Uncoordinated individual attempts to gain unauthorized access to information technology systems directed at physicians, hospitals, customers, and third-party service providers are common cyber security concerns.
Digital Health Market: Segmentation
The Digital Health Market is segregated based on Product & Service, Component, and End User.
By Product & Service, the market is classified into mHealth and mHealth Services. In the forecast period, the mHealth section of the digital health market acquired the largest share. The mHealth sector mostly consists of health-related mobile applications and wearable gadgets. Due to the increasing prevalence of cardiovascular disorders, such cardiac health-related mobile devices are expected to increase rapidly in the coming years. As healthcare providers aim to boost patient outreach while reducing costs, mHealth technology is seen as a method to improve healthcare cost-efficiency. Furthermore, the mHealth segment is being propelled by an increase in the use of mobile communications technology and devices to improve access to healthcare information, emergency health services, and diagnostic services.
By Component, the market is classified into Software, Hardware, and Services. In the forecast period, the services sector dominated the market, accounting for the largest share of market revenue, owing to rising demand for services such as installation, staffing, training, maintenance, and other similar services. Market participants offer these services either separately or as part of a bundle. The increasing need for modern software solutions and platforms like as electronic medical records, as well as the increasing requirement for up-gradation and training to run these software systems, are all contributing to the expansion of the services segment.
Report Scope:
Report Attributes
Report Details
Report Name
Digital Health Market Size Report
Market Size in 2021
USD 143.9 billion
Market Forecast in 2028
USD 367.2 billion
Compound Annual Growth Rate
CAGR of 16.9%
Number of Pages
187
Forecast Units
Value (USD Billion), and Volume (Units)
Key Companies Covered
Allscripts Healthcare Solution, Inc., Cerner Corporation, Cisco system, eCINCICALWORKS, General Electric company, Koninklijke Philips N.V., Honeywell International Inc., Mckesson Corporation, Siemens Healthcare AG, and Qualcomm technology
Segments Covered
By Type,By end-user, And By Region
Regions Covered
North America, Europe, Asia Pacific (APAC), Latin America, Middle East and Africa (MEA)
Countries Covered
North America: U.S and Canada
Europe: Germany, Italy, Russia, U.K, Spain, France, Rest of Europe
APAC: China, Australia, Japan, India, South Korea, South East Asia, Rest of Asia Pacific
Latin America: Brazil, Argentina, Chile
The Middle East And Africa: South Africa, GCC, Rest of MEA
Base Year
2021
Historical Year
2016 to 2020
Forecast Year
2022 - 2030
Customization Scope
Avail customized purchase options to meet your exact research needs. Request For Customization
Recent Developments
In 2020, AT&T has joined forces with LifedMedID and Elo Self-Service Solutions. The collaboration aims to improve patient registration and check-in solutions. This strategic agreement expands AT&T's edge-to-edge digital healthcare solutions to improve patient outcomes, bolstering the company's market footprint.
Regional Landscape
North America dominated, accounting for the largest share of market revenue in the forecast period. Increasing healthcare IT expenditure to advance infrastructure, technological literacy, readiness to adopt advanced technological solutions, favorable government initiatives, the emergence of startups, lucrative funding options, increasing smartphone penetration, and advancements in internet connectivity are all contributing to growth. Moreover, globalization, changing lifestyles, an aging population, an increase in the incidence of chronic diseases, and an increase in demand for value-based care are driving market expansion in North America.
Asia Pacific is expected to have the fastest growth in the coming years as a result of developments in IT infrastructure and the creation of entrepreneurship initiatives, both of which are significantly contributing to the market's development. Rising smartphone penetration, increased use of activity trackers and wearables, and increased demand for healthcare analytics are propelling the Asia Pacific market forward. Favorable changes to data privacy and cyber security protocols are assisting the market's development and growth. Increasing government expenditure and assistance in areas such as remote patient monitoring to ensure inexpensive and accessible healthcare services to communities in developing countries is driving market expansion.
Competitive Landscape
Some of the main competitors dominating the Digital Health Market include - Allscripts Healthcare Solution, Inc., Cerner Corporation, Cisco system, eCINCICALWORKS, General Electric company, Koninklijke Philips N.V., Honeywell International Inc., Mckesson Corporation, Siemens Healthcare AG, and Qualcomm technology, Inc.
Digital Health Market is segmented as follows:
By Product & Service
By Component
Software
Hardware
Services
By End-User
Healthcare Providers
Payers
Healthcare Consumers
Others
By Region
North America
Europe

France
The UK
Spain
Germany
Italy
Rest of Europe

Asia Pacific

China
Japan
India
South Korea
Southeast Asia
Rest of Asia Pacific

Latin America

Brazil
Mexico
Rest of Latin America

Middle East & Africa

GCC
South Africa
Rest of Middle East & Africa