Global Genomics Personalized Health Market Overview
The global Genomics Personalized Health market accounted for USD 4,789.2 Million in 2020 and is expected to reach USD USD 67.1 Billion by 2028, growing at a CAGR of 4.4% from 2021 to 2028.
Genomics personalized health is an evolving field in which physicians use diagnostic tests to identify specific biological markers, often genetic, that help determine which medical treatments and procedures will work best for each patient. Personalized health care has the capacity to detect the onset of disease at its earliest stages, pre-empt the progression of disease, and, at the same time, increase the efficiency of the health care system by improving quality, accessibility, and affordability.
The dominance of the country is primarily based on huge presence of biopharmaceutical companies, government initiatives and supporting regulations, large number of research institutes engaged in the study of personalized medicine, and a strong presence of healthcare infrastructure that includes oncology clinics and diagnostic centers equipped with advanced genomics technologies.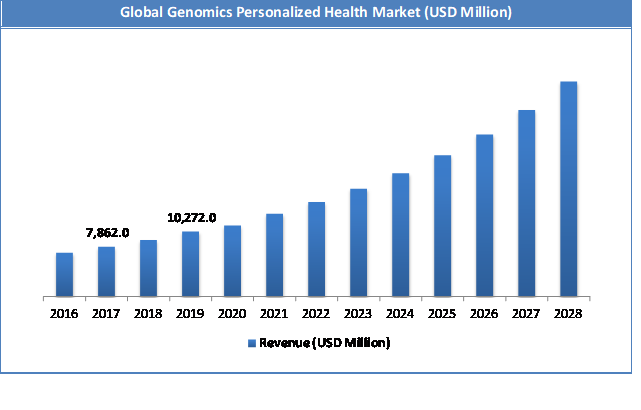 Request Free Sample
COVID-19 Impact Analysis
COVID pandemic has hampered almost all the sectors around the globe. However, it did not succeed in hampering cancer and infectious disease care. It has been observed that the number of outpatients, the frequency of outpatient visits of doctors, the number of patients in wards and the number of surgery operations decreased by 80.3%, 50.0%, 70.6%, and 75.0% in the first two months of pandemic. This was majorly witnessed due to fear of catching infection, strict lockdown, unavailability of public transport, and ban on intercity travel, among others. In line with this, all hospitals have developed detailed guidelines for protecting potentially vulnerable cancer patients under different conditions and have rearranged non-urgent consultations to minimize a given cancer patient's exposure to any healthcare setting.
Growth Factors
Governments around the globe, especially in developed countries, are taking extra efforts to increase the affordability of healthcare to their citizen. In line with this, they are taking favorable steps to improve the market scenario. For instance, the US government has introduced a Health Information Technology for Economic and Clinical Health (HITECH) Act, included as part of the American Recovery and Reinvestment Act of 2009 (ARRA), formalized the Office of the National Coordinator for Health Information Technology and established a funding stream for infrastructure and incentive payments to providers who adopt and use health IT in a meaningful way.
Despite rapid scientific and technological advancement, the healthcare system has been relatively slow to integrate personalized medicine into clinical practice. As per our findings, only 40% of consumers are aware about genomics personalized health. Out of which, hardly, 10% recommended or discussed the genomics personalized medicine with them. In addition to this, most of the health care organizations do not have formalized plans to leverage advances in genomics and data analytics to personalize patient care, and are unprepared to implement personalized medicine programs
Report Scope:
Technology Segment Analysis Preview
NGS Platforms segment held a share of around 59.50 % in 2020. This is attributable to the genome personalized medicine; they are used for molecular profiling in order to discover biomarkers or targeted novel drug targets. Transcriptome sequencing has been carried out to profile mRNA expression analysis and detect non-coding RNAs, such as miRNA, siRNA, piRNA, and lncRNA, which may be potential biomarkers. Additionally, epigenomic sequencings, such as ChIP sequencing, ribosome profiling, and bisulfite sequencing, has merged as a powerful tool for drug development and clinical practice.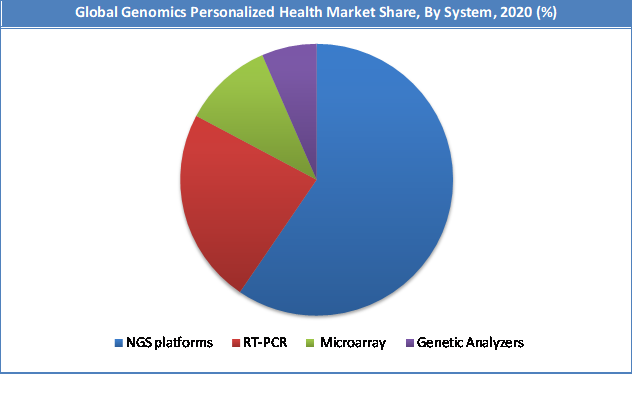 Request Free Sample
Test Type Segment Analysis Preview
Oncology Testing segment held a share of around 41.38 % in 2020. This is attributable with the increasing prevalence of cancers, the market is experiencing robust demand for advanced treatment methods for improved outcome. This has further added fuel to the genomics of personalized therapy or medicine. With each passing year, a greater number of market players are trying to enter the area of personalized medicine for cancer treatment. Today, various research institutes, pharma companies, and diagnostics laboratories are making use of genomics for developing and identifying targeted personalized medicine. Moreover, it helps in understanding the pharmacogenomics of the cancer.
Regional Analysis Preview
The North America region held a share of 38.31% in 2020. This is attributable to the presence of top companies such as Thermo Fisher Scientific, Bio-Rad Laboratories, among others. Moreover, the increasing usage of automated solutions in logistics sector is expected to generate huge demand for the market in this region.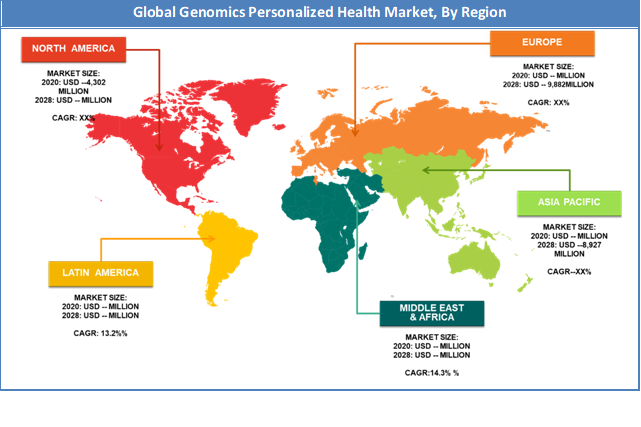 Request Free Sample
Europe region is projected to grow at a CAGR of 15.4% over the forecast period. The genomics personalized health market and the region is further expected to continue holding its dominance over the forecast period. This is majorly attributed to well-established healthcare industry, sophisticated healthcare as well as medical infrastructure, high healthcare spending, active presence of key industry players, and large number of players who have strategic pipeline in regard to the gene therapy and genomics technologies. Additionally, availability of research grants and funding is further supporting the related developments in genomics personalization of health and creating space for revenue opportunities.
Key Market Players & Competitive Landscape
Some key players in Genomics Personalized Health market are illumine, QIAGEN, Thermo Fisher Scientific, Bio-Rad Laboratories, Roche, Lonza Group, among others.
QIAGEN has launched the novel QIAseq Targeted Methyl panels, the first and only NGS-based products for targeted methylation analysis with the increased analytical sensitivity and sequence-targeting capabilities of the company's proprietary Single Primer Extension technology
Thermo Fisher's growth strategy includes significant investment in and expenditures for product development. It sells its products in several industries that are characterized by rapid and significant technological changes, frequent new product and service introductions and enhancements and evolving industry standards. Competitive factors include technological innovation, price, service and delivery, breadth of product line, customer support, e-business capabilities and the ability to meet the special requirements of customers. Its competitors may adapt more quickly to new technologies and changes in customers' requirements than it can. Without the timely introduction of new products, services and enhancements, products and services will likely become technologically obsolete over time, in which case revenue and operating results would suffer.
Genomics Personalized Health Market: Report Scope
Report Attributes
Report Details
Report Name
Genomics Personalized Health Market Report
Market Size in 2020
USD 4,789.2 Million
Market Forecast in 2025
USD 67.1 Billion
Growth Rate
CAGR of 4.4%
Number of Pages
190
Key Companies Covered
illumine, QIAGEN, Thermo Fisher Scientific, Bio-Rad Laboratories, Roche, Lonza Group, among others.
Segments Covered
By Technology, By Type, By End-User, and By Region
Regions Covered
North America, Europe, Asia Pacific (APAC), Latin America, Middle East, and Africa (MEA)
Base Year
2020
Historical Year
2017 to 2020
Forecast Year
2021 - 2028
Customization Scope
Avail customized purchase options to meet your exact research needs. Request For Customization
The global Genomics Personalized Health market is segmented as follows:
By Technology
NGS platforms
Microarray
Genetic Analyzers
By Test Type
Infectious Disease Testing
Autoimmune Disease Testing
Others
By End-User
Academics & Research Institutes
Diagnostic Centers
Others
By Region
North America
Europe

France
The UK
Spain
Germany
Italy
Rest of Europe

Asia Pacific

China
Japan
India
South Korea
Southeast Asia
Rest of Asia Pacific

Latin America

Brazil
Mexico
Rest of Latin America

Middle East & Africa

GCC
South Africa
Rest of Middle East & Africa