Global Healthcare Predictive Analytics Market Overview
The Healthcare Predictive Analytics market accounted for USD 18.5 Billion in 2020 and is expected to reach USD 138.8 Billion by 2028, growing at a CAGR of 28.7% from 2021 to 2028.
The important point for the development of the medical care for healthcare predictive Analytics market incorporate the rise of customized and proof based medication, developing need for increasing productivity in the medical services area, and expanding request to shorten medical care costs by decreasing superfluous expenses is the major growth factors promoting healthcare predictive analytics market.
Factors, for example, government drives to expand EHR reception, developing funding speculations, developing strain to check medical care spending and working on understanding results, the rise of huge information in medical services, and the rising significance of certifiable proof are relied upon to drive the development of the market.
COVID-19 Impact Analysis
Due to Covid-19 pandemic, market players in the healthcare predictive analytics market are developing new ways such as incorporating artificial intelligence in medical care facilities and data analytics in healthcare systems, and others. Research & development facilities are promoting new tools for tracking hospital capacity and to identify high risks. Somehow, due to covid-19 pandemic has influenced the growth factor in the medical sector and promoted new developments in the healthcare predictive analytics market. Healthcare Predictive analytics tools are helping healthcare facilities to stay ahead of difficult outcomes, material shortages, and other problems due to COVID-19. The predictive analytics segment is anticipated to witness lucrative CAGR over the forecast period.
Growth Factors
Predictive Analytics or Predictive modeling is being utilized by the medical care associations to discover the danger rate to a patient's wellbeing. Predictive analytics and investigating to assist the patients and guardians with post-health issues, like critical diseases and response to medication and sensitivities, as medical services suppliers are outfitted with the patient's authentic clinical information, which has been given through the electronic data records.
In addition, with clinics information investigation, patients can find their medical issue to various specialists on ordinary factors. This can be accomplished by a basic investigation interaction of their clinical information, further giving preventive solutions. The development of medical care information examination is required to diminish medical care costs, increment the openness of huge information in medical services industry. The patient information found, shared, and accumulated by these applications is the essential information that medical services organizations examine utilizing these clinical scientific data.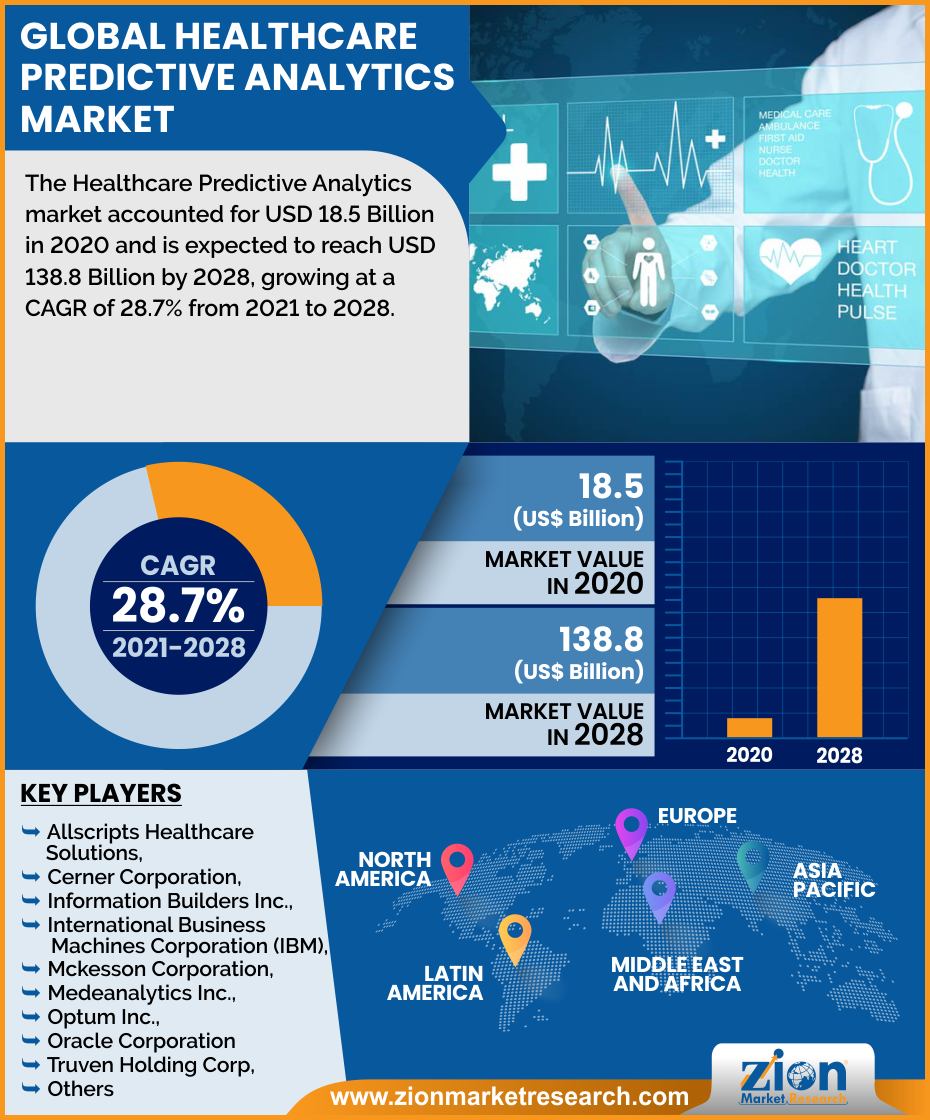 Request Free Sample
Application Type Segment Analysis Preview
Based on application, the market is segmented into operations management, financial data analytics, population health management, and clinical. The population health management segment is expected to witness lucrative growth during the forecast period, owing to the rise in importance of using predictive analytics to evaluate disease treatment pattern and reduce readmission rates.
Report Scope :
End User Segment Analysis Preview
Based on end user, the market is classified into healthcare payers, healthcare providers, and others. Healthcare payers is the largest contributor toward the market growth as this segment mainly includes insurance companies, health plan sponsors where predictive analytics is used to evaluate insurance claims, prevent & detect fraudulent claims, and assess disease risk.
Regional Analysis Preview
The market is dominated by North America, followed by Europe, Asia, and RoW. The market in North America is expected to witness the highest growth during the forecast period. The high growth of the North American market is attributed to growing federal healthcare mandates to curb rising healthcare costs; increasing regulatory requirements; growing EHR adoption; and rising government initiatives focusing on personalized medicine, population health management, and value-based reimbursements.
The market in the APAC region is likely to grow at the fastest rate in the forecast period. The Australian government's National Health Information network proposed in 2004, named 'HealthConnect', extracts summary records from locally collected patient data and then they are aggregated to create a centralized HealthConnect record that may then be shared among participating authorized providers, which is a premier example of Healthcare Predictive Analytics being used by governmental bodies. Further, the European Union directive 2011/24/EU enacts patients' rights in cross-border healthcare, suggesting boosting the digital economy by enabling all Europeans to have access to online records anywhere in Europe by 2020.
Key Market Players & Competitive Landscape
Some of key players in Healthcare Predictive Analytics market include Allscripts Healthcare Solutions, Cerner Corporation, Information Builders Inc., International Business Machines Corporation (IBM), Mckesson Corporation, Medeanalytics Inc., Optum Inc., Oracle Corporation and Truven Holding Corp, among others. These companies have apprehended the major part of the global market in the Healthcare predictive analytics market, entry of new companies is estimated to raise the level of competition in the coming years. Mergers and acquisitions have arrived as the strongest set of strategic measures in the Healthcare predictive analytics market, due to the continued achievement of business growth by the major companies.
IBM is the leading player in the market and provides a comprehensive range of solutions for this market. The company has a strong presence in the commercial and government healthcare payer markets. It also has a robust sales and distribution network across more than 175 countries. IBM invests a significant amount of its revenue in research activities to continuously improve its product portfolio. Since 2005, the company has invested USD 24 billion in the development of its big data and analytics software and services capabilities, and has 6,809 patents to its name. One of the major steps taken by IBM to improve its position in the market is the acquisition of Truven Health Analytics in April 2016. This acquisition helped the company to acquire a major share of the global market.
The Healthcare Predictive Analytics is segmented as follows:
By Application
Clinical Data Analytics
Financial Data Analytics
Research Data Analytics
Operations Management
Others
By Product
Hardware
Software and services
By Mode Of Delivery
By End User
Pharmaceutical Industry
Healthcare Provider
Others
By Region
North America
Europe

France
The UK
Spain
Germany
Italy
Rest of Europe

Asia Pacific

China
Japan
India
South Korea
Southeast Asia
Rest of Asia Pacific

Latin America

Brazil
Mexico
Rest of Latin America

Middle East & Africa

GCC
South Africa
Rest of Middle East & Africa