Industry Prospective:
The global demand planning solutions market size was worth around USD 3.62 Billion in 2022 and is predicted to grow to around USD 8.681 Billion by 2030 with a compound annual growth rate (CAGR) of roughly 10.31% between 2023 and 2030. The report analyzes the global demand planning solutions market drivers, restraints/challenges, and the effect they have on the demands during the projection period. In addition, the report explores emerging opportunities in the demand planning solutions market.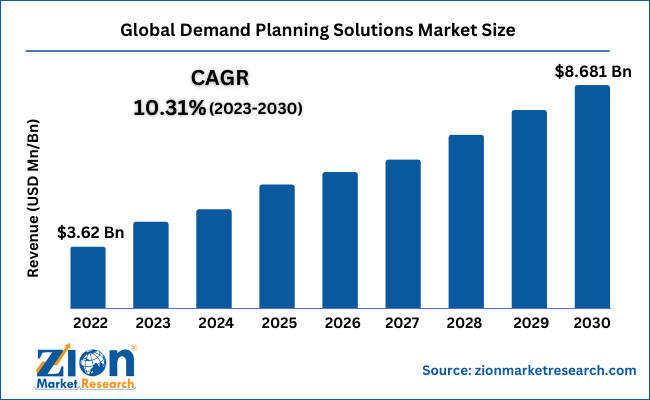 Request Free Sample
Demand Planning Solutions Market: Overview
The demand planning solutions industry revolves around the development and deployment of programming or software solutions that companies and enterprises use to plan the future demand for their products and services. The solutions utilize exhaustive information related to market trends, historical data, and other essential factors to determine or predict future demand. This analyzed information is then used by the company to make an informed decision related to various operational factors like production planning, inventory management, and resource allocation. These three aspects are crucial to business survival and profit making.
The industry has clients across sectors including manufacturing, retail, consumer goods, and healthcare. The solutions have consistently proven to be helpful in improving customer service, reducing costs, and increasing the overall efficiency of business operations by ascertaining that the right quality and quantity of resources are made available at the most critical time. The fraternity is registering a high growth rate in its broader category of the supply chain management software market.
Key Insights:
As per the analysis shared by our research analyst, the global demand planning solutions market is estimated to grow annually at a CAGR of around 10.31% over the forecast period (2023-2030)
In terms of revenue, the global demand planning solutions market size was valued at around USD 3.62 billion in 2022 and is projected to reach USD 8.681 billion, by 2030.
The demand planning solutions market is projected to grow at a significant rate due to the growing complexity of supply chain management
Based on end-user segmentation, BFSI was predicted to show maximum market share in the year 2022
Based on deployment segmentation, on-premises was the leading deployment in 2022
On the basis of region, North America was the leading revenue generator in 2022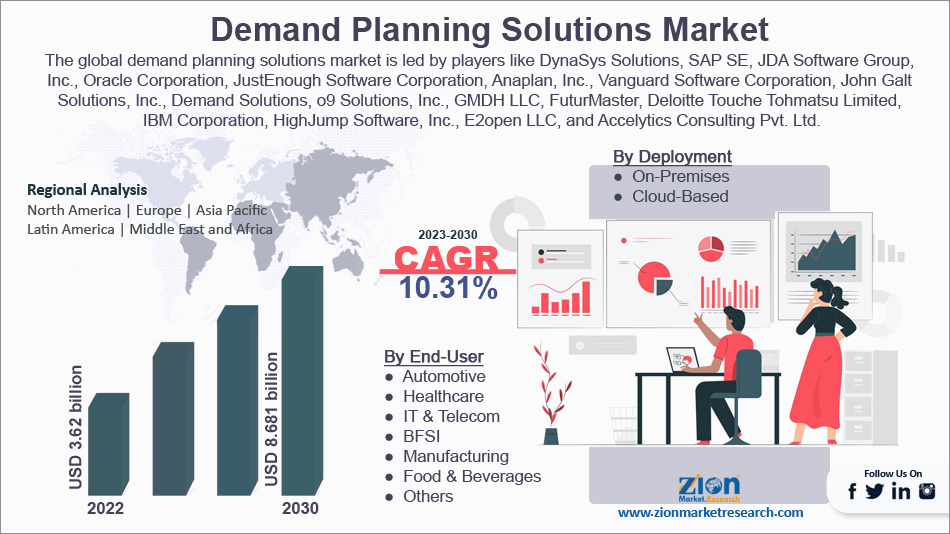 Request Free Sample
Demand Planning Solutions Market: Growth Drivers
Growing complexity in supply chain management to drive market growth
The global demand planning solutions market is expected to register a high growth rate owing to the increasing complexity in the already difficult network of supply chain management. There are several factors that have contributed to compounding difficulties in supply chain operations. One of the key reasons is rapid globalization leading to businesses dealing with a long and wide network of multiple suppliers, manufacturers, and distributors worldwide. Other factors like increased competition, evolving customer expectations, and regulatory requirements are additional reasons for the increasing complexity. This has led to enterprises adopting solutions providing programs that can help them stay prepared for future demand so that they can be better prepared even during unforeseen circumstances.
Demand Planning Solutions Market: Restraints
High cost of implementation and maintenance to restrict market growth
Demand planning solution programs can be expensive in terms of initial installation. They also have added costs in association with maintenance. Furthermore, companies may be required to increase their budgets for the training of employees to utilize the systems alongside having to spend on building information technology (IT) infrastructure within the company. These factors may act as roadblocks to the demand planning solutions industry growth during the forecast period, especially for small to medium-sized firms.
Demand Planning Solutions Market: Opportunities
Increasing adoption of artificial intelligence and machine learning to provide growth opportunities
The global demand planning solutions industry players may expect higher growth opportunities owing to the constant increase in investment toward the integration of advanced tools like artificial intelligence and machine learning. These attributes are expected to improve the overall outcome of demand planning solutions with more accurate results. Furthermore, the advanced versions can assist in undertaking numerous variables while calculating demand forecasts thus providing better performance and cost efficiency.
Demand Planning Solutions Market: Challenges
Limitations of legacy systems to challenge market growth
When any company adopts a new system for business operations, one of the major challenges faced by them is in terms of integrating older or legacy systems with new technology. Since there may be incidents of incompatibility between redundant and advanced systems. The modern demand planning solutions equipped with artificial intelligence may not be compatible with solution programs that are already in place.
Demand Planning Solutions Market: Segmentation
The global demand planning solutions market is segmented based on deployment, component, enterprise size, end-user, and region
Based on deployment, the global market segments are on-premises and cloud-based. In 2022, the industry registered the highest growth in the on-premises segment with a market share of 54%. However, during the forecast period, the cloud-based segment is expected to grow with the highest CAGR. The segmental growth may be mainly influenced by the growing adoption of cloud-based systems and software that are conducted online and typically involve the services of third-party vendors.
This deployment type offers more advantages over offline mode. Some of the benefits include scalability, flexibility, and affordability. The offline segment is expected to be an important contributor, especially for companies that deal with simpler supply chain ratios.
Based on component, the demand planning solutions industry is segmented into solutions and services
Based on enterprise size, the global market divisions are SMEs and large-scale.
Based on end-user, the global market divisions are automotive, healthcare, IT & telecom, BFSI, manufacturing, food & beverages, and others. In 2022, the banking, financial services, and insurance (BFSI) segment took the lead by contributing over 19% of the segmental share. For BFSI companies, software solutions are crucial to forecasting inventory levels. The manufacturing segment is expected to grow at a higher CAGR since the complexities in the sector's supply chain are growing with every passing day. The programs help manufacturing companies manage inventory levels, optimize production schedules, and improve forecasting accuracy.
Recent Developments:
In February 2023, ToolsGroup, a leading provider of software that deals with retail and supply chain planning, announced the next edition of its existing Service Optimizer 99+ (SO99+) software. The next-generation software offers better demand sensing and forecasting capabilities. For instance, as per company claims, the accuracy rate for slower-moving items has increased by 5 to 10%
In March 2023, Zionex, a leading business that deals in providing advanced supply chain platforms along with software programs for integrated business planning, announced the launch of PlanNEL which is a visionary artificial intelligence (AI)-powered, software as a service (SaaS) platform. The new software uses AI and machine learning to provide accurate forecasts
In April 2023, Officeworks announced its partnership with RELEX Solutions. The former is Australia's biggest supplier of office products while the latter is a provider of integrated retail planning and supply chain solutions
Demand Planning Solutions Market: Report Scope
Report Attributes
Report Details
Report Name
Demand Planning Solutions Market Research Report
Market Size in 2022
USD 3.62 Billion
Market Forecast in 2030
USD 8.681 Billion
Growth Rate
CAGR of 10.31
Number of Pages
223
Key Companies Covered
DynaSys Solutions, SAP SE, JDA Software Group, Inc., Oracle Corporation, JustEnough Software Corporation, Anaplan, Inc., Vanguard Software Corporation, John Galt Solutions, Inc., Kinaxis Inc., Slimstock, Business Forecast Systems, Inc., Logility, Inc., RELEX Solutions, ToolsGroup, Blue Yonder Group, Inc., Demand Solutions, o9 Solutions, Inc., GMDH LLC, FuturMaster, Deloitte Touche Tohmatsu Limited, IBM Corporation, HighJump Software, Inc., E2open LLC, and Accelytics Consulting Pvt. Ltd.
Segments Covered
By Deployment, By Component, By Enterprise Size, By End-User, And By Region
Regions Covered
North America, Europe, Asia Pacific (APAC), Latin America, Middle East, and Africa (MEA)
Base Year
2022
Historical Year
2017 to 2021
Forecast Year
2023 - 2030
Customization Scope
Avail customized purchase options to meet your exact research needs. Request For Customization
Demand Planning Solutions Market: Regional Analysis
North America to hold dominance over majority market share
The global demand planning solutions market is expected to witness the highest growth in North America which dominated close to 41.1% of the global market share in 2022. One of the key reasons for the higher growth rate in North America is the presence of key players in the region of the US. Some of these players include Blue Ridge Solutions, IBM, and others. The advanced IT infrastructure of the country further leads to a better growth rate since the US is home to an exceptionally high number of early adopters.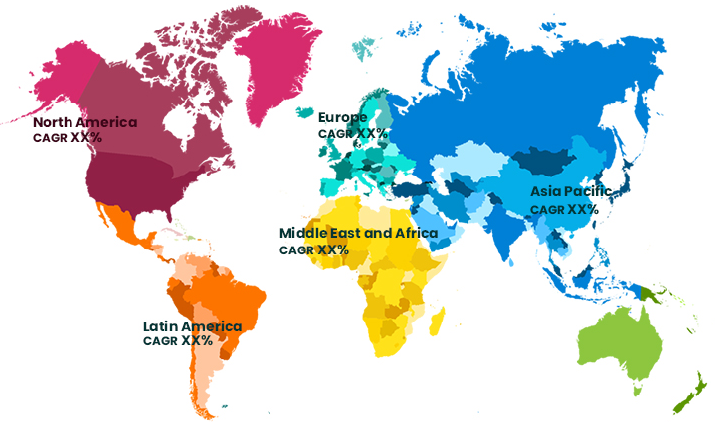 Request Free Sample
Furthermore, regional companies are investing in the development of advanced versions of demand planning solutions incorporating AI and ML technologies for higher accuracy. During the forecast period, Asia-Pacific is anticipated to grow at a CAGR of close to 19% mainly due to the growing adoption of the solutions in the countries of India, China, Japan, and South Korea as these nations eye global dominance in the coming years.
Demand Planning Solutions Market: Competitive Analysis
The global demand planning solutions market is led by players like:
DynaSys Solutions
SAP SE
JDA Software Group Inc.
Oracle Corporation
JustEnough Software Corporation
Anaplan Inc.
Vanguard Software Corporation
John Galt Solutions Inc.
Kinaxis Inc.
Slimstock
Business Forecast Systems Inc.
Logility Inc.
RELEX Solutions
ToolsGroup
Blue Yonder Group Inc.
Demand Solutions
o9 Solutions Inc.
GMDH LLC
FuturMaster
Deloitte Touche Tohmatsu Limited
IBM Corporation
HighJump Software Inc.
E2open LLC
Accelytics Consulting Pvt. Ltd.
The global demand planning solutions market is segmented as follows:
By Deployment
By Component
By Enterprise Size
By End-User
Automotive
Healthcare
IT & Telecom
BFSI
Manufacturing
Food & Beverages
Others
By Region
North America
Europe

France
The UK
Spain
Germany
Italy
Rest of Europe

Asia Pacific

China
Japan
India
South Korea
Southeast Asia
Rest of Asia Pacific

Latin America

Brazil
Mexico
Rest of Latin America

Middle East & Africa

GCC
South Africa
Rest of Middle East & Africa