Market Overview
The global Customer Relationship Management Services market accounted for USD 8.4 Billion in 2020 and is expected to reach USD 120.8 Billion by 2028, growing at a CAGR of 40% from 2021 to 2028.
Customer Relationship Management Services is an amalgamation of business approaches, processes and software that aids in building long-term relationship between consumers and companies. The software makes sure that every phase of the interaction with customers goes effortlessly and proficiently to increment overall profit. Structuring a connection supervision, Cross-team partnership and communication, High level of efficiency, endowed sales management, and precise sales forecasting are the features of CRM propelling the market growth.
Key players in the industry are developing advanced all-in-one solutions for the end-users at a competitive price point. Bring your own device (BOYD) is the system adopted by few companies in order to improve CRM system and manufacturers of CRM software are looking this as opportunities in CRM services market.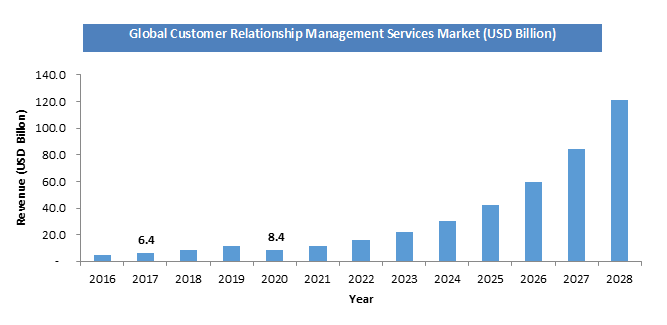 Request Free Sample
COVID-19 Impact Analysis:
COVID-19 pandemic has resulted in a deeply crisis with the imposition of travel restrictions across the globe on account of which the companies are ensuring to take measures for employees welfare and balanced the financial scenario. Throughout the pandemic, organizations and ongoing trades needed to close their sales deals, lookout for opportunities and provide resolutions to the customers in order to increase retention. Government regulation for Work from Home policies has led the organization to emphasize on engaging consumers in remote working scenario. This is estimated to drive the implementation of CRM services to their full prospective as industries is focusing upon using the majority of CRM utilities to oblige buyers, increase sales engagement, and upsurge employee efficiency.
Growth Factors
As organizations are concentrating more on improving sales force, CRM plays very vital role in improving sales force. To understand the behavioral aspects of consumer, companies have to engage with the customers while customer interaction. As companies are focusing on customer engagement, this factor drives the CRM services market globally. Competition makes every company think more on customer satisfaction. Emerging small and medium organization in the market also drives global CRM services market. Simple and easy installation features of customer relationship management software and services drive this market globally. Every region of the world has a different customer base in terms of taste, behavior, and choice. To maintain a good relationship with the global customer, companies are continuously trying to improve the CRM services and system. This factor is also driving the global CRM services market. Every organization has its separate business units. Solution related to customer relationship management services for these business units will fuel the customer relationship management services market. However, customer data security is the main concern for organizations. Privacy and security concern of customer data restraints the global CRM services market.
Report Scope: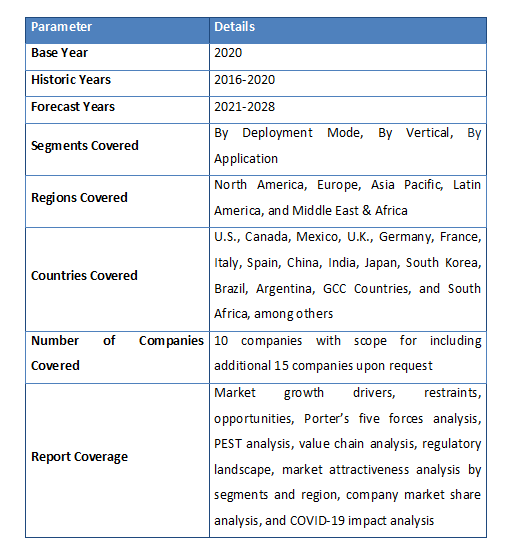 Request Free Sample
Segment Analysis Preview
The customer relationship management services market is segmented on the basis of deployment mode, application, vertical and region. Deployment mode segment under this study includes on premises and cloud. Cloud segment is anticipated is grow owing to its low maintenance cost, high flexibility and scalability
Application segment includes marketing, sales, customer support and services and others. The customer support segment is projected to grow owing to it increasing demand for understanding consumer behavior and their preferences which helps the companies deliver best services.
The vertical segment includes BFSI, government, retail, healthcare, manufacturing, and other. The BFSI and retail are the segments holding major market share owing to increasing demand for smooth communication with purchasers and unceasing access to the consumer database.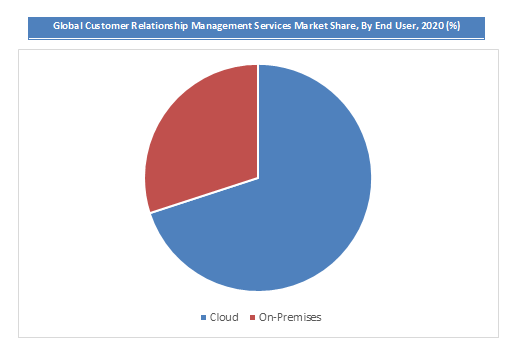 Request Free Sample
Key Market Players & Competitive Landscape
The major players operating in the Customer Relationship Management Services market are IBM Corp., ORACLE CORP., Wipro Limited, Tata Consultancy Services Limited, Microsoft Inc., Salesforce.com, NetSuite Inc., Nimble Inc., SugarCRM Inc., and SAP SE, among others.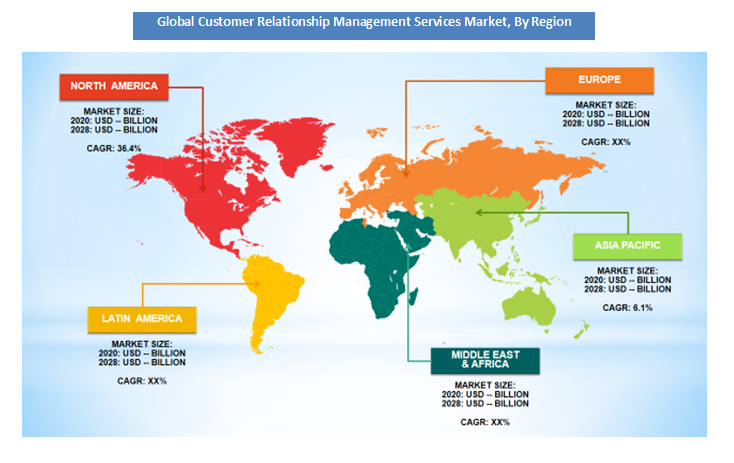 Request Free Sample
The global Customer Relationship Management Services market is segmented as follows:
By Deployment Mode
By Vertical
BFSI
Government
Retail
Healthcare
Manufacturing
Others
By Application
Marketing
Sales
Customer Support and Services
Others
By Region
North America
Europe

France
The UK
Spain
Germany
Italy
Rest of Europe

Asia Pacific

China
Japan
India
South Korea
Southeast Asia
Rest of Asia Pacific

Latin America

Brazil
Mexico
Rest of Latin America

Middle East & Africa

GCC
South Africa
Rest of Middle East & Africa