Industry Prospective:
The global cooler box market size was worth around USD 5 Billion in 2022 and is predicted to grow to around USD 9.5 Billion by 2030 with a compound annual growth rate (CAGR) of roughly 10% between 2023 and 2030.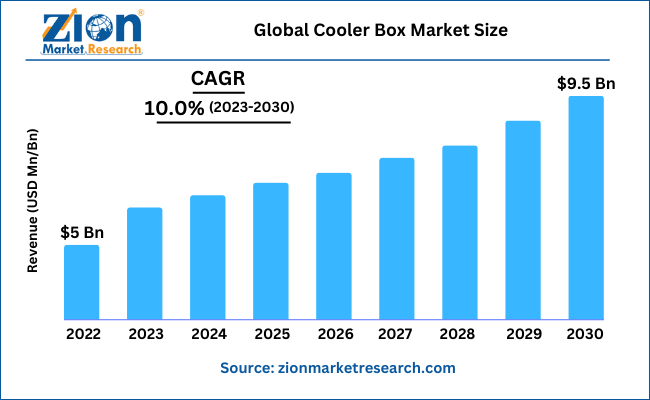 Request Free Sample
The report analyzes the global cooler box market drivers, restraints/challenges, and the effect they have on the demands during the projection period. In addition, the report explores emerging opportunities in the cooler box industry.
Cooler Box Market: Overview
A cooler box is a portable device that helps keep perishables cool and fresh for a long time while preserving vaccines and biological samples. It is a non-mechanically closed box commonly used to store food and beverages. It keeps the temperature low of the product or ingredients. Cooler boxes are designed to isolate the product.
The cooler box is highly portable so they can be easily moved from one place to another. They are usually used on holidays, vacations, and picnics. In addition, they are used in regions where hot summers are there. To keep the temperature low, cold compresses or ice cubes are placed inside the box. As cold packs keep the temperature cool for a longer duration, they are generally preferred over ice cubes. In the healthcare industry, cooler boxes are also used to store drugs in a cool environment.
Key Insights
As per the analysis shared by our research analyst, the global cooler box market is estimated to grow annually at a CAGR of around 10% over the forecast period (2023-2030).
In terms of revenue, the global cooler box market size was valued at around USD 5 billion in 2022 and is projected to reach USD 9.5 billion , by 2030.
The increasing demand for temperature control for preventing food loss drives the cooler box market in the forecast period.
Based on the Type, the Reusable segment will capture the largest market share during the forecast period.
Based on the raw material, the PU Foam segment is expected to grow at a significant rate during the forecast period.
Based on the end users, the food and beverages segment is expected to capture the largest revenue share over the forecast period.
Based on region, Asia Pacific is expected to dominate the market during the forecast period.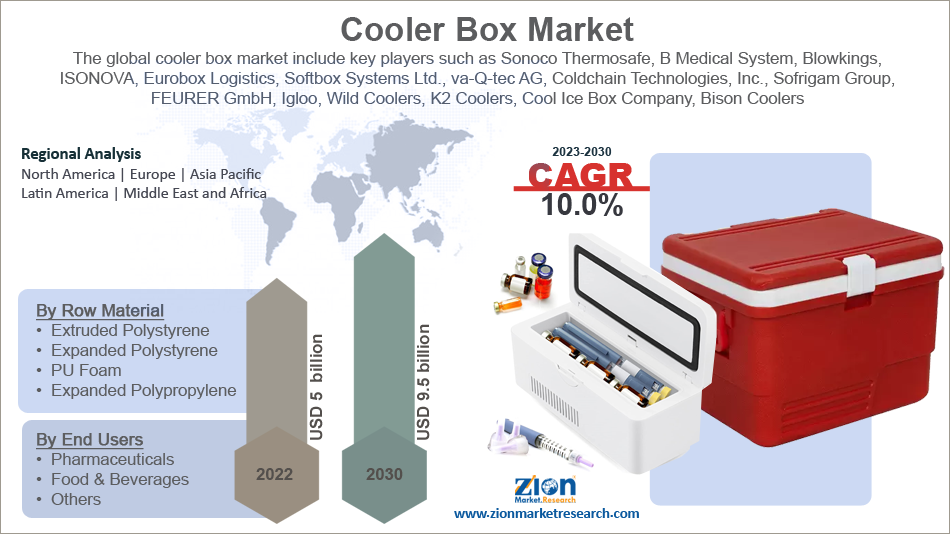 Request Free Sample
Cooler Box Market: Growth Drivers
Growing usage of the cooler box in the pharmaceutical sector
The growth of the pharmaceutical sector is driving the growth of the cooling box market globally. Pharmaceutical products are usually temperature sensitive and require low temperatures or continuous freezing. According to the regulations of the World Health Organization, pharmaceutical products such as drugs, medicines, syringes, and others are transported or stored strictly in a temperature-controlled environment in insulated or closed boxes.
It is mandatory for all pharmaceutical manufacturers, importers, and logistics & storage partners worldwide to comply with these laws when handling these types of medicines. Furthermore, increased research and development (R&D) investment by state governments and major players in the pharmaceutical industry is driving growth in cooler box markets across the region. For instance, In October 2022, CSafe announced the launch of its new advanced reusable pallet shipper, CSafeAPS.
The product is designed to provide thermal protection at refrigerated and frozen temperatures, which provides continuous protection for more than 120 hours.
Cooler Box Market: Restraints
Strict rules and regulations pertaining to the impact of packaging on environmental
Rising problems related to the impact of packaging waste on the environment have caused governments worldwide to adopt firm policies. For instance, the Indian government updated its Plastic Waste Management Norms on June 26, 2020.
Standard tests are also conducted to validate the ability of packaging systems to maintain the temperature range mandated by the International Safe Transit Association (ISTA) standards, which are focused on the packaging, storage, and transportation of goods. Thus, environmental issues and proper disposal of waste act as restraints for the growth of the cooler box market.
Cooler Box Market: Opportunities
Rapidly expanding potential of insulation packaging
Strong economic development in China and India has provided the stimulus for growth in the food and beverage, healthcare, and chemical industries. Emerging economies such as Brazil, India, and China provide significant growth opportunities for the insulating packaging industry.
Growth in these sectors has contributed to increasing demand for packaging a wide range of products such as meat, fish, and poultry, among other perishable goods. This has led to cooler box manufacturers exploring the untapped potential of developing countries to optimize their market share.
Cooler Box Market: Challenges
Significant fluctuations in the raw material prices used to manufacture cooler boxes –
Raw materials used for refrigeration include plastic, glass, paper, and metal. Most of these raw materials are crude oil-based derivatives, which are subject to the risk of changes in supply. Rising crude oil prices are a major challenge for the production of polymer products such as polyurethane, polyethylene, and polystyrene. Cooler box is usually made of polymer materials made from petrochemical products. Therefore, changes in oil prices are expected to affect polymer foam prices in the future.
Cooler Box Market: Segmentation
The global cooler box market is segmented based on type, raw material, end users, and region.
Based on the type, the cooler box market is segmented into reusable and disposable. The Reusable segment is expected to hold a significant share during the forecast period. Reusable cooler boxes are more popular than other types of boxes due to their high performance and hard shell. They are more cost-effective and more durable than disposable materials. These factors lead to the demand for reusable containers. In addition, reusable coolers are frequently used in the pharmaceutical industry where temperature control of products is important.
Based on the raw material, the cooler box market is segmented into PU foam, expanded polystyrene, extruded polystyrene, expanded polypropylene, and others.
The PU foam segment is expected to hold a significant share of the market during the forecast period. PU foam provides the lowest thermal conductivity compared to other insulation materials, making it easier to save space by using less insulation thickness to achieve the same insulation efficiency.
Cooling boxes made of PU foam are particularly important in space-limited cold chain logistics. The advantages of PU foam such as thermal conductivity and thermal insulation efficiency have increased its demand. Furthermore, the cost-effectiveness of foam coolers reduces cost benefits for end users. As a result, it has emerged as the preferred packaging solution used by end users for the regular storage and transportation of their products.
Based on the end users, the market is segmented into pharmaceuticals, food & beverages, and others. The food & beverage segment is projected to hold a significant share of the market during the forecast period. The food and beverage industry faces serious challenges when it comes to transportation.
The main concerns are related to food safety, environmental sustainability, storage, and handling. During transportation, food must be kept at a certain temperature. Exposure to heat may damage the product. Thus, cooler boxes can control the temperature and store food without waste. Therefore, the demand for cooler boxes in the food & beverage industry has increased significantly over the time.
Recent Developments:
In April 2021, B Medical Systems, the Luxembourg-based international leader in medical-grade refrigeration and vaccine cold chain equipment, announced that it is partnering with Cold Chain Technologies, one of the most comprehensive providers of reusable and single-use thermal packaging solutions for the shipment of temperature-sensitive material, to bring end-to-end thermal shipping and medical storage solutions to the life sciences market.
In November 2022, Sonoco, a global leader in diversified packaging, plans to further expand Sonopost corner post manufacturing with the new facility in Bursa, Turkey.
In March 2022, Cold Chain Technologies, LLC a portfolio company of Aurora Capital Partners and a leading global provider of thermal packaging solutions for the transportation of temperature-sensitive products for the life sciences industry, announced that it has acquired Packaging Technology Group, LLC a leading provider of sustainable, curbside-recyclable thermal packaging solutions for the life sciences industry
In October 2022, CSafe Global, the largest provider of a complete range of active and passive temperature-controlled shipping solutions for the pharmaceutical industry, announced the launch of its new advanced reusable pallet shipper, CSafe APS.
In October 2022, AZENTA, INC. announced the acquisition of B Medical Systems S.Á R.L and its subsidiaries, a market leader in temperature-controlled storage and transportation solutions that enable the delivery of life-saving treatments to more than 150 countries worldwide.
Cooler Box Market: Report Scope
Report Attributes
Report Details
Report Name
Cooler Box Market Research Report
Market Size in 2022
USD 5 Billion
Market Forecast in 2030
USD 9.5 Billion
Growth Rate
CAGR of 10%
Number of Pages
219
Key Companies Covered
Sonoco Thermosafe, B Medical System, Blowkings, ISONOVA, Eurobox Logistics, Softbox Systems Ltd., va-Q-tec AG, Coldchain Technologies, Inc., Sofrigam Group, FEURER GmbH, Igloo, Wild Coolers, K2 Coolers, Cool Ice Box Company, Bison Coolers
Segments Covered
By type, By Row Material, By End Users, and By Region
Regions Covered
North America, Europe, Asia Pacific (APAC), Latin America, Middle East, and Africa (MEA)
Base Year
2022
Historical Year
2017 to 2021
Forecast Year
2023 - 2030
Customization Scope
Avail customized purchase options to meet your exact research needs. Request For Customization
Cooler Box Market: Regional Analysis
Asia Pacific is expected to dominate the market during the forecast period
The Asia Pacific region is expected to grow significantly in the global cooler box market during the forecast period. The emergence of well-known companies in countries such as India & China, the accessibility to technology, and increased personal effort drive increased entertainment, which is expected to support economic growth in the coming years.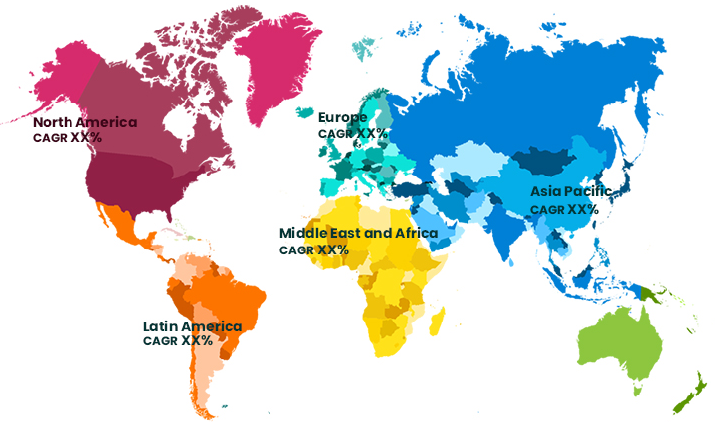 Request Free Sample
The growth has further impacted the cooler box industry due to strict temperature control regulations in the pharmaceutical industry and trade liberalization in the global food industry. In addition, high consumption, population growth, rapid development, changing lifestyles, and research & development in shipping processed and fresh fruit, vegetables, dairy products and other perishable foods have positively impacted the market.
Cooler Box Market: Competitive Analysis:
The global cooler box market include key players such as:
Sonoco Thermosafe
B Medical System
Blowkings
ISONOVA
Eurobox Logistics
Softbox Systems Ltd.
va-Q-tec AG
Coldchain Technologies Inc.
Sofrigam Group
FEURER GmbH
Igloo
Wild Coolers
K2 Coolers
Cool Ice Box Company
Bison Coolers
The global cooler box market is segmented as follows:
By type
By Row Material
Extruded Polystyrene
Expanded Polystyrene
PU Foam
Expanded Polypropylene
By End Users
Pharmaceuticals
Food & Beverages
Others
By Region
North America
Europe

France
The UK
Spain
Germany
Italy
Rest of Europe

Asia Pacific

China
Japan
India
South Korea
Southeast Asia
Rest of Asia Pacific

Latin America

Brazil
Mexico
Rest of Latin America

Middle East & Africa

GCC
South Africa
Rest of Middle East & Africa