Chocolate Market Size
The global chocolate market size was worth USD 136.0 billion in 2020 and is predicted to gain revenue of about USD 192.12 billion by 2028, with a CAGR of nearly 4.7% over the period from 2021 to 2028. The report offers an assessment and analysis of the Chocolate Market on a global and regional level. The study offers a comprehensive assessment of the market competition, constraints, revenue estimates, opportunities, evolving trends, and industry-validated data. The report provides historical data from2018 to 2020 along with a forecast from 2021 to 2028 based on revenue (USD Billion).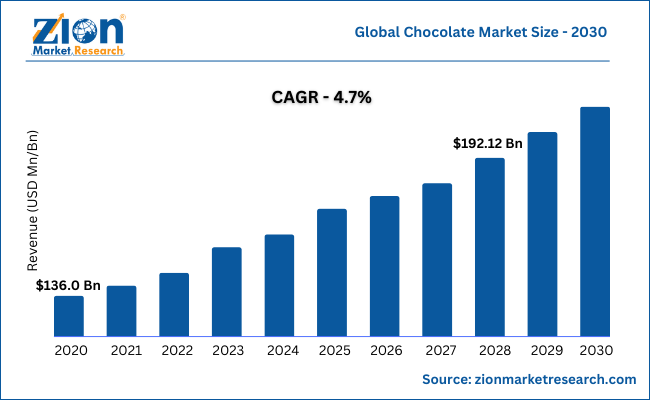 Request Free Sample
Chocolate Market: Overview
Chocolate is edible item prepared through roasting of cacao seeds derived through theobroma cacao tree pods. Furthermore, these cacao seeds are harvested, fermented, dried, and grinded to form a paste. After this, these seeds are put under high pressure for bifurcating cocoa from chocolate. The latter is a high source of alkaloids that are utilized in manufacturing confectionery & bakery items including puddings, cakes, brownies, and cookies. Growing customer preference for various chocolate flavors will steer expansion of chocolate market in upcoming years.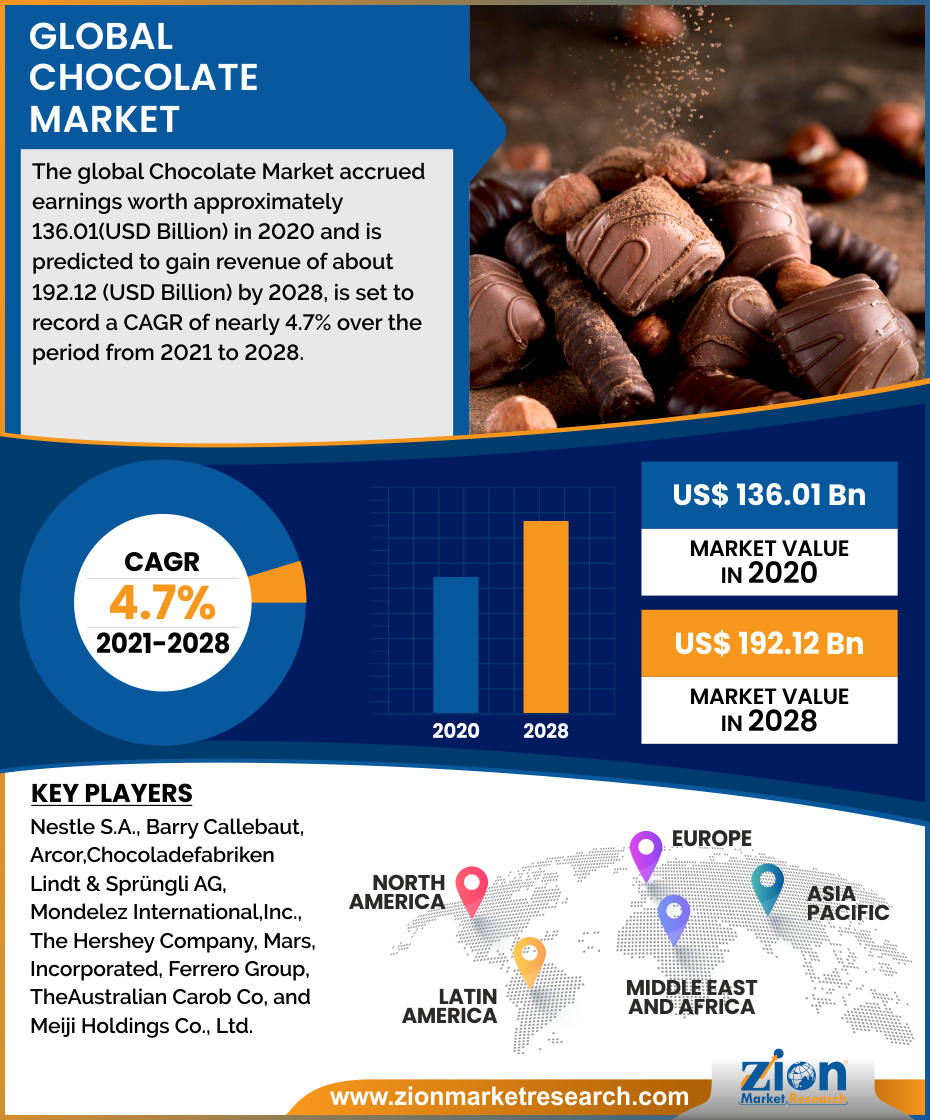 Request Free Sample
Chocolate Market: Growth Drivers
Substantial expansion in food & beverages industry will spur the growth of the chocolate industry. In addition to this, escalating consciousness related to dark chocolate as healthy confectioneryitem will proliferate expansion of chocolate market over assessmentperiod. Rise in disposable income of consumers in emerging economies of Asia Pacific will translate into massive product demand over the assessment period. With chocolate demand regaining a peak during festive & seasonal occasions, market for chocolate is set togain traction over years ahead. Nonetheless, oscillating raw material costs will pose a threat to growth of chocolate market inupcoming years.
Furthermore, the surge in the purchasing capacity of consumers will offer new growth avenues for chocolate market in years ahead. Apparently, regular intake of dark chocolate in normal quantities is predicted to enhance blood circulation in human body along with reducing blood pressure as well as reducing heart attack risk. This,in turn, is set to spike the growth of the chocolate market over the forecasting timespan.
Chocolate Market: Regional Landscape
Europe To Make Notable Contributions Towards Overall Market Share By 2028
Growth of chocolate market in Europe in next seven years can becredited to rise in demand for dark chocolate among customers inmajor European countries such as France, the UK, and Germany. Escalating need for high quality chocolate products along with the growing popularity of fine cocoa in continent will culminate in humungous regional market growth over assessment period.
Report Scope:
Chocolate Market: Competitive Landscape
Key participants profiled in report and lucratively influencinggrowth of chocolate market are Nestle S.A., Barry Callebaut, Arcor,Chocoladefabriken Lindt & Sprüngli AG, Mondelez International,Inc., The Hershey Company, Mars, Incorporated, Ferrero Group, The Australian Carob Co, and Meiji Holdings Co., Ltd.
The global Chocolate Market is segmented as follows:
By Type of Chocolate
Dark Chocolate
White Chocolate
By Sales Category
Everyday Chocolate
Premium Chocolate
Seasonal Chocolate
By Region
North America
Europe

France
The UK
Spain
Germany
Italy
Rest of Europe

Asia Pacific

China
Japan
India
South Korea
Southeast Asia
Rest of Asia Pacific

Latin America

Brazil
Mexico
Rest of Latin America

Middle East & Africa

GCC
South Africa
Rest of Middle East & Africa