Charcot-Marie-Tooth Disease Type I (CMT) Market Size & Overview
The Charcot-Marie-Tooth Disease Type I Market (CMT) Size accounted for USD 480.72 Million in 2020 and is expected to reach USD 632.16 Million by 2028, growing at a CAGR of 3.5% from 2021 to 2028.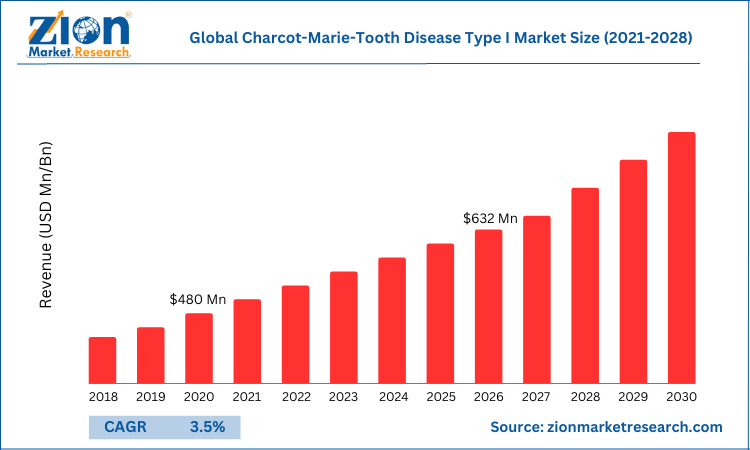 Request Free Sample
Charcot-Marie-Tooth disease (CMT) is a disease that affects and damages the peripheral nerves that function as a transmit information and signals from the brain and spinal cord to and from the rest of the body, as well as sensory information such as touch back to the spinal cord and brain. CMT can also directly harm the nerves that control the muscles. Increasing muscle weakness thus becomes noticeable in adolescence or early adulthood, but certain types of disease can occur at any age. As the longer nerves are affected first, symptoms normally begin in the feet and lower legs and later can affect the fingers, hands, and arms. Most people with CMT have some amount of physical disability.
COVID-19 Impact Analysis
It's been more than a year now, the COVID-19 outbreak was encountered globally and during this time, the world has suffered through unprecedented COVID-19 outbreak, several times, posing social, health, and economic emergency. Physical therapy, disease treatment, and research and development activities are some of the severely affected areas of healthcare R&D and Charcot Marie Tooth Disease Type 1A market due to COVID-19 outbreak. With travel, transport, and import-export restrictions on board and ban on local movement, people were stuck at places from where they couldn't attend laboratories and offices for months which has made vaccine production and supply chain companies to lose enormous revenue in first 3 quarters of 2020. Research & development activities across healthcare sector have suffered enormous backlash due to stoppage of supply of raw materials for research and development and manufacturing. Investments in the animal welfare and vaccination programs and healthcare development, were held or pulled out, causing severe financial tensions.
Growth Factors
CMT1A is a very rare type of neuromuscular disorder for which drug therapy is in development phase and clinical stage and currently there is unavailability of precise drug therapy. General therapy including physical therapy and occupational therapy is highly adopted for symptom management of CMT1A. General physical therapy is inexpensive in nature, physiotherapists are widely available, and medical devices and braces are used in physical therapy, which makes it highly effective in treating symptoms and pain management in CMT1A. Over the next few years, overall market for physical therapy segment for CMT1A treatment is expected to grow exponentially
Moreover, number of drug therapies are in development and preclinical stage, which are expected to launch at the start of next decade. With these launches, initially the overall market will grow exponentially as drug therapy rates will decline due to increasing competition in market and drug therapy adoption will increase.
Charcot-Marie-Tooth Disease Type I (CMT) Market Report Scope:
| Report Attributes | Report Details |
| --- | --- |
| Report Name | Charcot-Marie-Tooth Disease Type I (CMT) Market Research Report |
| Market Size in 2020 | USD 480.72 Million |
| Market Forecast in 2028 | USD 632.16 Million |
| Growth Rate | CAGR of 3.5% |
| Number of Pages | 209 |
| Forecast Units | Value (USD Billion), and Volume (Units) |
| Key Companies Covered | Acceleron Pharma, Genzyme (A Sanofi Company), Inflectis Bioscience, Ionis Pharmaceuticals, The National Institutes of Health, among others. |
| Segments Covered | By Type, By Therapy, And By Region |
| Base Year | 2021 |
| Historical Year | 2016 to 2020 |
| Forecast Year | 2022 - 2030 |
| Customization Scope | Avail customized purchase options to meet your exact research needs. Request For Customization |
Type Segment Analysis Preview
PXT3003 by Pharnext segment held a share of around 77% in 2020. This is attributable as these therapies will be one of the first to hit the global market, where initially they will be launched in North America and Europe. These drug therapies are precise in nature and treat CMT1A disease. But on the other hand, these therapies are expected to be highly expensive in nature, due to which a minimal number of patients would be able to afford it. Other patients will have to rely on medical insurances to get treated with such precise therapies. Market for these drug therapies is expected to grow exponentially from the mid of this decade.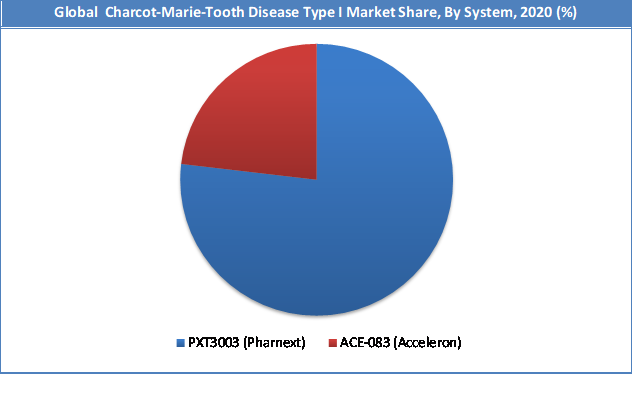 Request Free Sample
Therapy Industry Segment Analysis Preview
Physical therapy segment will grow at a CAGR of over 41.97% from 2021 to 2028. This is attributable Currently, physical therapy, occupational therapy, and other therapies are used for treating symptoms of CMT1A disease. In other therapies, pain management is the most widely used physical therapy, which provides great relief to patients. General physical exercises, braces, and orthopedic medical devices are also used in treatment of symptoms of CMT1A. Precise medical devices and braces are in development to be used during physical therapy sessions, which is expected to drive the overall physical therapy segments.
Regional Analysis Preview
North America region held a share of 37.47% in 2020. This is attributable to the presence of top companies such as The National Institutes of Health, among others. Moreover, the increasing usage of therapies is expected to generate huge demand for the market in this region.
The Europe region is projected to grow at a CAGR of 26.29% over the forecast period. Whichever therapies are currently adopted for treatment are general physiotherapy techniques which also includes use of physical therapy medical devices and orthopaedic braces. Clinical trials for drug therapies are not yet conducted in few of the regions including Asia Pacific, the Middle East, & Africa, which has given a way to the physical therapies to be adopted by the patients on large scale. Adoption for such physical therapies is at greater level in these regions, driving the physical therapy treatment market for CMT1A.
.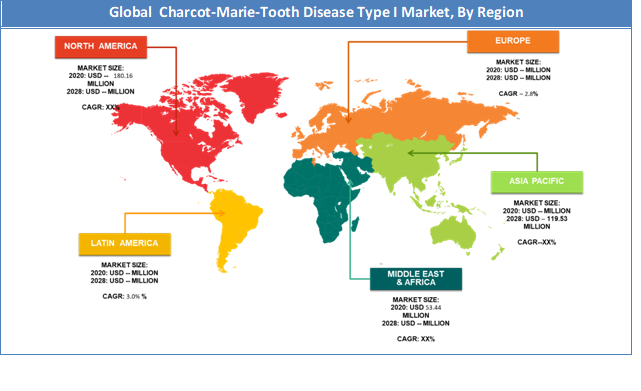 Request Free Sample
Key Market Players & Competitive Landscape
Some of key players in the Charcot-Marie-Tooth Disease Type I market are
Acceleron Pharma
Genzyme (A Sanofi Company)
Inflectis Bioscience
Ionis Pharmaceuticals
The National Institutes of Health
In March of 2014, the CMTA entered an alliance with Ionis Pharmaceuticals (Ionis), a leading company in the development of Anti-Sense-Oligonucleotide (ASO) therapies. ASOs are short synthetic pieces of chemically modified nucleic acids (DNA or RNA) designed to bind to the RNA that codes for a protein. Once the ASO binds to the RNA it causes the destruction of the RNA by cellular enzymes, effectively leading to a decrease in the amount of targeted protein that is expressed. Ionis had previously demonstrated the ability to deliver an ASO to peripheral nerves and wanted to work with the CMTA to design a therapy that would decrease PMP22 protein levels in CMT1A patients. Specific ASOs were designed which proved effective in altering PMP22 RNA levels in two different rodent models of CMT1A.
In September 2014, the CMTA entered an alliance with Genzyme, a Sanofi company, to test their large libraries of molecules to identify those that dampen the known disease defect in CMT1A. A screening test capable of the automation required for this work was developed in a collaboration between the University of Wisconsin and the NIH. Following testing of close to 2 million molecules at Sanofi, a number of chemical classes were identified that suppress the overexpression of PMP22, a key protein implicated in the causation of CMT1A.
The global charcot-marie-tooth disease type I (CMT) market is segmented as follows:
By Type
PXT3003 (Pharnext)
ACE-083 (Acceleron)
By Therapy
Physical Therapy
Occupational Therapy
Others PXT3003 (Pharnext)
By Region
North America
Europe

France
The UK
Spain
Germany
Italy
Rest of Europe

Asia Pacific

China
Japan
India
South Korea
Southeast Asia
Rest of Asia Pacific

Latin America

Brazil
Mexico
Rest of Latin America

Middle East & Africa

GCC
South Africa
Rest of Middle East & Africa