Candle Market Size & Industry Trends
According to the Zion Market Research report, the global candle market size was valued at USD 8.38 billion in 2018. It is expected to reach around USD 13.72 billion by 2026, at a CAGR of 6.3% between 2019 and 2026.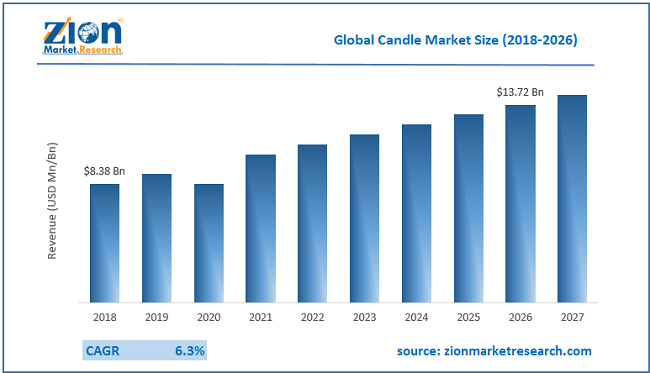 Request Free Sample
To know more about this report, Request A Sample Copy.
Candle Market: Overview
The global candle market is an industry worth several billion dollars and contains a wide variety of distinct kinds of candles, including scented candles, decorative candles, votive candles, pillar candles, and tea light candles, amongst others. Candles have several applications, including decorating the interior of homes, aromatherapy, participating in religious and spiritual rituals, and giving as presents.
The market for candles has been steadily expanding over the past few years, driven by factors such as the rising popularity of aromatherapy, the growing trend of home decor and ambiance, and the rising demand for eco-friendly and natural products. Some of the factors that have contributed to this growth include:
The rising demand for scented candles is one of the primary trends that can be observed in the market for candles. Candles with natural fragrances and essential oils are becoming increasingly popular among consumers. This is due to the fact that these candles offer a variety of therapeutic benefits and are considered a more natural and healthier option to candles with synthetic smells. In addition, aromatherapy practices, such as yoga and meditation, as well as spas and wellness centers, are increasingly turning to the usage of scented candles.
The market for candles is also seeing another trend, which is the increasing popularity of decorative candles. Customers are turning to candles as a decorative element in their homes in greater numbers, and they are looking for one-of-a-kind and artistic candles that speak to their individual sense of style and preference. This has resulted in an increase in the number of small businesses that have specialized in the production of handcrafted candles as well as the number of artisanal candle manufacturers.
The market for candles that are better for the environment and made from natural ingredients is also expanding. Customers are becoming increasingly worried about the influence that the items they use to have on the environment. As a result, they are looking for candles that are manufactured using natural and sustainable ingredients, such as soy wax, beeswax, and coconut wax. These candles frequently do not contain any artificial perfumes or dyes, making them a choice that is not only more natural but also better for your health.
In general, it is anticipated that the market for candles will keep expanding over the course of the coming years. This expansion will be driven by a number of factors, including the growing interest in aromatherapy and wellness, the rising demand for eco-friendly and natural products, and the rising popularity of home decor and ambiance.
The report covers a forecast and an analysis of the candle market on a global and regional level. The study provides historical data from 2016 to 2018 along with a forecast from 2019 to 2026 based on revenue (USD Billion). The study includes drivers and restraints of the candle market along with their impact on the demand over the forecast period. Additionally, the report includes the study of opportunities available in the candle market on a global level.
In order to give the users a comprehensive view of the candle market, we have included a competitive landscape and an analysis of Porter's Five Forces model for the market. The study encompasses a market attractiveness analysis, wherein all the segments are benchmarked based on their market size, growth rate, and general attractiveness.
Candle Market: Growth Drivers
In recent years, the market for candles has seen tremendous expansion thanks to the combined effects of a number of different causes. The following are some of the most important factors propelling growth in the candle market:
Candles are frequently utilized not just because of their aesthetic value but also because of the calming atmosphere that they help to generate in a variety of situations, including homes, restaurants, and spas. The purchase of candles has become more popular as more individuals place an emphasis on self-care and the development of warm and inviting environments within their homes.
Scented candles have quickly become one of the most popular ways to impart a pleasant aroma into residential and other settings. Customers are drawn in by the vast assortment of aromas that are available to them, which can range from floral and fruity to spicy and earthy notes.
Candles are a popular present option for a variety of events, including birthdays, holidays, and even gatherings to welcome new homeowners into their homes. As a direct consequence of this, there is typically an increase in demand for candles during the busiest times of the year for giving gifts.
Candles are becoming increasingly popular among consumers as a means of incorporating aromatherapy and wellness practices into their daily routines. It is widely held that candles containing essential oil infusions offer a variety of health advantages, including the alleviation of stress and the promotion of relaxation.
Increased online sales are a direct result of the proliferation of e-commerce, which has made it simpler for customers to buy candles over the internet, hence driving up demand. Traditional stores with brick-and-mortar locations typically have a more limited selection of items and do not offer the same level of convenience that is offered by online candle retailers.
items that are sustainable and friendly to the environment Customers are showing an increased interest in purchasing products that are sustainable and friendly to the environment, such as candles created from natural, renewable, and biodegradable ingredients. As a direct consequence of this, candle manufacturers now offer products that are kind to the environment, which has contributed to a growth in the demand for these kinds of goods.
In general, the expansion of the candle market can be ascribed to the rising demand for items that are aesthetically pleasing, fragrant, and environmentally friendly, and that encourage relaxation, well-being, and the creation of atmosphere.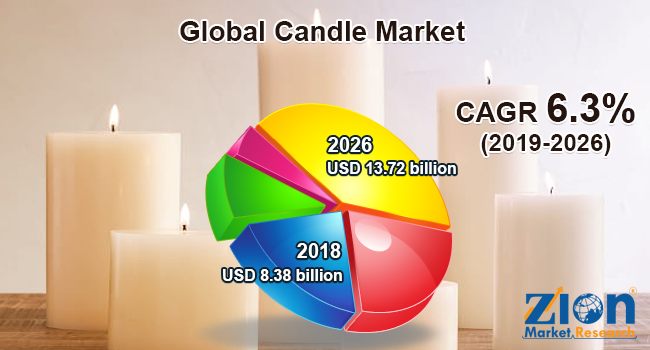 Request Free Sample
The report provides a company market share analysis to give a broader overview of the market's key players. In addition, the report also covers key strategic developments of the market including acquisitions & mergers, new product launches, agreements, partnerships, collaborations & joint ventures, research & development, and regional expansion of major participants involved in the market on a global and regional basis.
Candle Market Report Scope:
Report Attributes
Report Details
Report Name
Candle Market Research Report
Market Size in 2018
USD 8.38 Billion
Market Forecast in 2026
USD 13.72 Billion
Compound Annual Growth Rate
CAGR of 6.3%
Number of Pages
110
Forecast Units
Value (USD Billion), and Volume (Units)
Key Companies Covered
Vollmar, Baltic Candles, Bolsius International, Delsbo Candle, Duni, Hansa Candle, KORONA Candles, CerasRoura, Contract Candles, and Candle Scandinavia.
Segments Covered
By Product Analysis, By Raw Material Analysis, And By Region
Regions Covered
North America, Europe, Asia Pacific (APAC), Latin America, Middle East, and Africa (MEA)
Countries Covered
North America: U.S and Canada
Europe: Germany, Italy, Russia, U.K, Spain, France, Rest of Europe
APAC: China, Australia, Japan, India, South Korea, South East Asia, Rest of Asia Pacific
Latin America: Brazil, Argentina, Chile
The Middle East And Africa: South Africa, GCC, Rest of MEA
Base Year
2021
Historical Year
2016 to 2020
Forecast Year
2022 - 2030
Customization Scope
Avail customized purchase options to meet your exact research needs. Request For Customization
Candle Market: Segmentation
The study provides a decisive view of the candle market by segmenting it based on the product, raw material, and region. All the segments have been analyzed based on present and future trends and the market is estimated from 2019 to 2026. The regional segmentation includes the historical and forecast demand for North America, Europe, Asia Pacific, Latin America, the Middle East, and Africa.
Opportunities
The candle market presents a number of chances for further development and enlargement. The following are some of the most important opportunities:
Product innovation Candle manufacturers can continue to innovate and introduce new product lines in order to meet the ever-shifting demands of their customers. They might, for instance, concoct candles with one-of-a-kind scents or blend existing fragrances in order to produce novel and intriguing odors. Also, they have the opportunity to experiment with new candle designs, forms, and colors that are aesthetically pleasing and match various types of decor.
Internet presence: As e-commerce has become increasingly popular, candle manufacturers have the opportunity to grow their online presence and connect with new clients by using social media and online marketplaces. They are able to promote their products and communicate with customers through the usage of social media platforms, whereas online marketplaces can provide access to a bigger audience and assist boost sales.
Personalization: Providing customers with the opportunity to personalize their candles is a terrific method for candle manufacturers to differentiate their products from those of their rivals and come up with a unique selling proposition. They are able to personalize the customer experience by providing a selection of customizable options, including labels, fragrances, and packaging. This allows them to respond to individual preferences.
Gifting to corporations The market for corporate giving offers a chance for candle manufacturers to increase the size of their existing customer base. Candles are a wonderful alternative to the presents that companies frequently buy for their workers, customers, and other types of business associates. Candle manufacturers have the ability to provide their corporate customers with unique branding and packaging options, which can assist them in developing long-term partnerships and generating repeat business.
People are increasingly interested in purchasing products that are sustainable and kind to the environment, and the candle market is no exception to this trend. The production of candles can be made more environmentally friendly by focusing on generating sustainable products made from natural and renewable materials, employing environmentally friendly packaging, and incorporating environmentally friendly production procedures.
Expansion on a global scale: Because there is a global need for candles, manufacturers of candles can investigate possibilities for expanding their operations overseas. They are able to conduct research and discover emerging markets that have a high potential for growth, and then they can modify their products and marketing techniques to meet the culture and preferences of the local consumers in such markets.
The candle market as a whole presents a number of potentials for growth and expansion, including those associated with product innovation, internet presence, personalization, corporate gifting, environmental friendliness, and international expansion.
Candle Market: Regional Analysis
It is anticipated that the global market for candles will continue expanding in the years to come, with significant contributions coming from a number of areas. The following is a list of some of the regions that are anticipated to make major contributions to the expansion of the worldwide market for candles:
Candles are sold at a high volume in the North American region, which is one of the world's largest candle marketplaces. The United States is the country that has had the greatest impact on the expansion of this industry. The demand for candles in the region is being fueled by the increasing acceptance of scented candles, luxury candles, and eco-friendly candles as acceptable alternatives to traditional candles.
Europe: The European region is also a key contributor to the global candle market, with nations like Germany, France, and the United Kingdom being some of the major markets for candles. The expanding trend of utilizing candles for ornamental purposes, as well as the increasing desire for eco-friendly and natural candles, are the primary factors driving the need for candles in the region.
The growing demand for candles in rising economies such as China, India, and Indonesia is anticipated to fuel significant growth in the Asia-Pacific area over the next few years. This increase is expected to contribute to the region's overall expansion. It is anticipated that the region would experience an increase in demand for candles as a result of rising disposable incomes, shifting lifestyle patterns, and a growing interest in home decoration.
Middle East and Africa: It is anticipated that the Middle East and Africa region would also experience considerable growth in the years to come. This growth will be driven by the rising demand for luxury candles and scented candles. It is anticipated that the increased popularity of candle usage in religious and cultural occasions would also drive market expansion in this region. This is predicted to be the case in this particular region.
In general, it is anticipated that the worldwide candle market will experience significant expansion in the years to come, with significant contributions expected from the regions of North America, Europe, Asia-Pacific, and the Middle East and Africa.
Key Market Players & Competitive Landscape
Some key players in the candle market are
Vollmar
Baltic Candles
Bolsius International
Delsbo Candle
Duni
Hansa Candle
KORONA Candles
CerasRoura
Contract Candles
Candle Scandinavia
This report segments the global candle market into:
By Product Analysis
Tea Lights
Votive
Pillars
Birthday Candles
Cartridge Candles
Others
By Raw Material Analysis
Beeswax
Stearin
Paraffin Wax
Rapeseed Wax
Palm Wax
Soy Wax
Others
Candle Market: Regional Analysis
North America
Europe
Asia Pacific
Latin America
The Middle East and Africa