Biopolymer Coatings Market: Overview
The Global Biopolymer Coatings Market accounted for USD 1095.4 Million in 2020 and is expected to reach USD 1656.9 Million by 2028, growing at a CAGR of around 5.3% between 2021 and 2028.
Biopolymers are polymeric biomolecules, used for making adhesives and coating. They're naturally renewable and might be used as block coatings on paper packaging materials. The biopolymer coating breaks unwanted moisture transfer in food products. These coatings are good oxygen and oil barriers, are biodegradable, and are capable of changing present synthetic paper and paperboard coatings. They're made by a mixture of antimicrobial agents in coatings to supply the active paper packaging material, which is a spectacular option for shielding food from microorganism development and spread.
Rising environmental anxieties regarding the pollution produced from certain synthetic packaging & coatings and therefore the demand from consumers for coatings that provide higher quality and longer periods are driving the biopolymer coatings market. It possesses a unique potential and thus, can help reduce Greenhouse Gas (GHG) emissions effectively. Additionally, the growing demand for cost-effective and environment-friendly materials for packaging is anticipated to fuel market growth within the forecast period. Also, the increased growth within the packaging industry and acceptance of biopolymer coatings by manufacturers are increasing demand.
COVID-19 Impact Analysis
At the start of 2021, COVID-19 disease began to spread around the world, many people worldwide were infected with COVID-19 disease, and major countries around the world have implemented foot prohibitions and strike orders. Apart from the medical supplies and life support products industries, most industries are greatly impacted, and the Biopolymer Coatings industries are greatly affected.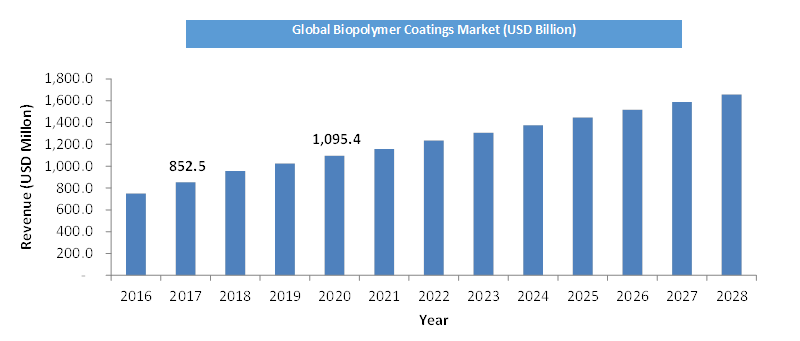 Request Free Sample
Biopolymer Coatings Market: Growth Factors
Growing industrialization and standardization of the packaging procedures and high implementation of biopolymer coatings is driving the market. Preference towards eco-friendly materials in packaging industries also as textiles is that the driving factor of the biopolymer coatings market. Sustainable, recyclable, and non-toxic nature is that the key element boosting the buyer preference towards the biopolymer materials, thus boosting the expansion of the biopolymer coatings market.
Moreover, rising urbanization and lifestyle, health and environment awareness, and consumer preferences towards fresh and prepared meals in removing packaging with convenient packaging style are that the vital factor impacting the expansion of the biopolymer coatings market positively. Increasing investment for this packaging revolution is leading to the demand for biopolymer coatings within the market. High demand for biopolymers in cosmetics, food, and beverages also as constant efforts of the manufacturers to develop a good range of quality products and technologies are the main drivers of the biopolymer coatings market.
Report Scope: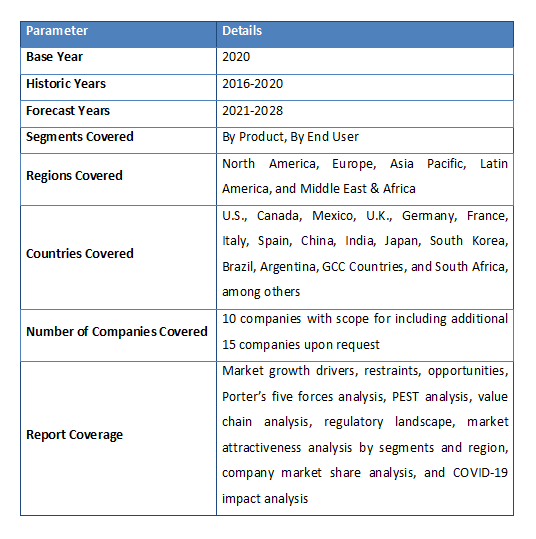 Request Free Sample
Segment Analysis Preview
The global biopolymer coatings market is segmented based on their material types as polysaccharides, proteins, and lipid compounds. These materials are further sub-segmented as for polysaccharides, cellulose, starches, chitosan acts as a protective film against oil, the protein includes collagen, gluten, cottonseed proteins, and zein. Lipid compounds comprise natural waxes, animal fat, and Bio polybutylene succinate (PBS) coatingsnt fat. Based on the end-user, the global market is further classified as rigid packaging, textiles, food and beverages, flexible packaging, Textile, agriculture, Food & Beverages, and others. Packaging was the foremost application of the global Biopolymer Coatings market in 2020. It accounted for above 30% share of the total volume consumption of the market in 2020. The growing rigid and flexible packaging in the food & beverages, pharmaceutical & healthcare industries is expected to accelerate the market's growth during the coming years.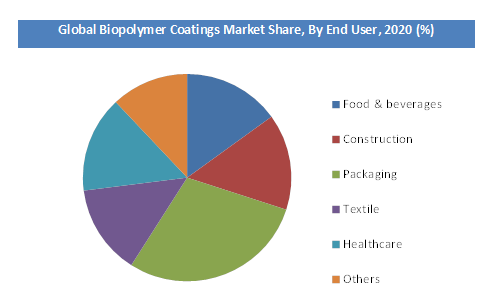 Request Free Sample
Biopolymer Coatings Market: Regional Analysis Preview
The US dominates the worldwide biopolymer coatings market due to the growing food and packaging industry, implementation of eco-friendly concepts, and rising industrialization and technology. Europe is predicted to grow at a rapid pace thanks to changing consumer preferences towards using reusable products and expanding the food industry within the coming years. The Asia Pacific may boost the expansion of the market due to the rising economy and rapid urbanization.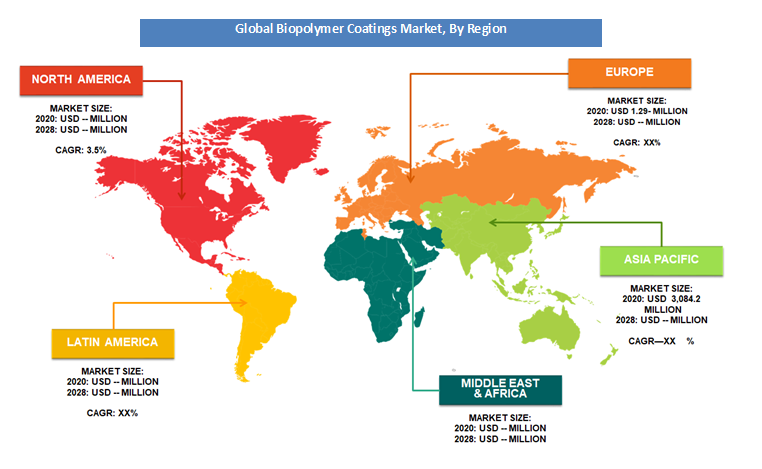 Request Free Sample
Biopolymer Coatings Market: Competitive Landscape
Key market Bio polybutylene succinate (PBS) coatingsyers in the global biopolymer coatings market include Ashland Inc., Dow Chemical, Economy Polymers & Chemicals, JM Huber, Novamont, Archer-Daniels-Midland (ADM), Bio polybutylene succinate (PBS) coatingsntic Technologies, Cargill Inc. and Corbion NV. Other major Bio polybutylene succinate (PBS) coatingsyers dominating the market are ICC Industries Incorporated, NovaMatrix, Borregaard ASA, and Croda International.
The global Biopolymer Coatings Market is segmented as follows:
By Products
Bio Polyurethane (PU) coating
Bio polyamide (PA) coatings
Bio polybutylene succinate (PBS) coatings
Cellulose esters
Others
By End User
By Region
North America
Europe

France
The UK
Spain
Germany
Italy
Rest of Europe

Asia Pacific

China
Japan
India
South Korea
Southeast Asia
Rest of Asia Pacific

Latin America

Brazil
Mexico
Rest of Latin America

Middle East & Africa

GCC
South Africa
Rest of the Middle East & Africa