Description
According to the report published by Zion Market Research, global demand for BFSI security market was valued at approximately USD 10.05 Billion in 2019, and is expected to generate revenue of around USD 19.30 Billion by end of 2026, growing at a CAGR of around 9.5% between 2020 and 2026.
Global BFSI Security Market: Overview
BFSI stands for Banking, Financial Services, and Insurance. BFSI usually consists of commercial banks, non-banking financial companies, insurance companies, cooperatives, mutual funds, pension funds, and other smaller financial entities. Banking includes core banking, private, retail, corporate, cards, and investment. Financial Services include stock broking, mutual funds, payment gateways, and so on. Insurance includes both life (living) and non-life (non-living). Electronic banking platforms have come into use as an efficient way to process banking transactions remotely. These banking transactions are executed from web-based applications over the Internet along with the security risk exposing user's data to hackers.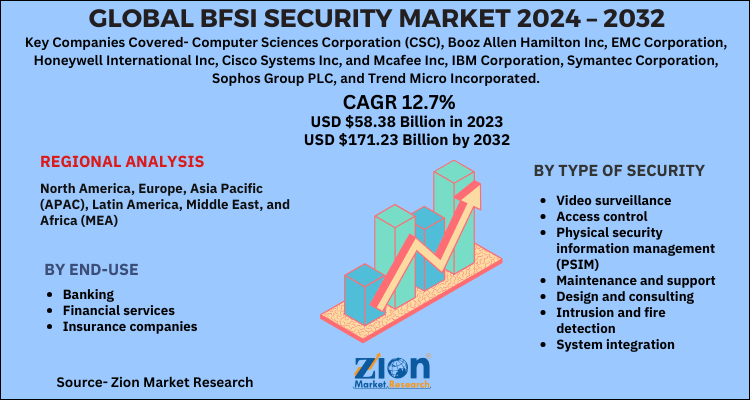 Global BFSI Security Market: Growth Factors
With an increasing number of cybercrimes activities, security of sensitive data such as personally identifiable information, commercial banking details, personal banking details, and the confidential corporate information is at a high risk. Owing to these reasons, the demand for BFSI security solutions has witnessed a high demand in the past few years and this trend will continue to grow in the near future. Bank and financial institutions are operated in the highly regulated environment. Any type of data breach incidences in such environment mainly occur due to non-compliance with various operational standards. Hence, there is increasing need for BFSI security in order to ensure the long-term security of banking and financial institutions and their data. BFSI security not only includes cyber security but it also includes physical security of banking and financial institutions.
Global BFSI Security Market: Segmentation
On the basis of the type of security, the global BFSI security market is segmented as physical security and information security. The physical security segment is further sub-segmented as video surveillance, access control, intrusion and fire detection, system integration, physical security information management (PSIM), maintenance and support, and design and consulting. The information security segment is further sub-segmented as risk and compliance management, identity and access management, encryption, unified threat management (UTM), disaster recovery, firewall, data loss protection, and web filtering. Further on the basis of end-use, the global BFSI security market is segmented as banking, financial services, and insurance companies. Region-wise, the global market is segregated into North America, Europe, Asia Pacific, Latin America, and Middle East & Africa.
Global BFSI Security Market: Regional Analysis
North America and Europe are anticipated to be the major players in the market owing to their early adoption of the technology; they are expected to continue this trend in the near future. In addition, owing to the presence of developing countries such as India, Australia, South Korea, and China, Asia Pacific is expected to be the fastest growing market for BFSI security. Rapid urbanization and increasing number of users on online platforms are the major factors boosting the demand for BSFI security solutions in this region.
Global BFSI Security Market: Competitive Players
Some of the major players dominating the global BFSI security market are Computer Sciences Corporation (CSC), Booz Allen Hamilton Inc., EMC Corporation, Honeywell International, Inc., Cisco Systems Inc., and Mcafee, Inc. Other key players influencing the global market are IBM Corporation, Symantec Corporation, Sophos Group PLC, and Trend Micro Incorporated.
BFSI Security Market: Regional Segment Analysis
North America
Europe

France
The UK
Spain
Germany
Italy
Rest of Europe

Asia Pacific

China
Japan
India
South Korea
Southeast Asia
Rest of Asia Pacific

Latin America

Brazil
Mexico
Rest of Latin America

Middle East & Africa

GCC
South Africa
Rest of Middle East & Africa