Online Payment Gateway Market Size And Industry Analysis
The global Online Payment Gateway Market accounted for USD 18200 Million in 2020 and is expected to reach USD 86511.9 Million by 2028, growing at a CAGR of 21.6 % from 2021 to 2028.
The payment gateway is a system that gathers and sends payment data from the client to the acquirer. These systems allow companies and businesses, like the online retail platforms or physical storefronts, to receive cash from customers from a bank of their choice without jeopardizing sensitive information. Payment gateway systems, which feature efficient alert mechanisms that identify suspicious offline and online occurrences, are frequently utilized in cashless transactions. Some of the key factors driving market growth are the rapidly rising internet prevalence throughout the world, advances in mobile payment technology, an increase in the usage of smart phones and mobile wallets for variety of operations. Market participants are placing a premium on customer retention by forming agreements with credit/debit card firms like MasterCard, Inc. and Visa, Inc. to streamline the payment process and reduce processing fees.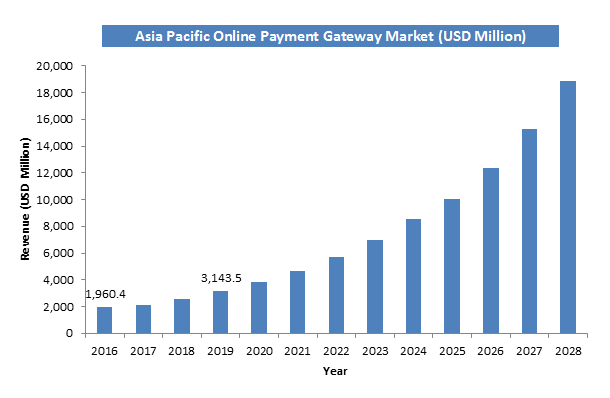 Request Free Sample
COVID-19 Impact Analysis
The pandemic of COVID-19 has had a favorable influence on online payment gateway market growth. This is due to the increased use of the internet, which has promoted the use of payment gateways. Furthermore, because mobile and internet services connect people to payment gateways and other online platforms, people's reliance on these services has grown throughout this period.
In addition, with millions of people under quarantine throughout the world purchasing for products, entertainment, and services online, the COVID-19 epidemic fueled worldwide e-commerce boom.
Growth Factors
Mobile payments are utilized for diverse operations, including ordering takeaway food, movie tickets, and smart phone game upgrades, which is expected to propel the growth of the market studied, during the forecast period. Also, the usage of debit or credit card across the developed and developing countries, to make these payments, is increasing. This factor is expected to further bolster the growth of the market studied. This is because card details can be saved on mobile phones, and payment can be processed easily, via smart phones.
Over the projected period, the rapidly rising internet penetration around the world is expected to fuel market growth. Customers are increasingly adopting online payment options to pay their bills these days. Furthermore, rising consumer knowledge of the convenience of online purchases, along with shifting payment preferences, has resulted in the fast acceptance of online payment options are propelling the market growth.
Report Scope: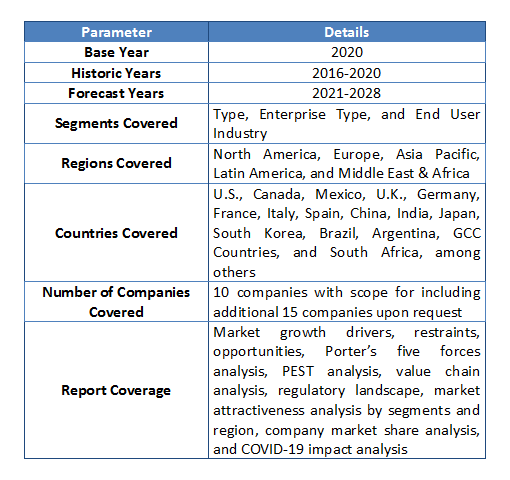 Request Free Sample
Type Segment Analysis Preview
The hosted segment held a share of around 55% in 2020. This is attributable to the benefits of hosted payment gateways, such as enhanced security, decreased merchant liability, and ready-to-use payment setups, are driving growing demand among merchants. This model is normally used by merchants since it allows them to decrease fraudulent activity and focus on their main products. In addition, hosted payment gateways comply with a lot of standards and regulations making them a safer option for processing of payments.
End User Industry Segment Analysis Preview
Retail segment will grow at a CAGR of over 25% from 2021 to 2028. This is due to an increase in online transactions processed in e-commerce and retail businesses all around the world. Mobile banking, faster payments, government initiatives to promote cashless economy, digital commerce are few of the factors that are propelling the use of online payment gateways in the retail segment. In addition to these factors, consumers benefit from the payments made via online payment gateways as they make the entire payment process hassle free and easier. Online payment gateways cater to those consumers who find convenience in elimination of cash-on-hand issue and faster and shorter moving queues.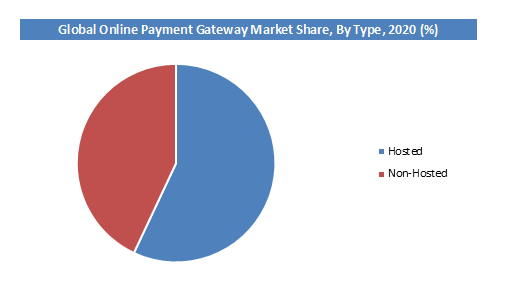 Request Free Sample
Regional Analysis Preview
The North American region held a share of around 35% in 2020. This is attributable to the technological advancements and the widespread usage of payment gateways across a variety of end-use segments in this region. At the same time, the presence of major key players like BluePay, Mastercard, and Amazon Payments Inc. are fueling regional market expansion. Furthermore, the region's burgeoning e-commerce sector is fueling the market growth.
The Asia Pacific region is projected to grow at a CAGR of around 20% over the forecast period. This surge is due to the increase can be linked to a number of government efforts aimed at improving the online payment infrastructure of the various nations in the Asia Pacific region. For instance, the Reserve Bank of India (RBI) has regulated many gateways to allow successful digital payments in India. In addition, the government of China is concentrating its efforts on boosting internet connectivity in rural regions, resulting in increased potential for the online payment gateways market growth in this region.
Key Market Players & Competitive Landscape
Some of key players in Online Payment Gateway Market are Adyen, Authorize.Net, Bitpay, Inc., Amazon Payments Inc., Braintree, PayPal Holdings Inc., Stripe, PayU Group, Verifone Holdings Inc., Wepay, Inc. among others.
Market participants are placing a premium on customer retention by forming agreements with credit/debit card firms like MasterCard, Inc. and Visa, Inc. to streamline the payment process and reduce processing fees. In addition to this, they key players are attempting to expand their market share through mergers and acquisitions in order to attract more customers.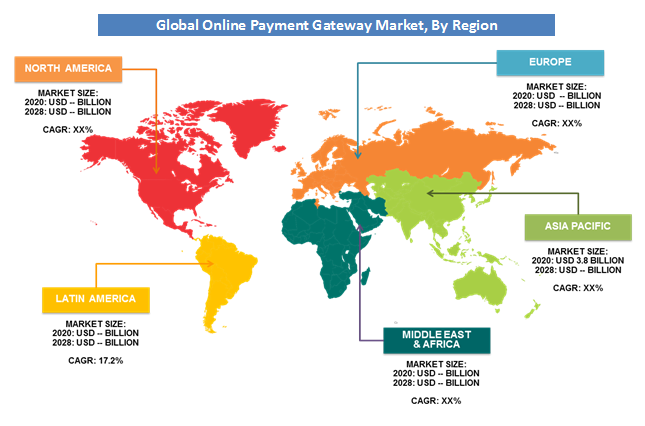 Request Free Sample
The Online Payment Gateway Market is segmented as follows:
By Type
By Enterprise
Small and Medium Enterprise (SME)
Large Enterprise
By End Use Industry
Retail
Travel
BFSI
Media and Entertainment
Others
By Region
North America
Europe

France
The UK
Spain
Germany
Italy
Rest of Europe

Asia Pacific

China
Japan
India
South Korea
Southeast Asia
Rest of Asia Pacific

Latin America

Brazil
Mexico
Rest of Latin America

Middle East & Africa

GCC
South Africa
Rest of Middle East & Africa