Pumps implied for transferring automotive fluids to automobiles are called automotive pumps. These pumps are gaining popularity globally for improvising a vehicle's performance and fuel efficiency. Automotive pumps are utilized in numerous automotive parts, such as steering wheels, coolant, lubrication, and transmission.
Automotive manufacturers across the globe are primarily focused on constant enhancement of various automotive technologies. Many automobile manufacturers are observed to be involved in the automation of vehicles, which is a significant factor driving the automotive pumps market. Numerous automotive manufacturers are collaborating with IT enterprises for developing autonomous driving technologies and scrutinizing information accumulated from connected cars. Moreover, automotive pumps are significantly trending in the automotive industry due to their fuel efficiency. Globally, 97.31 billion units of automobiles were produced in 2017.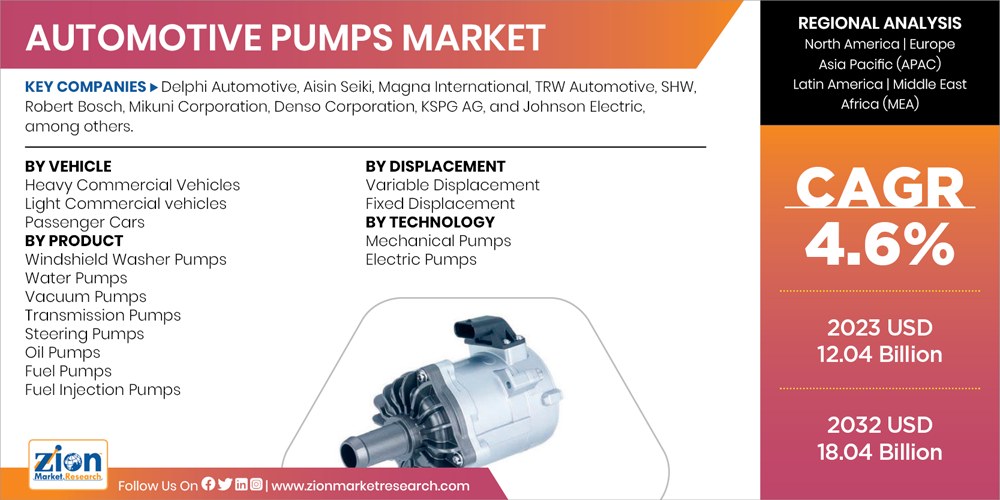 Electric pumps offer various benefits as compared to mechanical pumps, such as high efficiency and low-temperature fluctuations. Due to these factors, the replacement of mechanical pumps by electrical pumps is globally trending. The adoption of electric pumps is elevating globally, as it can efficiently operate at high pressures. Many automotive manufacturers are opting for electric pumps to comply with different mandatory environmental government regulations. Electric pumps are independent of any engine operations and effectively reduce carbon dioxide emissions from combustion engines. Moreover, electric pumps play a vital role in an electric vehicle. The rising demand for electric vehicles is simultaneously driving the automotive pumps market. By the end of 2030, over 125 billion electric vehicles are anticipated to be on the road.
By vehicle, the automotive pumps market includes light commercial vehicles, passenger cars, and heavy commercial vehicles. The passenger cars segment is anticipated to hold the highest market share in the upcoming years. By product, the market is fragmented into windshield washer pumps, fuel pumps, vacuum pumps, steering pumps, oil pumps, transmission pumps, fuel injection pumps, and water pumps. The fuel injection pumps segment is expected to hold the largest share of the automotive pumps market in the future.
The Asia Pacific automotive pumps market is expected to hold the largest share globally, owing to the increasing collaboration of Chinese companies with other international companies manufacturing automotive pumps. Europe is expected to grow notably, in terms of revenue, in the upcoming years owing to the significant regional presence of renowned market players.
Some noticeable players in the automotive pumps market are Delphi Automotive, Aisin Seiki, Magna International, TRW Automotive, SHW, Robert Bosch, Mikuni Corporation, Denso Corporation, KSPG AG, and Johnson Electric.
This report segments the global automotive pumps market into:
Global Automotive Pumps Market: By Vehicle
Heavy Commercial Vehicles
Light Commercial vehicles
Passenger Cars
Global Automotive Pumps Market: By Product
Windshield Washer Pumps
Water Pumps
Vacuum Pumps
Transmission Pumps
Steering Pumps
Oil Pumps
Fuel Pumps
Fuel Injection Pumps
Global Automotive Pumps Market: By Displacement
Variable Displacement
Fixed Displacement
Global Automotive Pumps Market: By Technology
Mechanical Pumps
Electric Pumps
Global Automotive Pumps Market: By Region
North America
Europe
Asia Pacific
Latin America
Middle East and Africa