Audiometers Industry Prospective:
The global audiometers market size was worth around USD 210.39 million in 2022 and is predicted to grow to around USD 314.29 million by 2030 with a compound annual growth rate (CAGR) of roughly 5.17% between 2023 and 2030.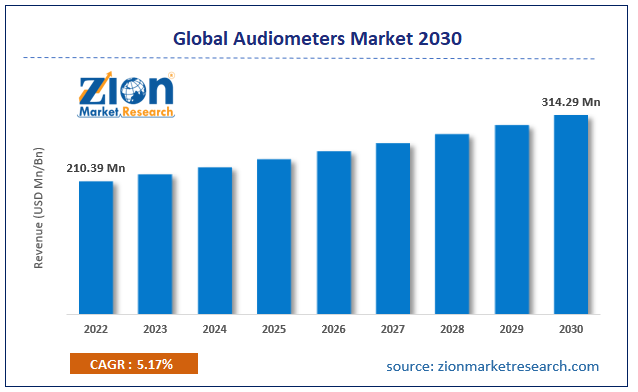 Request Free Sample
Audiometers Market: Overview
An audiometer is a medical device used for the evaluation of hearing ability or acuity. Audiometers consist of an embedded system made of a hardware unit that in turn is connected to a pair of headphones. It also consists of a test subject feedback button which may, in certain instances, be connected to a standard personal computer. For testing of conductive hearing mechanisms, audiometers may also have a connection for bone vibrators. They are standard equipment at an ear, nose, and throat (ENT) clinic. They are also widely used in audiology centers. While currently hardware audiometers are more widely used, there is a growing segment for software audiometers showcasing different configurations.
The functionality of audiometers is simple. It transmits previously recorded sounds at varying frequencies to the test subject using headphones and records the subject's response to the sound heard. The recorded information is in the form of an audiogram of speech understanding profile or threshold sensitivity. Several standards regulate the specific audiometer requirements and test procedures. These standards include the International Electrotechnical Commission (IEC) 60645, the International Organization of Standardization (ISO) 8253, and the American National Standards Institute (ANSI) isoS3.6 standards.
Key Insights:
As per the analysis shared by our research analyst, the global audiometers market is estimated to grow annually at a CAGR of around 5.17% over the forecast period (2023-2030)
In terms of revenue, the global audiometers market size was valued at around USD 210.39 million in 2022 and is projected to reach USD 314.29 million, by 2030.
The audiometer market is projected to grow at a significant rate due to the increasing launch of new and improved audiometers
Based on application segmentation, hospitals was predicted to show maximum market share in the year 2022
Based on product segmentation, PC-based audiometers was the leading segment in 2022
On the basis of region, North America was the leading revenue generator in 2022
Audiometers Market: Growth Drivers
Increasing launch of new and improved audiometers to drive market growth
The global audiometers market is projected to grow owing to the increasing launch of new and highly effective audiometers catering to the demanding needs of the healthcare sector. The new audiometers are highly sensitive and are manufactured using new-age digital systems to provide accurate results for varying hearing-related medical conditions. In May 2023, MedRx, a US-based manufacturer of audiometers, announced the launch of a new range of solutions thus expanding its product portfolio.
The company launched the AWRC. It is an audiometer powered by a computer along with a wireless real-ear management (REM) combination system. The product is the company's first wireless REM device intended to help medical professionals provide more fitted and efficient hearing aid systems to patients. In other news, Interacoustics launched a new type 4 audiometer in the audiometer industry. The system is built into a headset and hence is a headset-only design that supports quick and easy hearing screening for all age groups. Apart from the headset, the users will need only a Luna license key along with patient response and a personal computer or a laptop to run the software.
Growing government initiatives to provide hearing medical care may deliver better results
Loss of hearing ability is a growing medical concern. While some patients lack hearing ability since birth, many have reported suffering hearing loss with time or age. A recent report claims that nearly 1.3 billion people across the globe are unable to hear at least from one ear. Around 13% of adults over the age of 18 have reported the inability of hearing aids to resolve the issue. This has led to more government initiatives and projects by international healthcare agencies to spread patient awareness and run large-scale screening campaigns in a bid to report undiagnosed cases of hearing problems thus impacting global market size. For instance, in April 2022, the Karnataka Government of India screened around 1 lakh people in a span of 3 months for hearing loss. The government used the KUDUwave Bluetooth audiometry technology for this purpose as it allowed healthcare professionals to conduct tests online and offline.
Audiometers Market: Restraints
High cost of device to restrict market growth
The audiometers industry growth is expected to be restricted due to the high cost of audiometers, especially the more advanced versions or audiometers that run on sophisticated software. For instance, in the US the average cost is around USD 4000. The price may increase further depending on the model and the brand of the device. In addition to this, when upgrading to novel systems, the training cost of medical professionals further results in higher expenses. Some professionals may not be comfortable with the change and show hesitancy toward adapting to new technology which may lead to additional barriers.
Audiometers Market: Opportunities
Rising investments in construction and inauguration of new hearing clinics to push market revenue
The global audiometers market growth for audiometers is likely to be impacted by the increasing investments in the construction and launch of new hearing clinics and audiology centers catering to the medical needs of a growing population. In December 2018, Starkey Hearing Technologies inaugurated its first full hearing care service center in Africa located in Nairobi. The facility is equipped with a 3D ear-mold laboratory and aims to provide medical care to the Kenyan population. As per reports, around 1 in every Kenyan citizen suffers from hearing issues.
Growing number of players in the audiometry industry to open new avenues for growth
The audiometry industry is witnessing a sharp rise in the number of players operating the hearing segment. In August 2023, Titan Eyecare, a Titan Company division, announced its entry into the hearing medical sector with the launch of a new audiology segment in association with WS Audiology. The company will set up new diagnostic tests at specific stores as a part of the new launch.
Audiometers Market: Challenges
Dynamic regulatory measures guiding product sale and use may challenge market growth
The global audiometer market players are likely to face challenges due to the existence of a dynamic ecosystem related to regulatory measures that drive audiometer innovation, development, and sale. Suppliers must ensure adhering to the guidelines to avoid any unwanted situations that may harm market growth trends.
Audiometers Market: Segmentation
The global audiometers market is segmented based on application, product, and region.
Based on application, the global market segments are hearing aid centers, specialty clinics, and hospitals. In 2022, the highest growth was observed in the hospitals segment led by increasing partnerships between governments and public or private hospitals to run large-scale initiatives toward reporting the exact status of hearing conditions in the general population. Increased efforts toward providing effective medical care to low-income groups and populations living in remote locations further added to segmental growth. Hearing aid centers provide specific care and hence have less footfall as compared to hospitals. As per official statistics, at 40 years, people start losing hearing ability.
Based on product, the audiometer industry divisions are PC-based audiometers, hybrid audiometers, and standalone audiometers. The demand was higher for PC-based audiometers in 2022 primarily due to improved results shown by these variants. PC-based audiometers are typically equipped with the software and hardware necessary to conduct tests and determine accurate results. Increasing adoption of new-age systems in hospitals and other medical centers is expected to drive segmental growth. A study conducted on the accuracy rate of a 40 db audiometer showed a sensitivity of 91.4% with a false negative rate of 8.6%.
Audiometers Market: Report Scope
Report Attributes
Report Details
Report Name
Audiometers Market
Market Size in 2022
USD 210.39 Million
Market Forecast in 2030
USD 314.29 Million
Growth Rate
CAGR of 5.17
Number of Pages
218
Key Companies Covered
GN Store Nord, Auditdata, William Demant Holding Group, Intelligent Hearing Systems, Starkey Hearing Technologies, Benson Medical Instruments Co., Welch Allyn, Cochlear Limited, Otometrics, Siemens Healthineers, Amplivox Ltd., Natus Medical Incorporated, Benson Medical Instruments Co., eMoyo Technologies (PTY) Ltd, Interacoustics, Entomed, MAICO Diagnostics GmbH, Tremetrics, Grason-Stadler., and others.
Segments Covered
By Application, By Product, and By Region
Regions Covered
North America, Europe, Asia Pacific (APAC), Latin America, Middle East, and Africa (MEA)
Base Year
2022
Historical Year
2017 to 2021
Forecast Year
2023 - 2030
Customization Scope
Avail customized purchase options to meet your exact research needs. Request For Customization
Audiometers Market: Regional Analysis
North America to witness the highest growth rate during the projected period
The global audiometer market is expected to witness the highest growth in North America as a result of higher awareness about hearing-related medical conditions and better access to primary medical care in addition to the presence of a large number of audiometer manufacturers and suppliers. Furthermore, the region has a high tendency to invest in constant research and development to study audiometer efficiency and undertake improvement measures.
Asia-Pacific is anticipated to grow at a faster CAGR during the forecast period with the existence of a large consumer base as the population in India and China continues to grow. Additionally, the increasing geriatric population along with growing investments in the regional healthcare industry is likely to drive growth in Asian countries. A 2021 report by the World Health Organization (WHO) claimed that Southeast Asia was home to more than 410 million patients with hearing loss. Rising government measures to improve population awareness could work in the favor of regional growth.
Audiometers Market: Competitive Analysis
The global audiometers market is led by players like:
GN Store Nord
Auditdata
William Demant Holding Group
Intelligent Hearing Systems
Starkey Hearing Technologies
Benson Medical Instruments Co.
Welch Allyn
Cochlear Limited
Otometrics
Siemens Healthineers
Amplivox Ltd.
Natus Medical Incorporated
Benson Medical Instruments Co.
eMoyo Technologies (PTY) Ltd
Interacoustics
Entomed
MAICO Diagnostics GmbH
Tremetrics
Grason-Stadler.
The global audiometers market is segmented as follows:
By Application
Hearing Aid Centers
Specialty Clinics
Hospitals
By Product
PC-Based Audiometers
Hybrid Audiometers
Standalone Audiometers
By Region
North America
Europe

France
The UK
Spain
Germany
Italy
Rest of Europe

Asia Pacific

China
Japan
India
South Korea
Southeast Asia
Rest of Asia Pacific

Latin America

Brazil
Mexico
Rest of Latin America

Middle East & Africa

GCC
South Africa
Rest of Middle East & Africa