Atrophic Scars Treatment Industry Prospective:
The global atrophic scars treatment market size was worth around USD 23.62 billion in 2022 and is predicted to grow to around USD 47.19 billion by 2030 with a compound annual growth rate (CAGR) of roughly 9.04% between 2023 and 2030.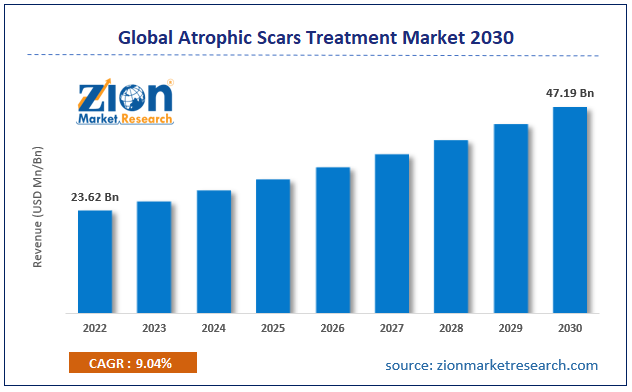 Request Free Sample
The report delves deeper into several crucial aspects of the global atrophic scars treatment market. It includes a detailed discussion of existing growth factors and restraints. Future growth opportunities and challenges that impact the atrophic scars treatment industry are comprehensively addressed in the report.
Atrophic Scars Treatment Market: Overview
Atrophic scars are caused on the skin by the loss of tissue such as fat and collagen. These scars tend to appear sunken or depressed in the skin and can be caused by several conditions such as acne, chickenpox, or injury. Atrophic scars have a severe negative impact on a person's confidence and self-esteem. There are various forms of treatment available that work against atrophic scars while promoting the growth of new and healthy skin tissue. The effectiveness of each method may depend on several factors and not every patient's healing journey may be the same. For instance, the severity of the scar and the experience level of the healthcare professional treating the condition play a primary role in determining the effectiveness of the treatment. Such conditions are recommended to be treated by certified healthcare professionals however people may also choose to undergo home remedies to treat the condition.
Key Insights:
As per the analysis shared by our research analyst, the global atrophic scars treatment market is estimated to grow annually at a CAGR of around 9.04% over the forecast period (2023-2030)
In terms of revenue, the global atrophic scars treatment market size was valued at around USD 23.62 billion in 2022 and is projected to reach USD 47.19 billion, by 2030.
The atrophic scars treatment market is projected to grow at a significant rate due to advancements in scar treatment technologies
Based on distribution channel segmentation, clinics & dermatology centers was predicted to show maximum market share in the year 2022
Based on product type segmentation, the laser was the leading treatment in 2022
On the basis of region, North America was the leading revenue generator in 2022
Atrophic Scars Treatment Market: Growth Drivers
Advancements in scar treatment technologies to drive market growth
The global atrophic scar treatment market is projected to grow owing to the increasing investment toward research & development of novel scar treatment technologies. With the growing demand for quality medical care along with crucial resources being directed toward improving patient care, the healthcare industry has undergone a tremendous revolution in the last decade. Extensive research on understanding the underlying causes of atrophic scars along with other medical conditions along with the development of target-oriented medical treatments or therapies has played a crucial role in allowing healthcare professionals to treat a broader range of patients. For instance, microneedling and advancements in laser therapy are some examples of new-age atrophic scar treatment methods that have proven to be more effective than older methods. Additionally, the growing willingness among patients to undergo medical procedures that aid the treatment of atrophic scars due to the availability of minimally invasive techniques has worked in favor of the atrophic scars treatment industry.
Atrophic Scars Treatment Market: Restraints
Limited medical reimbursement policies supporting atrophic scars treatment to restrict market growth
In several cases, policies around medical reimbursement or insurance coverage for atrophic scars treatment may vary since many service providers do not categorize such treatments under medical necessity. They treat these procedures as cosmetic treatments and hence do not cover associated medical expenses. This causes an extra burden on the patients since the cost of undergoing advanced scar treatment is relatively high, especially in severe cases that cannot be treated using topical medicines alone.
Atrophic Scars Treatment Market: Opportunities
Rising demand for personalized treatments and medicines could create better growth opportunities
The global atrophic scars treatment market is expected to generate higher revenue owing to the increased demand and adoption of personalized treatments and medicines. This is especially helpful in atrophic scars treatment since every person has unique skin and scar characteristics which creates a need for targeted therapy. With the aid of advanced diagnostic tools along with genetic profiling, or imaging techniques it is possible to create tailor-made treatment plans which are bound to deliver better results than generic treatment.
Atrophic Scars Treatment Market: Challenges
Risk of potential side-effects to challenge market growth
The atrophic scar treatments, despite being overall safe in most conditions, are vulnerable to causing potential side effects, particularly in patients with sensitive skin. Skin irritation, hyperpigmentation, scarring, infection, or allergic reactions are some examples of unwanted effects of undergoing these treatments. Hence it is crucial for dermatologists or healthcare professionals to work toward minimizing side effects to ensure patient trust.
Atrophic Scars Treatment Market: Segmentation
The global atrophic scars treatment market is segmented based on distribution channel, product type, and region.
Based on distribution channel, the global market is divided into pharmacies & drug stores, hospitals, e-commerce, and clinics & dermatology centers. The atrophic scars treatment industry registered the highest growth in the clinics & dermatology centers segment in 2022 since they are under the care of specialized healthcare professionals with multiple years of practical and theoretical knowledge on dealing with skin-related conditions. They are also better equipped with necessary testing and diagnostic medical tools and offer a wide range of services including the treatment of all scar forms. The efficiency rate of dermatologists as compared to other medical professions when treating skin conditions is higher. As per reports by IBISWorld, there are around 5324 registered dermatologists in the US as of 2023. The pharmacies and drug stores segment also generates considerable revenue due to the high demand for over-the-counter (OTC) medicines especially in the topical form.
Based on product type, the global market is divided into laser, topical, injectable, and surface treatment. The highest segmental growth was registered in the laser treatments and injectable segments in 2022. The former method typically includes fractional laser resurfacing which is one of the most commonly conducted procedures for treating atrophic scars. It can help in improving texture, tone, and overall scar appearance. Moreover, it also promoted collagen production. The method is highly regarded for its ability to deliver with extreme precision as it can penetrate the deeper layers of the skin. Derma fillers are an example of an injectable treatment. The filler contains substances like hyaluronic acid which are injected into the scar which results in the plumping of depressed areas. There is a considerable market for topical medicines driven by extensive promotions and advertisements conducted by skincare-selling brands. A fact sheet published by Yale Medicine claims that nearly 25% of women in their 40s report having acne.
Recent Developments:
In May 2022, Eris Lifesciences, a major pharmaceutical company delivering in the chronic market, announced the acquisition of Oaknet Healthcare owning a 100% stake in the Mumbai-based dermatology company. With this, Eris entered the dermatology segment and the deal was worth INR 650 crore. With the signing of the contract, Oaknet has become a wholly-owned subsidiary of Eris Lifesciences
In May 2023, Ampersand Health, a pioneer in the digital therapeutics segment, launched a new dermatology application for patients. The new program is the latest addition to the company's existing profile of a series of disease-specific mobile apps. The new platform aims to support hospitals in delivering superior-grade proactive medical care while also encouraging patients to indulge in self-care
Atrophic Scars Treatment Market: Report Scope
Report Attributes
Report Details
Report Name
Atrophic Scars Treatment Market Research Report
Market Size in 2022
USD 23.62 Billion
Market Forecast in 2030
USD 47.19 Billion
Growth Rate
CAGR of 9.04%
Number of Pages
201
Key Companies Covered
Allergan (AbbVie), Galderma, Merz Pharma, Cynosure, Syneron Candela, Lumenis, Cutera, Sciton, Alma Lasers, Sinclair Pharma, Suneva Medical, Johnson & Johnson, Bausch Health Companies, Revance Therapeutics, Endo International, Sanofi, Nestlé Skin Health, Merck & Co., Smith & Nephew, Integra Lifesciences, Coloplast, Medtronic, Zimmer Biomet, Stryker, and Misonix.
Segments Covered
By Distribution Channel, By Product Type, and By Region
Regions Covered
North America, Europe, Asia Pacific (APAC), Latin America, Middle East, and Africa (MEA)
Base Year
2022
Historical Year
2017 to 2021
Forecast Year
2023 - 2030
Customization Scope
Avail customized purchase options to meet your exact research needs. Request For Customization
Atrophic Scars Treatment Market: Regional Analysis
North America to continue its dominant growth streak
The global atrophic scars treatment market is expected to witness the highest growth in North America owing to the presence of an established and robust industry for skin care and treatment. Additionally, the population in this region and particularly in Canada and the US has a high awareness rate while the healthcare sector promotes proactive care. The US is home to some of the world's most renowned dermatologists and people from across the globe travel to the country for skin-related conditions. Increasing research & development along with product innovation and the launch of advanced diagnostic or treatment devices further drives the regional market growth.
Latin America is anticipated to emerge as a lucrative atrophic scars treatment industry with high growth potential mainly due to increasing emphasis on aesthetics along with better access to primary medical care for skin scar treatments. Moreover, medical tourism especially for laser and injectable treatments is witnessing a high growth rate.
Atrophic Scars Treatment Market: Competitive Analysis
The global atrophic scars treatment market is led by players like :
Allergan (AbbVie)
Galderma
Merz Pharma
Cynosure
Syneron Candela
Lumenis
Cutera
Sciton
Alma Lasers
Sinclair Pharma
Suneva Medical
Johnson & Johnson
Bausch Health Companies
Revance Therapeutics
Endo International
Sanofi
Nestlé Skin Health
Merck & Co.
Smith & Nephew
Integra Lifesciences
Coloplast
Medtronic
Zimmer Biomet
Stryker
Misonix.
The global atrophic scars treatment market is segmented as follows:
By Distribution Channel
Pharmacies & Drug Stores
Hospitals
E-Commerce
Clinics & Dermatology Centers
By Product Type
Laser
Topical
Injectable
Surface Treatment
By Region
North America
Europe

France
The UK
Spain
Germany
Italy
Rest of Europe

Asia Pacific

China
Japan
India
South Korea
Southeast Asia
Rest of Asia Pacific

Latin America

Brazil
Mexico
Rest of Latin America

Middle East & Africa

GCC
South Africa
Rest of Middle East & Africa