Asset Recovery Services Industry Prospective:
The global asset recovery services market size was worth around USD 6.44 billion in 2022 and is predicted to grow to around USD 12.46 billion by 2030 with a compound annual growth rate (CAGR) of roughly 8.55% between 2023 and 2030.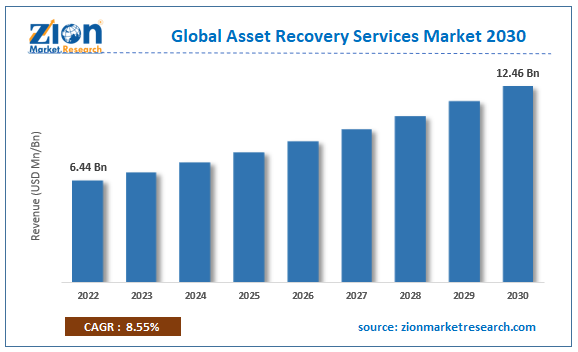 Request Free Sample
Asset Recovery Services Market: Overview
Asset recovery services consist of companies that provide assistance in resource or investment recovery. It is the process through which companies maximize the overall value of end-of-life or unused assets using accurate divestment or reuse strategies. The term is also sometimes used in the context of a company undergoing liquidation during which asset recovery may refer to liquidating extra or excess refurbished items or inventory.
Asset recovery services may also deal with situations requiring asset recovery in case they are fraudulently misappropriated, stolen, or taken away from the care of the rightful owner. These services are based on 3 main concepts including identification, redeployment, and divestment. The first concept deals with identifying and classifying assets as unproductive with the help of trained professionals and later deciding the best course of action that may include either redeployment or divestment. In most cases, the best option is to redeploy the asset in another part of the organization but companies may also choose disposing, recycling, selling, donating, or scrapping the asset altogether. This is known as divestment. The industry for asset recovery services is expected to grow at a rapid rate during the forecast period.
Key Insights:
As per the analysis shared by our research analyst, the global asset recovery services market is estimated to grow annually at a CAGR of around 8.55% over the forecast period (2023-2030)
In terms of revenue, the global asset recovery services market size was valued at around USD 6.44 billion in 2022 and is projected to reach USD 12.46 billion, by 2030.
The asset recovery services market is projected to grow at a significant rate due to the growing applications in the IT sector
Based on application segmentation, financial services was predicted to show maximum market share in the year 2022
Based on type segmentation, commercial was the leading segment in 2022
On the basis of region, North America was the leading revenue generator in 2022
Asset Recovery Services Market: Growth Drivers
Growing applications in the IT sector to drive market growth
The global asset recovery services market is expected to witness high growth due to the increasing application of these services in the information technology (IT) sector. The increasing number of IT companies and the rising proliferation of technology in other sectors have led to an exponentially rising rate of extra IT-related devices and equipment that are no longer needed by companies and businesses. In addition to this, the information technology industry is evolving rapidly causing most of the IT devices to become redundant after a few years of use. Companies must keep investing in new-age IT systems to survive in the current extremely competitive global market, further adding to excess IT equipment that is not in use anymore. In such cases, asset recovery services are extremely helpful mainly due to the complex nature of discarding or reusing IT systems.
Data privacy and theft are an important part of asset recovery services in the IT sector leading to higher demand for trained professionals that take care of retiring old assets in a safe and secure manner. Companies operating in the specialized IT asset recovery services sector tend to provide end-to-end logistics ensuring limited pressure on the client. These companies have to adhere to strict protocols that guarantee the data being discarded does not fall into the wrong possession. For instance, Dell Asset Recovery Services are aligned with the NIST SP 800-88 r1 standard consisting of guidelines laid down by the National Institute of Standards and Technology (NIST) related to media sanitization.
Growing efforts toward resource and revenue optimization to create higher demand for efficient service
The rising inflation rate across the globe and increasing competitiveness in the market resulting due to market saturation across industries has resulted in companies undertaking strategies that help them optimize their resources including assets that are no longer in use. The two main concepts of improving profit margins are to increase sales and reduce costs. Asset recovery service providers allow their clients to reduce losses by ensuring proper use of discarded resources.
Asset Recovery Services Market: Restraints
Complex regulatory measures shaping the industry may restrict market growth
The global asset recovery services market growth is likely to be restricted owing to the complex web of regional, international, and local laws that govern the functioning of asset-recovering services and are responsible for shaping the ways in which market players can function. For instance, when dealing in cross-border transactions service providers must comply with respective regional laws that may be different for each company participating in the transaction. Several other questions arise depending on the type of asset being recovered and the industry to which the company belongs. These restrictions also include any other regional barrier that may arise in product identification and redeployment or divestment.
Asset Recovery Services Market: Opportunities
Increasing investments toward the launch of industry-specific asset recovery services to create growth opportunities
The asset recovery services industry is expected to further benefit from the rising number of industry-specific asset recovery services providers. This allows companies to provide more customized and efficient services improving their chances of growing at a steady pace. For instance, in September 2022, Dell Technologies, an IT giant, announced the launch of a new Asset Recovery Services wing that helps customers retire IT equipment responsibly thus contributing to the need for reducing e-waste. In September 2023, Broker Compliant Alert (BCA) launched services providing digital asset recovery as a response to increasing rates of digital theft across the globe. The company is expected to use its rich connections and network with legal authorities, banks, and regulators to provide exceptional services. Another stride-making launch in the global market was the launch of an asset recovery tool by Coinbase especially for unsupported Ethereum-based tokens. Cryptobase is the world's second-largest crypto exchange. Several other new launches have been registered in recent times providing necessary fuel to the industry.
Asset Recovery Services Market: Challenges
Lack of trained professionals and risks related to security may challenge market expansion
The ideal functioning of asset recovery services is based on the caliber of trained professionals handling the issues. However, there is a significant gap in the availability and demand for experts that are well aware of the intricacies involved in resource recovery. Additionally, managing security risks further creates more challenges owing to the highly sophisticated and sensitive products involved in the transaction.
Asset Recovery Services Market: Segmentation
The global asset recovery services market is segmented based on application, type, and region.
Based on application, the global market is segmented into construction, leasing, heavy machinery, financial services, retail, transport & logistics, energy, healthcare, real estate, information technology, and others. In 2022, the highest growth was observed in the financial services segment of the asset recovery services industry since facilities such as banks and other financial institutions generally take the assistance of asset recovery services for the recovery of outstanding or uncleared debts. The information technology segment is growing at a fast pace driven by the increasing need to reduce e-waste. As per the Energy and Resources Institute (TERI), more than 62 million tons of e-waste is generated every year in India.
Based on type, the asset recovery services industry divisions are commercial, military, and personal. In 2022, the commercial segment was the leading revenue-generator since asset recovery services are widely used by several commercial sectors across industries including financial services, IT, construction, transport & logistics, and others. The military segment is also a significant contributor however, only limited players operate in the segment due to the involvement of highly confidential data in the military segment. Certain service providers may charge an upfront cost of USD 3000 to USD 10000 depending on the final deal.
Asset Recovery Services Market : Report Scope
Report Attributes
Report Details
Report Name
Asset Recovery Services Market
Market Size in 2022
USD 6.44 Billion
Market Forecast in 2030
USD 12.46 Billion
Growth Rate
CAGR of 8.55
Number of Pages
219
Key Companies Covered
Hilco Global, Iron Mountain, IBM Global Asset Recovery Services, CentricsIT, Dell Technologies Asset Recovery Services, Reclamere, Sims Lifecycle Services, Avnet Integrated, Liquidity Services, Arrow Electronics., and others.
Segments Covered
By Application, By Type, and By Region
Regions Covered
North America, Europe, Asia Pacific (APAC), Latin America, Middle East, and Africa (MEA)
Base Year
2022
Historical Year
2017 to 2021
Forecast Year
2023 - 2030
Customization Scope
Avail customized purchase options to meet your exact research needs. Request For Customization
Asset Recovery Services Market: Regional Analysis
North America to deliver the best results during the assessment period
The global asset recovery services market is projected to be dominated by North America during the forecast period. The primary reason for higher regional growth is the presence of a mature and well-established industry for resource recovery services providing customized and industry-oriented services to commercial & military groups. The US specifically has a higher number of service providers and is witnessing the emergence of several new players with each passing year. For instance, Illinois-based SIPI Asset Recovery Services launched a new exchange portal equipped with real-time access to all data. The new portal was launched in association with IT firm Magenium Solutions and allows customers to remotely connect to the site using OAUTH 2.0. In addition to this, the country has strict policies that manage the disposal of e-waste along with a strong emphasis on data privacy and theft leading to higher regional demand. Europe is projected to grow at a steady pace. The rising number of service providers and the increasing need for profit optimization could be driving factors.
Asset Recovery Services Market: Competitive Analysis
The global asset recovery services market is led by players like:
Hilco Global
Iron Mountain
IBM Global Asset Recovery Services
CentricsIT
Dell Technologies Asset Recovery Services
Reclamere
Sims Lifecycle Services
Avnet Integrated
Liquidity Services
Arrow Electronics.
The global asset recovery services market is segmented as follows:
By Application
Construction
Leasing
Heavy Machinery
Financial Services
Retail
Transport & Logistics
Energy
Healthcare
Real Estate
Information Technology
Others
By Type
Commercial
Military
Personal
By Region
North America
Europe

France
The UK
Spain
Germany
Italy
Rest of Europe

Asia Pacific

China
Japan
India
South Korea
Southeast Asia
Rest of Asia Pacific

Latin America

Brazil
Mexico
Rest of Latin America

Middle East & Africa

GCC
South Africa
Rest of Middle East & Africa