The antiviral combination therapies market is set for a rapid growth over the forecast period. In terms of revenue, the global antiviral combination therapies market accounted for USD 40.94 Billion in 2019 and is expected to reach USD 70.03 Billion by 2026, growing at a CAGR of 7.97%
Global Antiviral Combination Therapies Market: Overview
Antiviral combination therapies are medications formulated using a combination of two or more drugs to treat different viral diseases, including chronic infections such as hepatitis B, hepatitis C and Human Immunodeficiency Virus (HIV). Combination antiretroviral treatment aims to stop the virus from producing several copies of itself in the body.
The clinical progress of HIV-infected patients is minimal, despite some developments in combined antiretroviral treatment. In response to therapy, the development of drug-resistant genetic changes plays a crucial role in therapeutic failure and it is considered difficult to discover a new potent drug combination after treatment failure.
Factors that drive the market include the uptick in research and development funding for the advancement of combination medicines that help combat antiviral resistance, the rise in demand for antiviral combinations for HIV treatment, the growth in the occurrence of viral diseases, and the increase in emphasis on the development of vaccines to combat the COVID-19 pandemic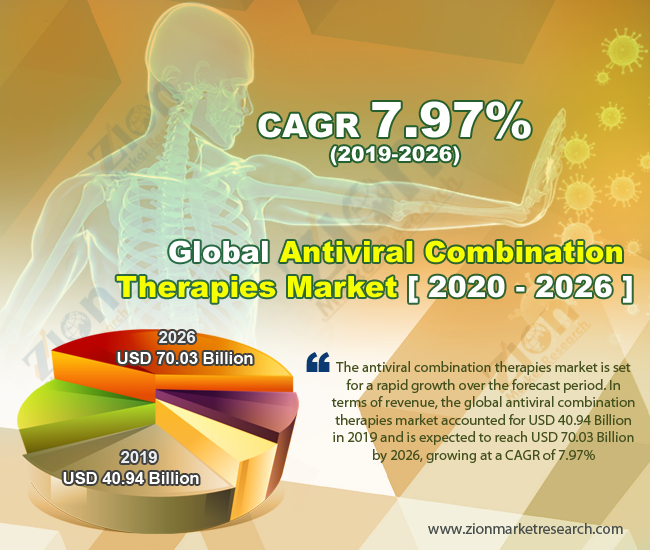 Global Antiviral Combination Therapies Market: Growth Factors
Ongoing investment by major manufacturers in research and development activities in order to create combination drugs that help combat antiviral resistance is also boosting the outlook of the global antiviral combination therapy industry. Boehringer Ingelheim recently announced its intentions to invest about 65 million in Lyon Porte-des-Alpes, France, in an attempt to satisfy the growing need for avian vaccines worldwide.
In addition, the emphasis among leading companies on business-centric activities such as joint ventures, mergers and acquisitions, and ground-breaking product launches also adds momentum to the size of the global antiviral combination therapy industry. However, the stringent regulatory outlook could potentially serve as a deterrent to the overall expansion of the market.
Impact due to the outbreak of COVID-19
Companies are taking bold moves in the antiviral combination therapy market by increasing their paths to tackle COVID-19. In order to innovate in coronavirus combination therapies, the Indian Institute of Chemical Technology (IICT) has teamed up with the Indian subsidiary of the global pharmaceutical company, Mylan. With the assistance of computer modelling of molecules and laboratory evidence, several pharmaceutical companies in India have reached phase 3 of clinical trials. Innovations in combination therapy trials have been fuelled by the increasing demand for antiviral drugs. In addition, growing cases of COVID-19 in India serve as a key driver for business development.
Medical organizations are speeding up efforts to partner with hospitals in combination therapy trials to evolve. The combination of antiviral medicines with antibiotics has been shown to have positive potential for patients to reduce coronavirus symptoms.
Global Antiviral Combination Therapies Market: Segmentation
The integrase inhibitor/NRTI of drug combination segment is expected to account for a substantial share of the global demand for antiviral combination therapies in the near future. This can be due to a rise in the use of this drug combination in HIV care. In addition, the segment is motivated by the patent exclusivity of these drugs.
On the basis of indication, the global market for antiviral combination therapies has been categorized into HIV, hepatitis and others. Worldwide, more than 38 million people were living with HIV in 2019. Of these, about 36.2 million were adults and 1.8 million were children. In addition, more than 1.7 million people became infected with HIV in 2019.
Chronic hepatitis B is a major cause of cirrhosis and hepatocellular carcinoma (HCC) globally. In order to prevent the infection rate of HCC, companies in the market for antiviral combination therapies are increasing the volume of nucleoside analogues or pegylated interferon in effort to stop the progression of cirrhosis. Antiviral combination therapy is widely publicized as an ingredient and a synergistic agent to help avoid HCC in hepatitis B patients. As a result, antiviral combination therapy market players are growing their research to identify the pattern of treatments that can be efficient in reducing HCC in CHB patients.
Global Antiviral Combination Therapies Market: Regional Analysis
By Geography, the antiviral combination therapies market is segmented into North America, Europe, Latin America, Asia Pacific, and Middle East and Africa.
North America was the largest market for antiviral combination therapies in terms of revenue in 2019, and the trend is expected to continue in the coming years. The market in the region is anticipated to grow at a significant rate from 2020 to 2026. Overall growth in North America can be due to an increase in the prevalence of HIV and hepatitis infections among people. In addition, good sales of generic drugs for HIV care led to high revenues from the region in 2019. In addition, patent protection of drugs is expected to contribute to the growth of the market during the forecast period.
The demand for antiviral combination therapies in Asia Pacific is projected to rise at the fastest pace from 2020 to 2026. Development in the demand for antiviral combination therapies in the area can be due to high incidence rates of HCV and HIV and increased market penetration by generic drug manufacturers. In addition, a huge pool of chronic disease patients in countries such as China and India and a large retail pharmacy network are contributing to the growth of the antiviral combination therapy market in Asia Pacific.
Global Antiviral Combination Therapies Market: Competitive Players
The major players in the global antiviral combination therapies market include Celltrion, Inc., Gilead Sciences, Inc., GlaxoSmithKline plc, AbbVie, Inc., Janssen Global Services, LLC, Bristol-Myers Squibb Company, Cipla, Inc., Merck & Co., Inc., Mylan N.V., and F. Hoffmann-La Roche Ltd. among others.
The report segment of global antiviral combination therapies market are as follows:
Global Antiviral Combination Therapies Market: Drug Combination Segment Analysis
NTRI/NNRTI
NRTI/Protease Inhibitor
Integrase Inhibitor/NRTI
Others
Global Antiviral Combination Therapies Market: Indication Segment Analysis
Global Antiviral Combination Therapies Market: Distribution Channel Segment Analysis
Hospital Pharmacies
Retail Pharmacies
Others
Global Antiviral Combination Therapies Market: Regional Segment Analysis
North America
Europe

France
The UK
Spain
Germany
Italy
Rest of Europe

Asia Pacific

China
Japan
India
South Korea
Southeast Asia
Rest of Asia Pacific

Latin America

Brazil
Mexico
Rest of Latin America

Middle East & Africa

GCC
South Africa
Rest of Middle East & Africa