Global GPS Anti-Jamming Market: Industry Prospective
The global GPS anti-jamming market size was worth around USD 4.25 billion in 2021 and is estimated to grow to about USD 7.12 billion by 2028, with a compound annual growth rate (CAGR) of approximately 7.6 % over the forecast period. The report analyzes the GPS anti-jamming market's drivers, restraints/challenges, and the effect they have on the demands during the projection period. In addition, the report explores emerging opportunities in the GPS anti-jamming market.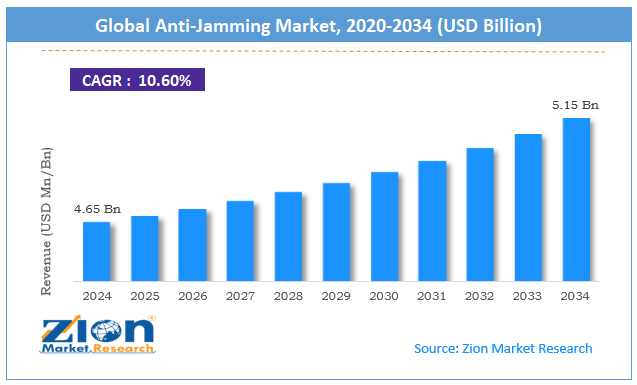 Request Free Sample
GPS Anti-Jamming Market: Overview
GPS Anti-Jamming shields GPS receivers against deliberate jamming and interference. The GPS signal is feeble by the time it reaches the Earth's surface, and it is vulnerable to being overpowered by higher-power Radio Frequency (RF) radiation. Even a tiny 10-Watt jammer may interrupt an unprotected C/A Code receiver for up to 30 kilometers. GPS Anti-Jamming works by reducing the influence of interference and jamming on the GPS receiver so that it can continue to function properly. With the help of GPS technologies, modern battle techniques have been transformed which is why many military groups rely on satellite technology for precise location, timing, and communications on a daily basis. However, GPS signals intercepted on Earth are vulnerable and weak to deliberate jamming and disruption.
COVID-19 Impact:
The COVID-19 outbreak and expansion have had an impact on the global GPS anti-jamming market. According to a number of industry analysts, the epidemic will be over by the end of the first quarter of FY2021. Based on input from multiple industry professionals from various stages of the GPS anti-jamming value chain (including suppliers, OEMs, distributors, and end-users) as well as financial publishes from several firms in the GPS anti-jamming systems for the first and second quarters of 2020, it has been anticipated that the size of the GPS anti-jamming market was decreased by 2 percent from 2019 to 2020.
Global GPS Anti-Jamming Market: Growth Drivers
The increasing adoption of GPS technology in military applications is projected to boost market growth.
Military forces throughout the world are always on the hunt for new, improved technologies to assure precise navigation utilizing GPS technology. Mayflower Communications, for example, was given a USD 56 million deal for a GPS navigation antenna system in October 2020. The technology will be employed by the United States military and is expected to be completed in September 2024. Moreover, the Navigation Antenna (MAGNA) and Multi-Platform Anti-Jam Global Positioning System, which offers GPS protection, is the subject of this contract. Furthermore, Raytheon UK and the UK Ministry of Defense inked a deal in July 2020 to develop enhanced GNSS anti-jamming technology. Such initiatives are expected to fuel the global GPS anti-jamming market growth over the forecast period.
GPS Anti-Jamming Market: Restraints
Technical hindrances such as the incompatibility of old generation GPS systems with the latest technologies may hamper market growth.
Old GPS receivers are incompatible with modern and highly effective GPS anti-jamming solutions, such as beamforming technology. Based on the direction of jamming signals, the beamforming recognizes, selects, and downlinks signals from four satellites and gives four anti-jam solutions in the form of algorithms. It cannot communicate with a typical GPS receiver that just has one input since it creates four outputs directed towards four chosen satellites from the GPS receiver. This is one of the major market restraints for GPS anti-jamming devices.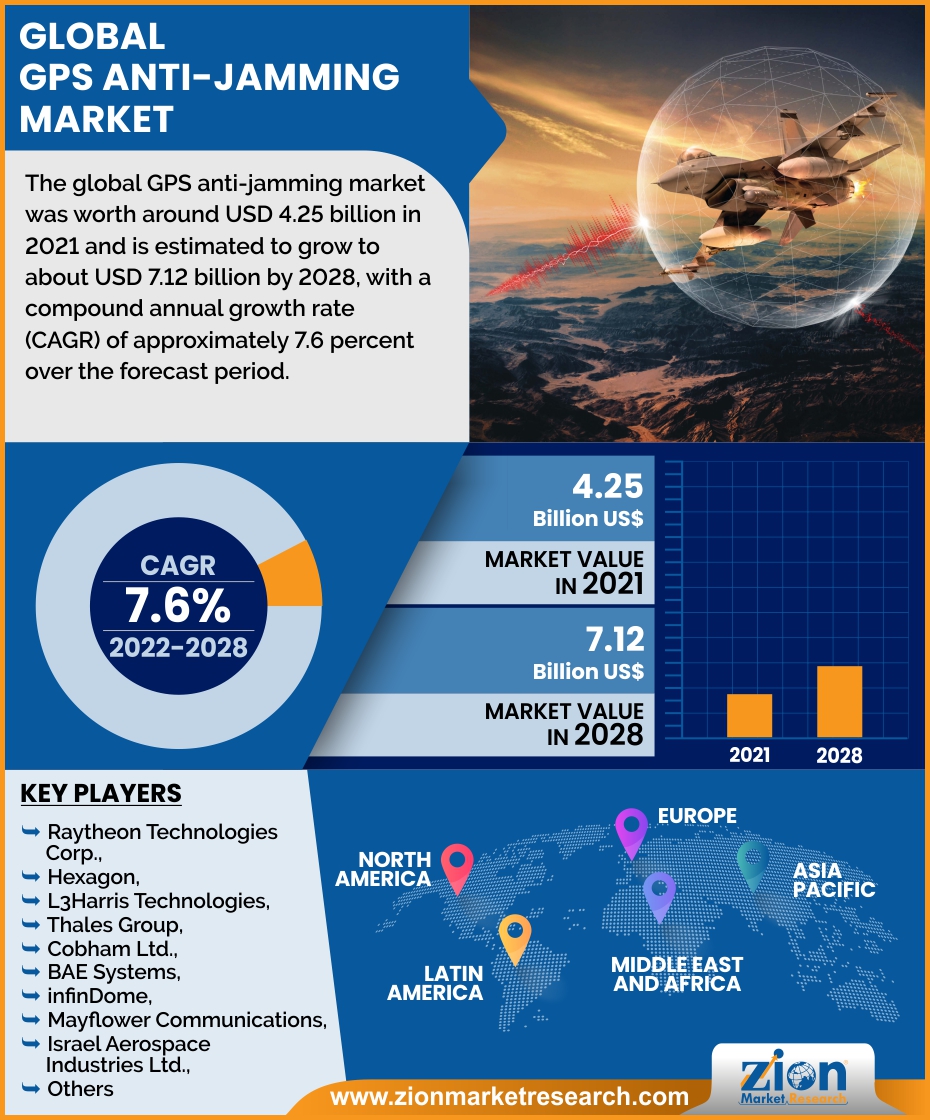 Request Free Sample
Global GPS Anti-Jamming Market: Opportunities
Rising demand for Unmanned aerial vehicles (UAVs) and unmanned systems are projected to offer healthy growth opportunities for market expansion.
According to an FAA drone estimate 2020-2040, there will be 1.6 million drones in the air by 2024, with commercial drone sales alone expected to reach 1.2 million in the United States. Drones increasing commercial use may present a lucrative economic opportunity for GPS manufacturers. At the same time, they are susceptible to jamming and hence provide a substantial market potential for GPS anti-jamming technology.
GPS Anti-Jamming Market: Challenges.
GPS spoofing is the major challenge for the expansion of the market.
A GPS spoofing attack is carried out by broadcasting erroneous signals that are meant to imitate a set of regular GPS signals in order to deceive a GPS receiver. It can also be done by rebroadcasting the original signals from a new location or at a different time. These signals can be altered to fool the receiver and allow for position monitoring. For example, the GPS signals of 20 ships in the Black Sea were hacked on June 22, 2017, revealing that they were 32 kilometers inland near Gelendzhik Airport. Players in the GPS anti-jamming business are facing a challenge from such GPS spoofing assaults.
Global GPS Anti-Jamming Market: Segmentation
The global GPS anti-jamming market is categorized based on receiver type, technique, end-user, application, and region. Based on receiver type, the market is bifurcated into commercial transportation grade and military & government grade. By technique, the market is divided into beam steering, nulling, and civilian. The end-user segment of the market is bifurcated into military and civilian. The application segment covers flight control, surveillance & reconnaissance, position, navigation & timing, targeting, casualty evacuation, and others.
Report Scope:
Report Attributes
Report Details
Report Name
GPS Anti-Jamming Market Research Survey Report
Market Size in 2021
USD 4.25 Billion
Market Forecast by 2028
USD 7.12 Billion
Compound Annual Growth Rate
CAGR of 7.6%
Number of Pages
166
Forecast Units
Value (USD Billion), and Volume (Units)
Key Companies Covered
Raytheon Technologies Corp, Hexagon, L3Harris Technologies, Thales Group, Cobham Ltd, BAE Systems, Infineon, Mayflower Communications, Israel Aerospace Industries Ltd, Lockheed Martin Corp, FURUNO ELECTRIC CO LTD, and Meteksan Defense
Segments Covered
By Receiver Type, By Technique, By End-User, By Application, By Region
Regions Covered
North America, Europe, Asia Pacific (APAC), Latin America, Middle East and Africa (MEA)
Countries Covered
North America: U.S and Canada
Europe: Germany, Italy, Russia, U.K, Spain, France, Rest of Europe
APAC: China, Australia, Japan, India, South Korea, South East Asia, Rest of Asia Pacific
Latin America: Brazil, Argentina, Chile
The Middle East And Africa: South Africa, GCC, Rest of MEA
Base Year
2020
Historical Year
2016 - 2020
Forecast Year
2021-2028
Customization Scope
Avail customized purchase options to meet your exact research needs. Request For Customization
Report Coverage
Market growth drivers, restraints, opportunities, Porter's five forces analysis, PEST analysis, value chain analysis, regulatory landscape, market attractiveness analysis by segments and region, company market share analysis, and COVID-19 impact analysis.
Recent Developments
July 2020, BAE Systems acquired Raytheon Technologies Corporation's Collins Aerospace Military Global Positioning System division bringing decades of knowledge, technological innovation, and a large installed base of equipment to the corporation.
July 2020, The UK Ministry of Defense granted Raytheon UK a contract to develop enhanced GNSS anti-jamming technology. Raytheon UK's Assured Positioning Navigation and Timing business will deliver a Technology Demonstrator Program with the advanced multi-element Anti-Jam technology.
GPS Anti-Jamming Market: Regional Landscape
North America contributed the largest revenue during the forecast period.
North America leads the global GPS anti-jamming market in terms of market share. This is due to escalating demand for weapon systems, the increasing existence of top players in the anti-jamming market, growing demands for miniaturization of GNSS-based anti-jamming devices, and growing dependence on satellite communication for numerous military operations in this region. The Asia Pacific on the other side is predicted to be the fastest-growing GPS anti-jamming market. Key factors such as increased defense expenditure and expanding territorial disputes in this geography are contributing to the rapid adoption of advanced military systems and devices which is likely to boost the adoption of GPS anti-jamming systems and devices during the forecast period.
GPS Anti-Jamming Market: Competitive Landscape
Few major players operating in the global GPS anti-jamming market include Raytheon Technologies Corp., Hexagon, L3Harris Technologies, Thales Group, Cobham Ltd., BAE Systems, Infineon, Mayflower Communications, Israel Aerospace Industries Ltd., Lockheed Martin Corp., FURUNO ELECTRIC CO., LTD., and Meteksan Defense.
The global GPS anti-jamming market is segmented as follows:
By Receiver Type
Military & Government Grade
Commercial Transportation Grade
By Technique
Nulling
Beam Steering
Civilian
By End-User
By Application
Surveillance and Reconnaissance
Position
Navigation and Timing,
Targeting
Casualty Evacuation
Other
By Region
North America
Europe

France
The UK
Spain
Germany
Italy
Rest of Europe

Asia Pacific

China
Japan
India
South Korea
Southeast Asia
Rest of Asia Pacific

Latin America

Brazil
Mexico
Rest of Latin America

Middle East & Africa

GCC
South Africa
Rest of the Middle East & Africa