Free Analysis
The global positioning system is the most important utility supporting critical infrastructure across several industries. It is primarily developed to provide precision timing and navigation to the military sector. Society has developed a strong dependency on GPS information in many areas of life including communications, transportation, and financial transactions. Jamming is the interference of signals with communications or surveillance systems which prevent it from receiving. GPS signals received on Earth are weak and susceptible to interference and intentional jamming. Military GPS is capable of withstanding any vulnerability to protect it from spoofing and jamming attacks. Accessibility and utilization of low-cost GPS jamming equipment have resulted in an increasing threat of GPS signal disruption and growing the probability of the future outages to systems that rely on GPS data. Hence, addressing the security of GPS signals and preventing denial of services has become the priority in several sectors.
GPS/GNSS has become a critical component of today's global information infrastructure. GPS technology has revolutionized modern warfare since several military organizations frequently depend on satellite technology for accurate timing, positioning, and communications. Increasing defense investment, escalating adoption of unmanned aerial vehicles for various defense operations, growing reliance on satellite communication for various military operations are some of the major factors driving the growth of the global anti-jamming market for GPS. Further, increasing intrusion and proliferation of low-cost jammers propel the global navigation satellite system (GNSS) anti-jamming systems market. However, competitions from Precision Terrain Aided Navigation (PTAN), long approval period of new technologies for operational clearance, and software compatibility issues of GPS anti-jammers are some of the challenges faced by this industry.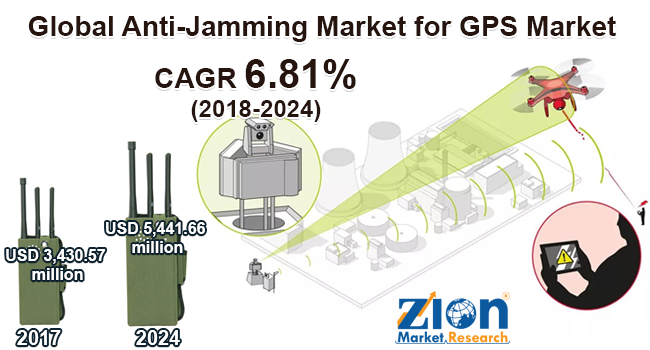 The global anti-jamming market for GPS is classified based on techniques, application, end users, and region. Civilian systems, nulling systems, and beam steering systems are the key techniques included in the anti-jamming market for GPS. Flight control, surveillance & reconnaissance, position, navigation & timing, flight control, targeting, casualty evacuation, and others are the applications of the anti-jamming market for GPS. Based on end users, the global anti-jamming market for GPS is segmented into military and civilian anti-jamming systems. All the segments are analyzed based on present and future trends and the market is projected from 2018 to 2024. Based on regions, the global anti-jamming market for GPS is segmented into the Asia Pacific, North America, Latin America, Europe, and the Middle East and Africa with its further categorization into the U.S., UK, Germany, France, China, India, Japan, and Brazil.
North America dominated the global anti-jamming market for GPS in terms of revenue in 2017. North America is the most dynamic region for the anti-jamming market due to the presence of leading market players namely Rockwell Collins, Inc., Raytheon Company, and NovAtel, Inc. Asia Pacific is predicted to grow with the highest CAGR between 2018 and 2024 on account of ongoing territorial disputes between China and some Southeast Asian countries in the South China Sea. The anti-jamming market for GPS in Latin America and the Rest of the World is predicted to grow at a moderate rate.
The key players of global anti-jamming for GPS market are Novatel Inc., Cobham Plc, BAE Systems Plc, Thales Group, Lockheed Martin, The Boeing, Harris Corporation Rockwell Collins, and the Raytheon Company, amongst others.