Industry Prospective:
The global all terrain vehicles market size was worth around USD 3.1 billion in 2021 and is predicted to grow to around USD 5.2 billion by 2028 with a compound annual growth rate (CAGR) of roughly 6.1% between 2022 and 2028. The report analyzes the global all terrain vehicles market drivers, restraints/challenges, and the effect they have on the demands during the projection period. In addition, the report explores emerging opportunities in the all terrain vehicles market.
All Terrain Vehicles Market: Overview
All terrain vehicles (ATVs) are also known as quad bikes or light utility vehicles (LUVs). As defined by the American National Standard of Institute, they are vehicles that run on low pressures and consist of seats that are straddled by the rider along with handlebars that help the person operating the vehicle control the steering wheel. ATVs are designed in a way that allows the vehicle to be driven on different types of terrain unlike most of the other vehicles that are designed for specific types of landscape. In some countries,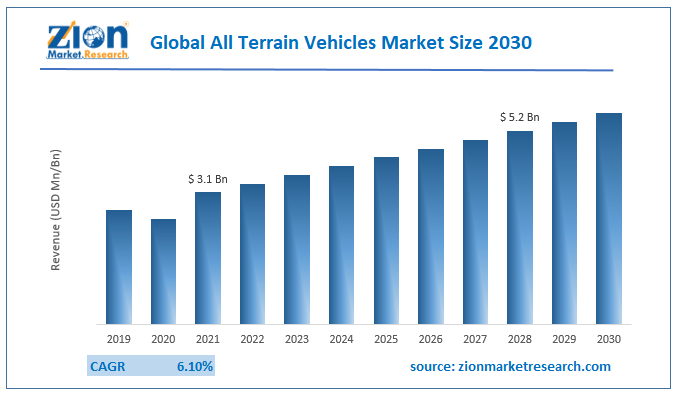 Request Free Sample
ATVs have been assigned the status of street-legal vehicles which means that they can be driven on public streets with proper documentation but in many countries, LUVs do not share the same status and are designed only for recreational purposes or to be used in certain segments. ATVs are operated like normal bikes, where the person riding the vehicle is responsible for managing the direction and other controls, however, these bikes offer higher stability and safety because they generally have more than 2 wheels which makes it easier to balance the quad bike even when running on low speed.
Key Insights
As per the analysis shared by our research analyst, the global all terrain vehicles market is estimated to grow annually at a CAGR of around 6.1% over the forecast period (2022-2028)
In terms of revenue, the global all terrain vehicles market size was valued at around USD 3.1 billion in 2021 and is projected to reach USD 5.2 billion, by 2028. Due to a variety of driving factors, the market is predicted to rise at a significant rate
Based on seating capacity type segmentation, one-seater was predicted to show maximum market share in the year 2021
Based on the number of wheels segmentation, 4-wheeled was the leading type in 2021
On the basis of region, North America was the leading revenue generator in 2021
All Terrain Vehicles Market: Growth Drivers
Increasing applications in the military segment to generate higher revenue
The global all terrain vehicles market is projected to grow owing to the increasing applications and demand for ATVs in military operations. A well-equipped and resourced defense sector is important for the safety and growth of any economy as it not only provides protection to civilians but also helps the nation mark itself as a powerful nation on the world map.
In today's world where political unrest is at its peak, every government is amping up the efforts and investments in strengthening the military segment which is influencing the ongoing war between Russia and Ukraine. Military-grade all terrain vehicles are in high demand as it allows military personnel to access even the toughest of terrains making their tasks easier. In 2019 the Australian government spent more than USD 26 billion on defense while Germany allocated 42 billion to its military sector in 2017. The growing numbers are expected to drive the demand for LUVs in the coming years.
All Terrain Vehicles Market: Restraints
High associated regulations to restrict market expansion
The global market for ATVs is highly regulated with some nations acknowledging the vehicle as street legal whereas some countries do not permit the use of quad bikes on the street. For instance, the regulations related to the use of ATVs are not restrictive and are regarded as one of the most complex ones. This creates major problems for market players if they wish to venture into new territory as regulations may be different in different parts.
All Terrain Vehicles Market: Opportunities
Positive response on electric ATVs to provide growth opportunities
Since the world is moving towards sustainable growth, manufacturers have started investing in non-fuel-run vehicles that can run on renewable sources of energy. One such kind is the electric vehicle (EV) segment which can be seen in the conventional automobile sector. However, the adoption of EV versions for quad bikes is relatively low and niche, but in the longer run, the segment may generate more interest in the market and attract more consumers. They are currently also high priced and require a high capital for the purchase.
All Terrain Vehicles Market: Challenges
High cost and trade barriers to restrict market expansion
Since all terrain vehicles are specially made and currently the largest consumption is for recreational and military purposes, high-grade quad bikes are really expensive and mass purchase is not possible for a large segment of the population. For instance, a Military Green ATV Motorcycle with a 500 cubic capacity (CC) engineer may cost USD 6000. Although there are variants, the cost is generally high. Trade norms associated with the purchase and sale of ATVs are highly complex which adds to the loss of consumer groups.
All Terrain Vehicles Market: Segmentation
The global all terrain vehicles market is segmented based on seating capacity, application, fuel-type, number of wheels, and region.
Based on seating capacity, the global market is divided into two-seater and one-seater with the latter generating the highest revenue in 2021. The segmental growth is due to the presence of a major number of players in the one-seater segment. The majority of quad bikes are one-seaters with some manufacturers providing a two-seater option. This is because there are major safety concerns associated with the use of ATVs and regulatory bodies recommend one person per ATV to avoid serious mishaps. A normal ATV with a 450 cc engine may weigh around 510 pounds.
Based on the number of wheels, the global market is divided into 3-wheeled, 4-wheeled, and more than 4-wheeled. The global market was dominated by 4-wheeled all terrain vehicles in 2021. They offer higher safety and comfort as compared to other forms of ATVs. They are also easy to navigate which is why most buyers for recreational purposes prefer 4-wheeled vehicles. For instance, a 3-wheeled vehicle is a little unsteady and hence its size has to be reduced to balance the unsteadiness. The most expensive quad bike is the Lazareth Wazuma V8 at USD 265,000.
Recent Developments:
In August 2022, Polaris India announced the launch of a new range of off-road ATVs called RZR (R) Pro R Sport. The company has already delivered the first product to a buyer. Although new for the Indian market, the ATV range already has dedicated consumer groups in the international market
In November 2022, Rohnel Motors launched an electric ATV in the Indian market. The company has already manufactured five types of e-ATVs called Ranger 4000W, Raven 1200W, Patriot 5000W, Zeus 3000W, and Beast 1200W
All Terrain Vehicles Market Report Scope:
Report Attributes
Report Details
Report Name
All Terrain Vehicles Market Research Report
Market Size in 2021
USD 3.1 Billion
Market Forecast in 2028
USD 5.2 Billion
Compound Annual Growth Rate
CAGR of 6.1%
Number of Pages
188
Forecast Units
Value (USD Billion), and Volume (Units)
Key Companies Covered
Hisun, Suzuki Motor Corporation, Bombardier Recreational Products, Polaris, Yamaha Motor Corporation, and Arctic Cat Inc., amongst others.
Segments Covered
By Seating Capacity, By Application, By Fuel-Type, By Number of Wheels and By Region
Regions Covered
North America, Europe, Asia Pacific (APAC), Latin America, Middle East and Africa (MEA)
Countries Covered
North America: U.S and Canada
Europe: Germany, Italy, Russia, U.K, Spain, France, Rest of Europe
APAC: China, Australia, Japan, India, South Korea, South East Asia, Rest of Asia Pacific
Latin America: Brazil, Argentina, Chile
The Middle East And Africa: South Africa, GCC, Rest of MEA
Base Year
2021
Historical Year
2016 to 2020
Forecast Year
2022 - 2028
Customization Scope
Avail customized purchase options to meet your exact research needs. Request For Customization
All Terrain Vehicles Market Regional Analysis
North America to lead with the highest market share
The global all terrain vehicles market is projected to be dominated by North America as it was in 2021 owing to the high market penetration and availability of ATVs. The US was the first country to invest in ATVs and use them for multiple purposes.
The regional expansion is anticipated to be driven by the presence of some of the key players in the US. For instance, the largest producer of ATVs is American Polaris which not only sells quad bikes for personal use but develops bikes for the US military as well. In 2016, the US Marine Corps signed a contract with the company worth USD 6.5 million as per which the company was entitled to provide the agency with 145 MRZR-D ATVs.
The aggressive strategy with which these companies are entering new markets is projected to open more doors for future growth.
All Terrain Vehicles Market Competitive Analysis
The global all terrain vehicles market is home to players like Hisun, Suzuki Motor Corporation, Bombardier Recreational Products, Polaris, Yamaha Motor Corporation, and Arctic Cat Inc., amongst others.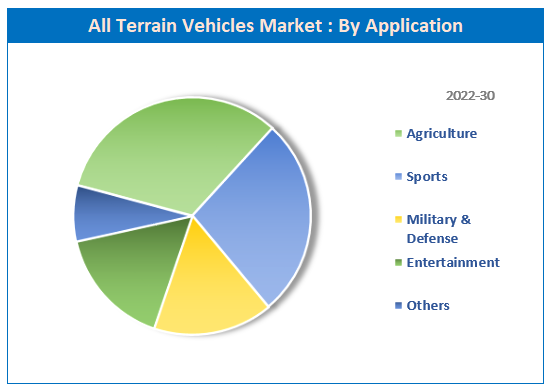 Request Free Sample
The global all terrain vehicles market is segmented as follows:
By Seating Capacity
By Application
Agriculture
Sports
Military & Defense
Entertainment
Others
By Fuel-Type
By Number of Wheels
3-Wheeled
4-Wheeled
More than 4-Wheeled
By Region
North America
Europe

France
The UK
Spain
Germany
Italy
Rest of Europe

Asia Pacific

China
Japan
India
South Korea
Southeast Asia
Rest of Asia Pacific

Latin America

Brazil
Mexico
Rest of Latin America

Middle East & Africa

GCC
South Africa
Rest of Middle East & Africa