Description
Market Overview
The global Adult Diapers market accounted for USD 13,423.45 Million in 2020 and is expected to reach USD 22,708.87 Million by 2028, growing at a CAGR of 4.5% from 2021 to 2028.
An adult diaper is designed to fit a person with a body that is larger than that of a baby or newborn child. Adult diapers are typically used for elderly people who have dementia or severe looseness of the bowels, versatility debilitation, or incontinence. Adult diapers come in a variety of styles, including cushions, also known as incontinence cushions, socks, and diapers that are similar to the diapers used by children.
Adult diapers are mostly intended to help adults with incontinence. Customers with irregular health problems such as mobility disorder, diarrhea, incontinence, or dementia are the most common users of these diapers. The increase in the number of elderly people suffering from urinary incontinence, as well as the rapid development of the healthcare industry, are some of the main factors driving the global adult diapers market growth in terms of volume sales.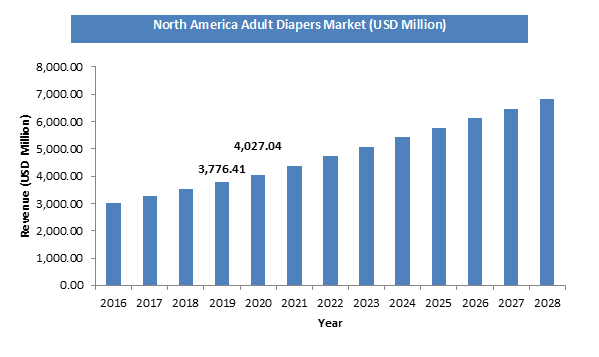 COVID-19 Impact Analysis
Covid-19 started in Wuhan, China, in December 2019 and has rapidly spread around the world since then. The rising number of hospitalizations linked to COVID-19 cases has put a strain on pharmaceutical and personal hygiene supplies including sanitary napkins and adult diapers. Also, the old patients in the hospital have the inability to use any rest room for a longer period of time, health workers, especially those working in isolation wards, have preferred to use adult diapers in the current COVID-19 pandemic. Manufacturers of adult diapers have a big opportunity here.
Growth Factors
The use of disposable adult diapers by the geriatric population has increased significantly due to technological advancements. These diapers are made with a gel-like polymer bead core that increases their absorbency ability, providing consumers with better comfort and protection. As a result of their improved retention and fluid absorption capacities, disposable diapers are expected to see increased demand over the forecast period, boosting market development.
Because of their long operating efficiency, light weight, and safety features, overnight and disposable adult diapers are in high demand, boosting the adult diapers sector. Apart from incontinence and other health-related issues, these diapers are particularly common among working professionals such as pilots, health-care workers, miners, and workers in the manufacturing industry, among others.
Restraints
Adult diapers demand growth is being stifled by a lack of or sluggish growth in per capita income, rising unemployment, and rising living costs, to name a few factors. The adult diapers market is also being harmed by a lack of awareness, especially in developing countries, as well as the social stigma associated with diaper use. Diapers are made of a synthetic material called polypropylene.
Diapers are made of a synthetic material that can cause rashes in people with sensitive skin. Because of the issue of modesty, not every adult prefers to use a diaper, and this aspect is likely to stifle the growth of the adult diaper sector.
Report Scope: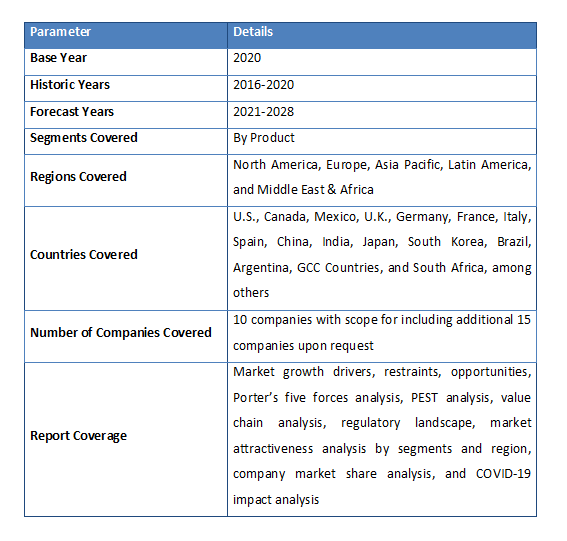 Product Segment Analysis Preview
The global adult diapers market has been divided into pant form, pad type, and flat type based on product. In 2020, the global adult diapers market was dominated by the pant types segment.
Adult diapers in the pant type are the most common because they offer versatility and a breathable waistband that makes them easy to use and allows air to pass through, preventing rashes. It also makes it easy for the leg to move down, preventing side leakage, and its thin absorption layer ensures a good fit.
Pants are known for their ability to retain large amounts of moisture and wetness; they are made of a spongy material that absorbs urine and feels relaxed and smooth against the skin. These incontinence diapers are suitable for both men and women. These pant-style diapers are ideal for men and women who have incontinence or mobility problems. Companies all over the world are concentrating their efforts on developing pant type diapers. Friends Diaper, for example, is an Indian company that makes luxury pant type diapers for adults who suffer from incontinence.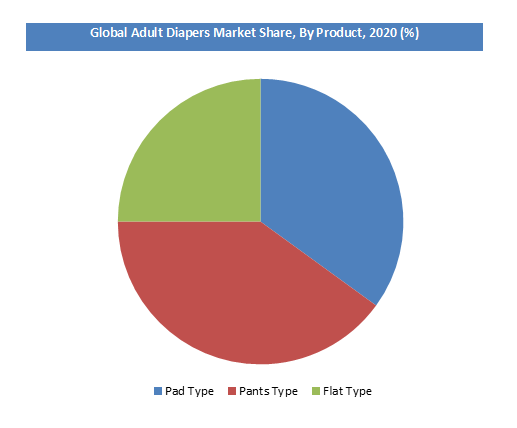 Regional Analysis Preview
Due to increasing acceptance of adult diaper use among the elderly population in countries such as the United States and Canada, North America is expected to gain substantial market share over the forecast period. Because of the poor state of public toilets in developing nations, some travellers prefer diapers to using public restrooms.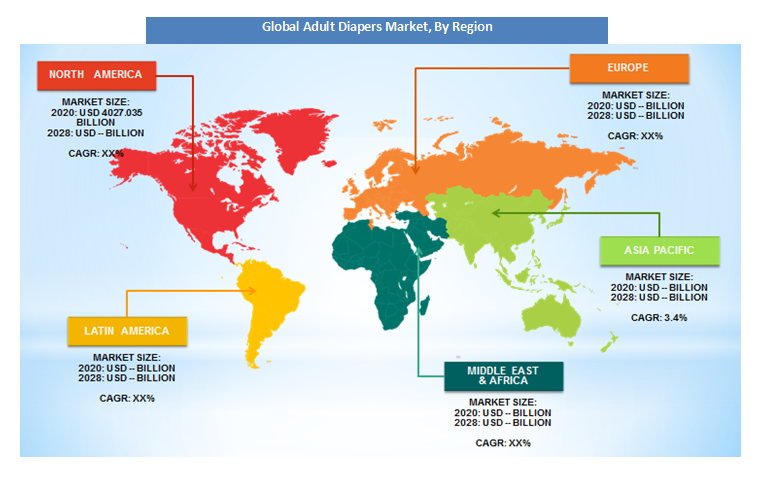 The fastest-growing regional markets are in Europe, and this trend is expected to continue over the forecast period. Adult diapers are expected to overtake baby diapers in Europe, owing to the region's growing elderly population, especially in countries like Germany, Italy, Greece, and France.
Adult diapers are expected to be in high demand in the Asia-Pacific region, particularly in Japan, where more than 27.1 percent of the population is over 65 years old. The majority of new market entrants are focusing on expanding their operations in emerging economies, especially in Asia-Pacific and South America.
Key Market Players & Competitive Landscape
Some of key players in adult diapers market are Daio paper, First quality enterprises, inc., Kao Corp., Covidien, Hengan Group, Kimberly Clark, Unicharm, Medline Industries, Ontex International, Nippon Paper Industries, and DSG international, etc. among others.
The global Adult Diapers market is segmented as follows:
By Product
Pad Type
Pants Type
Flat Type
By Region
North America
Europe

France
The UK
Spain
Germany
Italy
Rest of Europe

Asia Pacific

China
Japan
India
South Korea
Southeast Asia
Rest of Asia Pacific

Latin America

Brazil
Mexico
Rest of Latin America

Middle East & Africa

GCC
South Africa
Rest of Middle East & Africa
Table Of Content
Methodology
This report is based on in-depth qualitative and quantitative analyses of the global Adult Diapers market. Zion Research has collected and analyzed key data belong to the global Adult Diapers market using a variety of methods. Quantitative analysis has been done following various projection and sampling techniques.
The qualitative analysis involved primary interviews, surveys, and vendor briefings. The data gathered as a result of these processes were validated through experts' opinions. The market dynamics have been determined after conducting a detailed study of the micro and macroeconomic indicators of the market.
Various parameters have been taken into account while estimating market size. The revenue generated by the leading industry participants in from the sales of Adult Diapers across the world has been calculated through primary and secondary research.
Zion Research employs the combination of secondary research followed by extensive primary research. Under secondary research, we refer to prominent paid as well as open access data sources including product literature, company annual reports, government publications, press releases, industry association's magazines and other relevant sources for data collection. Other prominent secondary sources include STATISTA, trade journals, trade associations, statistical data from government websites, etc.
For this study, Zion Research has conducted all-encompassing primary research with key industry participants to collect first had data. Moreover, in-depth interviews with key opinion leaders also assisted in the validation of findings from secondary research and to understand key trends in the Adult Diapers industry. Primary research makes up the major source of data collection and validation.
Primary Research
We conduct primary interviews with industry participants and commentators on an ongoing basis to validate data and analysis. A typical research interview fulfills the following functions:
Provides firsthand information on market size, market trends, growth trends, competitive landscape, outlook, etc.
Helps in validating and strengthening the secondary research findings
Further, develops the analysis team's expertise and market understanding
Primary research involves e-mail interactions, telephonic interviews as well as face-to-face interviews for each market, category, segment and sub-segment across geographies
Participants who typically participate in such a process include, but are not limited to:
Industry participants: CEOs, VPs, marketing/product managers, market intelligence managers and national sales managers
Purchasing managers, technical personnel, distributors and resellers
Outside experts: Investment bankers, valuation experts and research analysts specializing in specific markets
Key opinion leaders specializing in different areas corresponding to different industry verticals
Secondary Research
Secondary research sources that are typically referred to include, but are not limited to:
Company websites, annual reports, financial reports, broker reports, investor presentations and SEC filings
IDC and other relevant magazines
Internal and external proprietary databases, and relevant patent and regulatory databases
National government documents, statistical databases and market reports
News articles, press releases and webcasts specific to companies operating in the market
Following a comprehensive secondary and primary research and insights thus gathered, analysts at Zion Research have provided an in-depth analysis of various aspects of the Adult Diapers market.
Models
Where no hard data is available, we use models and estimates to produce comprehensive data sets. A rigorous methodology is adopted, wherein the available hard data is cross-referenced with the following data types to produce estimates:
Demographic data: Population split by segments
Macroeconomic indicators: GDP, PPP, Per Capita Income, etc.
Industry indicators: Expenditure, technology stage and infrastructure, sector growth and facilities
Data is then cross-checked by an expert panel.
Free Analysis
An adult diaper is a disposable diaper consist of an absorbent inserted in between two non-woven fabric structure. This helps in avoiding the leakage, maintain the body fluid level and improve comfort. An adult diaper is different from baby diapers. Diapers can be used for adults with various conditions, such as severe diarrhea, dementia, incontinence or mobility impairment. Adult diapers are made in a range of forms including those resembling traditional child diapers, underpants, and pads resembling sanitary napkins or well-known as incontinence pads.
The adult diaper market is primarily driven by affordability, growing aging population, urbanization and increased awareness of treatment methods for urinary incontinence across the globe. The global adult diaper market is expected to show rapid growth due to the aging population, economic affluence and improvement of healthcare systems. However, price volatility and social and economic constraints of using adult diapers are a major restraint that may limit the adult diapers market.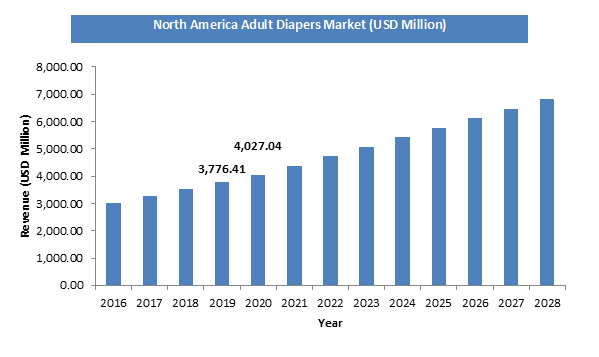 The adult diaper market is segmented on the basis of type, which includes pad type diapers, pants-type diapers, flat type diapers and others. Pad type adult diapers accounted for the majority share of the global adult diaper market in 2015 with around 48.01% share of the overall market in terms of revenue. Two types of adult diapers available in the market include disposable and reusable adult diapers.
North America dominated the global adult diapers market on account of rising geriatric population coupled with rising incidences of urinary bladder issue in the region. North America acquired around 31.19% share of the overall market in 2015 in terms of revenue. U.S. and Germany exhibit strong growth for adult diaper market. Asia-Pacific was one of the leading regions for adult diaper market and expected to show moderate growth in the years to come. Developing countries are anticipated to experience the largest growth owing to shift in lifestyle and rising population. Japan was the one of leading market in the Asia Pacific region. China followed by India, has the biggest population of senior citizens and is also anticipated to demonstrate the fastest growth in the next few years. Emerging manufacturers are suggested to design high-quality products sold at reasonable pricing and thus maintain their market share.
First quality enterprises, inc., Daio paper, Covidien, Kao Corp., Kimberly Clark, Hengan Group, Medline Industires, Unicharm, Nippon Paper Industries, Ontex International, and DSG international, are some of the key participants in the adult diaper market.