The global 3D Cell Culture market, which will accrue proceeds worth 2,232.60 (USD Million) by 2026, is set to record the CAGR of nearly 16.1% over the period from 2020 to 2026. The report offers assessment and analysis of the 3D Cell Culture market on a global and regional level. The study offers a comprehensive assessment of the market competition, constraints, sales estimates, opportunities, evolving trends, and industry-validated data. The report offers historical data from 2017 to 2019 along with a forecast from 2020 to 2026 based on revenue (USD Million).
Introduction
3D cell culture tools are used in drug discovery process, tissue engineering, stem cell study, cell-based sensors, cancer cell biology, and stem cell study. As per NCBI, 3D cell culture systems have proved to be most effective sensing tools in cell based sensors as they provide biologically accurate information as well as predictive data for in vivo clinical trials. Furthermore, 3D cell culture has the ability to bring a paradigm shift in toxicology research activities. For instance, 3D cell culture models help in effectively studying the impact of toxicants on liver, testis, lungs, kidneys, heart, skins, gastrointestinal tract, and brain. NIH researchers have reported that 3D cell culture prototypes can also prove beneficial in comprehensive carcinogenesis study.
Market Growth Dynamics
The growth of 3D cell culture industry over estimated timespan is owing to escalating focus on personalized medicine along with increasing cases of chronic disorders across the globe. Rising demand for organ transplants and contribution of 3D cell culture models towards new drug development for treating cancer will embellish the market trends. Apart from this, massive use of 3D cell culture techniques in drug screening and efforts made by researchers for developing standard protocols in drug screening will chart a profitable growth graph for the market over the coming years.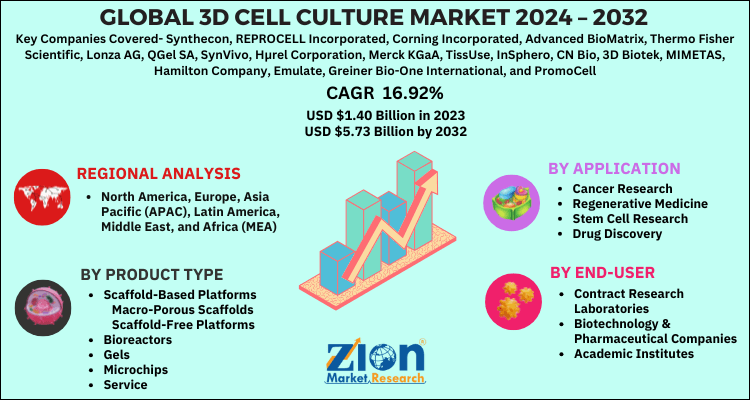 Furthermore, 3D cell culture based biosensors create 3D cell structures as the latter can exhibit in vivo distribution of nutrients, signaling drugs, metabolites, and oxygen. Additionally, with the onset of new techniques like lab-on-a-chip technique, the market for 3D cell culture is likely to gain traction over the ensuing years. Large-scale funding for research & development activities pertaining to 3D cellular models will further steer the business growth over the estimated timespan.
North America To Contribute Major Market Revenue Over Forecast Timespan
The growth of the market in the region over the forecast timespan is due to huge healthcare funding in biotech & pharmaceutical research in the countries like the U.S. and Canada. In addition to this, massive need for drug discovery with surge in the cases of chronic ailments in the region will spur the market expansion in North America over the estimated timespan.
Key participants profiled in the report are Synthecon, REPROCELL Incorporated, Corning Incorporated, Advanced BioMatrix, Thermo Fisher Scientific, Lonza AG, QGel SA, SynVivo, Hµrel Corporation, Merck KGaA, TissUse, InSphero, CN Bio, 3D Biotek, MIMETAS, Hamilton Company, Emulate, Greiner Bio-One International, and PromoCell.
The global 3D cell culture market is segmented as follows:
By product type:
Scaffold-Based Platforms

Macro-Porous Scaffolds
Scaffold-Free Platforms
Micro-Porous Scaffolds
Nano-Porous Scaffolds
Solid Scaffolds

Bioreactors
Gels
Microchips
Services
By application:
Cancer Research
Regenerative Medicine
Stem Cell Research
Drug Discovery
By end-user:
Contract Research Laboratories
Biotechnology & Pharmaceutical Companies
Academic Institutes
By Region
North America
Europe

France
The UK
Spain
Germany
Italy
Rest of Europe

Asia Pacific

China
Japan
India
South Korea
Southeast Asia
Rest of Asia Pacific

Latin America

Brazil
Mexico
Rest of Latin America

Middle East & Africa

GCC
South Africa
Rest of Middle East & Africa