Analysis
Molecular diagnostics is the set of techniques used to identify specific sequences in DNA or RNA that could be linked to diseases. Molecular diagnostics techniques help in subclassifying the disease and monitoring response of the treatment. Single Nucleotide Polymorphism (SNP), deletions, insertions, and rearrangements can be identified through molecular diagnostics techniques. Molecular diagnostics helps in developing personalized medicine as it makes it possible to analyze the specifics of patients and their disease. Molecular diagnostics is used in a variety of medical conditions like oncology, genetic disease screening, infectious disease, coagulation, and pharmacogenomics. Molecular diagnostics combines molecular genetics technology and knowledge of genomics.
Over the years, the study of genome has become an important part of medicine and human as well as veterinary health. The discovery of Polymerase Chain Reaction (PCR) played an important part in the widespread adoption of veterinary molecular diagnostics. Extensive research in genetics has given a boost to veterinary molecular diagnostics. Some of the most used veterinary molecular diagnostics techniques include Restriction Fragment Length Polymorphism (RFLP), Allele-Specific Oligonucleotide (ASO) Hybridization, Amplification Refractory Mutation System (ARMS), Oligonucleotide Ligation Assay (OLA), and Pyrosequencing, among others. Polymerase Chain Reaction (PCR) is most commonly used to detect a wide range of viral diseases in animals. Molecular assays are performed for livestock animals for detection and interpretation of diseases.
Veterinary molecular diagnostic techniques are rapidly gaining popularity over traditional testing methods. Polymerase Chain Reaction (PCR), a popular molecular diagnostic technique, is now routinely used in veterinary laboratories. Veterinary molecular diagnostics are extremely crucial during disease outbreaks, as it involves screening of a large number of samples in a short time. According to the European Food Safety Authority (EFSA), around 320,000 cases of foodborne and zoonotic diseases are reported every year. Applying veterinary molecular diagnostic techniques can pave the way for early detection and containment of disease outbreaks in animals.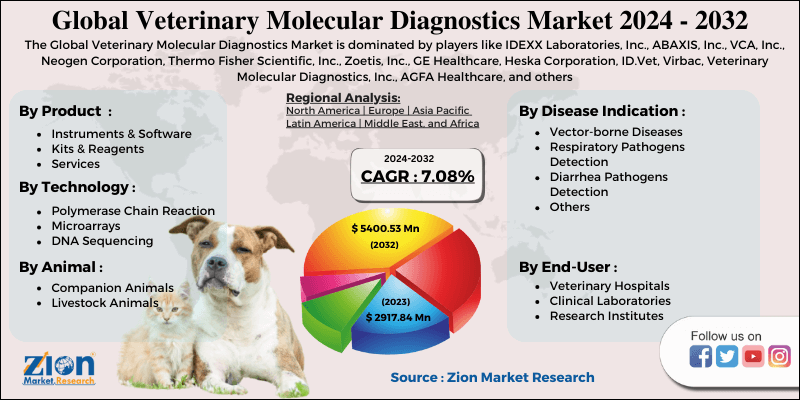 The emergence of advanced veterinary molecular diagnostic tools over traditional diagnostic tools and a growing focus on adopted pet's and livestock's health and nutrition will drive the growth of veterinary molecular diagnostics market. However, the high costs associated with these techniques could restrict veterinary molecular diagnostics market growth.
Based on technology, the veterinary molecular diagnostics market has been segmented into microarrays, polymerase chain reaction (PCR), and DNA sequencing. On the basis of animal type, the market for veterinary molecular diagnostics is segmented into livestock animals and companion animals. Based on disease indication, the veterinary molecular diagnostics market is segmented into diarrhea pathogens detection, vector-borne diseases, respiratory pathogens detection, and others. Segmentation based on products for veterinary molecular diagnostics includes kits & reagents, instruments & software, and services. The end-user segment for veterinary molecular diagnostics is divided into research institutes, clinical laboratories, and veterinary hospitals.
North America is expected to remain the dominant region over the forecast period for veterinary molecular diagnostics market. Owing to the increasing adoption of companion animals, more people are willing to pay for veterinary care thus the demand for developing new treatment options is growing. All these factors will boost the market in this region. Europe anticipates being the second most dominant marketplace for veterinary molecular diagnostics market due to the presence of advanced livestock industry. The Asia Pacific is expected to grow at the fastest rate driven by high livestock population in India and China.
Some of the key players in veterinary molecular diagnostics are IDEXX Laboratories, Inc., ABAXIS, Inc., VCA, Inc., Neogen Corporation, Thermo Fisher Scientific, Inc., Zoetis, Inc., GE Healthcare, Heska Corporation, ID.Vet, Virbac, Veterinary Molecular Diagnostics, Inc., and AGFA Healthcare.