Analysis
Advancements in digital signal processing, embedded computer architecture, digital sensing, and navigation and guidance, have unfolded automation and innovation in the tunnel system around the world. Currently, automation technology is highly attractive toward underground road tunnels, rail tunnels, and underwater tunnels. The main components of a tunnel automation system include smart lighting, fire detection, hazardous-cargo detection, traffic management system, video surveillance, emergency call system, traffic counting, fire extinguishing system, and digital control systems. Switzerland, England, France, Norway, Japan, Colorado, China, Malaysia, etc. are expressing interest in automating their tunnels.
Growing security concerns and government regulations are some of the major driving factors for the tunnel automation market globally. Additionally, technological advancements made in the field of traffic monitors and control equipment is further driving the tunnel automation market growth. However, the high construction cost of the automated tunnel might restrain this market's growth. Nonetheless, the rising tunnel construction activities across the globe, due to rapid infrastructural growth are projected to fuel the market expansion in the forecast time period.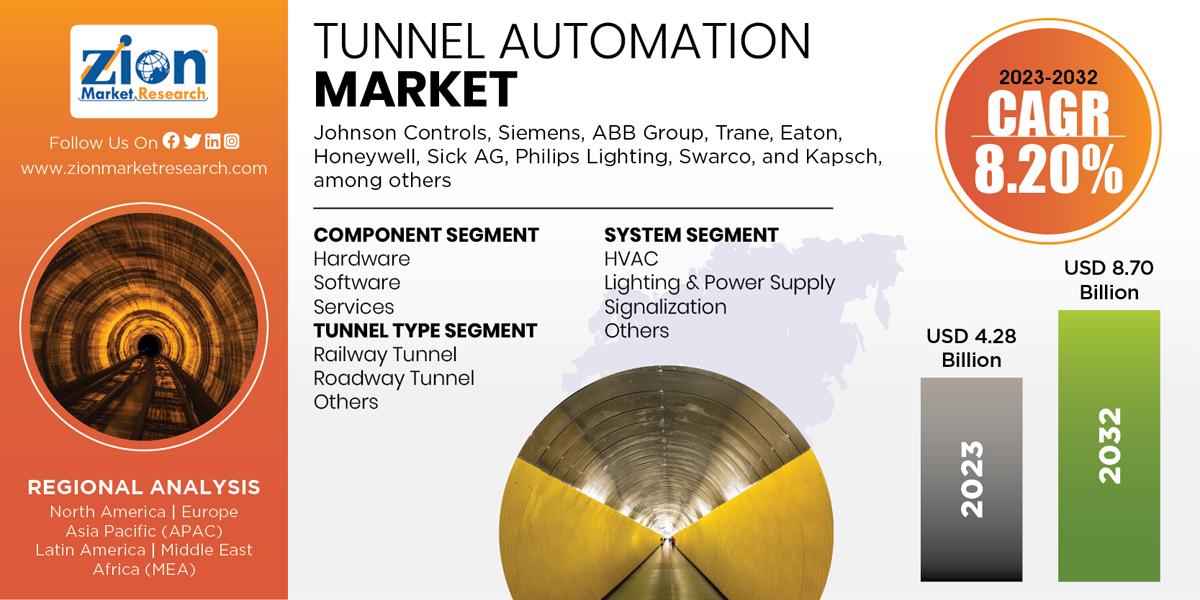 The tunnel automation market has been categorized based on component, tunnel type, and system. By component, the market includes hardware, software, and services. The software segment is predicted to hold a significant share in the market during the forecast time period, due to continuous innovation and launch of advanced control and monitoring software. By tunnel type, the market is classified into railway tunnel, roadway tunnel, and others. Currently, the roadway tunnel is dominating the market significantly due to a large number of ongoing tunnel constructions witnessed globally. By system, the tunnel automation market includes lighting and power supply, HVAC, signalization, and others.
By geography, the tunnel automation market is segmented into North America, Europe, Asia Pacific, Latin America, and the Middle East and Africa. In 2017, North America held the largest market share in terms of revenue. Integration of Big Data, IoT, and other analytical tools in tunnel automation is anticipated to create lucrative opportunities for the North American tunnel automation market in the forecast time period. Canada is likely to be the fastest growing tunnel automation market in the upcoming years, owing to the growing application of traffic monitoring systems and video surveillance systems. Europe is anticipated to hold a significant revenue share in the tunnel automation market in the forecast time period. In 2017, UK held the largest market share in Europe. The Asia Pacific is predicted to make a considerable contribution toward the tunnel automation market expansion during the forecast time period. Latin America and the Middle East and Africa are the most lucrative regions for tunnel automation market. Both these regions have significant market growth potentials, due to a large number of road and sea links in different major countries.
The major participants of the global tunnel automation market are Johnson Controls, Siemens, ABB Group, Trane, Eaton, Honeywell, Sick AG, Philips Lighting, Swarco, and Kapsch, among others.