Free Analysis
Secure skin closure is very basic and essential step in every surgical procedure. If the skin closure devices fail to provide the required strength and support to the skin tissue, there is a possibility that the wound edges can get separated, or it can offer a potential way for bacterial contamination. A promising alternative to the traditional closure techniques is tissue sealants and tissue adhesives. They form physically powerful bond crossways apposed wound boundaries and allow normal healing to occur below. Tissue sealants and adhesives save time in wound repair, provide a flexible water-resistant defensive coating and eradicate the need for suture removal. Some tissue glue examples are Cyanoacrylate, octyl cyanoacrylate (Dermabond), enbucrilate (Histoacryl), and N-butyl cyanoacrylate (Indermil, Liquiband).
According to the World Health Organization (WHO), about 1.25 million people across the globe die due to road accidents each year. About 20 to 50 million people undergo non-fatal injuries or suffer from disabilities. The growth of the tissue sealants and tissue adhesive market is mainly attributed to the rising need for managing blood loss in patients due to fatal accidental injuries. Other market driving factors include rising geriatric population, growth in the number of accidents, increasing incidence of trauma, and growing prevalence & incidence of various disorders such as obesity, diabetes, and cardiovascular diseases. Tissue sealants and tissue adhesives are extremely advanced medical devices and are commonly used in the healthcare sector. Rising number of surgeries lead to growing demand for wound closure devices and help in reducing post-operative infections and scars. In addition, FDA and CE mark approvals are also driving the global market. However, the cost associated with the products & wide clinical data necessities for introducing new products and lack of compensations for surgical sealants and adhesives can create restraints for the market. Improving healthcare infrastructure in developing markets is expected to fuel the growth of the tissue sealants and tissue adhesive market.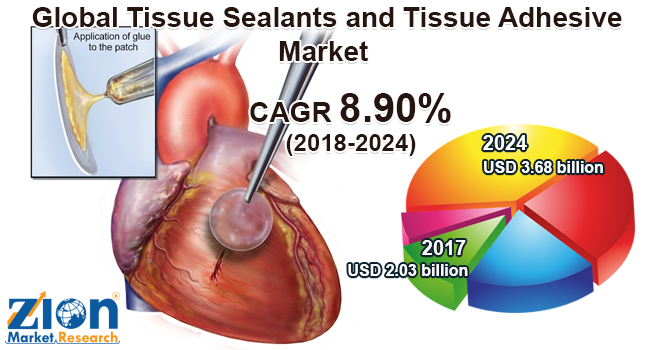 Based on product, tissue sealants and tissue adhesive market have been segmented into tissue sealants and tissue adhesives. Tissue sealant segment is further segmented into synthetic tissue sealants and non-synthetic tissue sealants. Non-synthetic tissue sealants segment is further divided into collagen-based tissue sealants, fibrin-based tissue sealants, and protein-based tissue sealants. Tissue adhesive segment is classified into Cyanoacrylate-based tissue adhesives and other cross-linkable polymer-based tissue adhesives. Based on end-user, tissue sealants and tissue adhesive market have been divided into specialty clinics, hospitals, and others. Based on application, tissue sealants and tissue adhesive market have been segmented into cardiovascular surgeries, laparoscopic surgeries, burns and skin grafting, general surgeries, cosmetic surgeries, and others.
Over the forecast period, North America is expected to remain the dominant region, owing to growing spending power of its population along with the availability of technologically advanced products. Asia Pacific region will witness the highest growth during the forecast period. This growth in the Asia Pacific market can be attributed to the rising geriatric population, the growing focus of key manufacturers in developing countries, speedy industrial growth, and rising demand for surgical interventions. Furthermore, the high adoption rate of advanced medical products along with the rising demand for quality healthcare activities in this region is supporting the market growth.
Some of the key players in tissue sealants and tissue adhesive market include Johnson & Johnson, Baxter International Inc., CryoLife, Inc., Exapharma Inc., Dentsply Sirona Inc., Smith & Nephew plc, C.R. Bard, Inc., Cohera Medical, Inc., Luna Innovations Incorporated, Integra LifeSciences Corporation, Tissuemed Ltd., B. Braun Melsungen AG, and Chemence Medical, Inc., among others.