Free Analysis
Therapeutic drug monitoring(TDM)has several benefits for patients who are on regular medication or suffering from illnesses, infections, accidents, surgeries, and physical stresses. It involves regular measurement of medicines and drugs in order to maintain a constant concentration of medications in the bloodstream. These days therapeutic drug monitoring (TDM) has become a highly essential and vital method to avoid drug toxicity. Adverse drug reactions occur due to inaccurate dosage and, sometimes, lead to critical medical conditions and, in many cases, lead to death, if not managed properly.
Growing demand for therapeutic drug monitoring around the world for organized disease treatment is the key driver for the global therapeutic drug monitoring market. In addition, the growing geriatric population and the rapid increase in the prevalence of cancer and diabetes are further expected to augment the growth of this market in the upcoming years. However, the high cost of therapeutic drug monitoring, strict government regulations, and lack of trained resources are the major factors restraining the growth of the therapeutic drug monitoring market. On the other hand, rapid technological advancements in therapeutics drug monitoring solutions are likely to offer prospective opportunities in the forecast timeframe.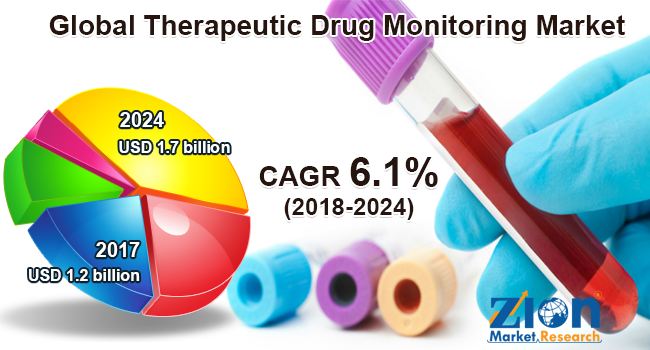 On the basis of product type, the market is segmented into equipment and consumables. Among these, the equipment segment was the highest revenue grosser in the year 2017.
On the basis of drug class, the market is segmented into antiarrhythmic drugs, antibiotic drugs, immunosuppressant drugs, bronchodilator drugs, psychoactive drug, antiepileptic drugs, and others.
The end-users in the therapeutic drug monitoring market are commercial/private labs, hospital labs, and others. The commercial/private companies dominated the market and accounted for the largest share in 2017. The growth of this segment is primarily credited to the growing awareness among people regarding the benefits of therapeutic drug monitoring. The hospital lab segment is projected to grow at the highest CAGR in the forecast span.
Based on geography, the global therapeutic drug monitoring market is divided into five regions: North America, Europe, Asia Pacific, Latin America, and the Middle East and Africa. North America was the leading region in terms of revenue generation in 2017. Europe was the second largest market followed by the Asia Pacific. The Asia Pacific therapeutic drug monitoring market was the fastest growing market in 2017 and is anticipated to grow at a significant pace in the following years. The growth in this region can be attributed to the rapid development of healthcare infrastructure and heightened corporate investments in the healthcare sector. The Middle East and African and Latin American regions are expected to experience moderate growth in the therapeutic drug monitoring market in the years to come.
Some of the major players in the global therapeutic drug monitoring market are F. Hoffmann-La Roche AG, Thermo Fisher Scientific, Siemens Healthcare, Bio-Rad Laboratories Inc., and Danaher Corporation, among others.