Free Analysis
Textiles can be fibers, filaments, or yarns, which are used to produce fabric or cloth. Generally, textiles are obtained from four main sources—plant, animal, mineral, and synthetic. Weaving, knitting, ginning, spinning, crocheting, and bonding are the major manufacturing processes of textile goods. Textile materials like cotton, silk, wool, and flax fibers are used as raw material to produce final products of textiles. Textiles are used in a wide range of applications, such as household, workplace, industrial, and miscellaneous uses. Large production of the textile industry is consumed by clothing applications and for making containers like baskets and bags. Moreover, the household applications use textiles in upholstered furnishings, carpeting, towels, bedding, window shades, coverings for tables, etc.
The global textile market is likely to experience good growth in the future, owing to the flourishing automobile production and rapid industrialization in emerging nations across the world. Textiles used in automobiles are generally non-apparels that are broadly used in cars, buses, trains, etc. Thus, the textiles used in vehicles mean all kinds of textile materials, such as fibers, yarns, filaments, and fabrics. About 75% of the automobile textiles are utilized for interiors, i.e., seat covers, door liners, and carpets. The remaining of the automobile textiles is used to produce safety belts, tires, hoses, airbags, etc. Favorable safety regulations formulated by different governments across the globe is mainly fuelling the demand for textiles in the automotive industry.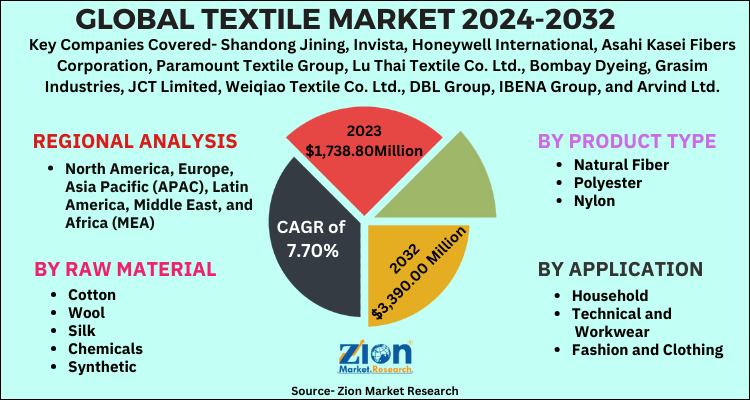 Based on raw material, the textile market is segmented into cotton, wool, silk, and chemicals and synthetic. On the basis of product type, the market is categorized into the natural fiber, polyester, and nylon. On the basis of application, the market includes household, technical and workwear, fashion and clothing, and others.
By region, North America is projected to grow significantly in the upcoming years. The U.S. textile industry primarily depends on importers and suppliers of textile materials. Additionally, the U.S. textile industry exports textiles to around 200 countries across the world. Moreover, in the U.S., the changing lifestyle of young consumers is driving the demand for clothing and fabric, which is likely to support the region's textile market growth in the future. The European textile market is expected to grow substantially in the upcoming years. Germany, UK, and France are the top textile producers in the region. Germany is the most dominating nation in the European textile market. The rising demand for high-tech textiles is one of the major factors driving this regional market. Moreover, advancements in performing fiber-based materials and the digitization of manufacturing and supply chains are projected to further fuel the textile market in Europe.
Some key players of the global textile market are Shandong Jining, Invista, Honeywell International, Asahi Kasei Fibers Corporation, Paramount Textile Group, Lu Thai Textile Co. Ltd., Bombay Dyeing, Grasim Industries, JCT Limited, Weiqiao Textile Co. Ltd., DBL Group, IBENA Group, and Arvind Ltd.