Analysis
Telemedicine is the remote conveyance of healthcare facilities, such as health consultations or assessments, over a telecommunications setup. Telemedicine permits long-distance patient/clinician interaction and care, guidance, reminders, tutoring, intervention, and nursing. Telemedicine can overcome the dearth of transport, lack of movement, financial constraints, and even lack of employment. Telemedicine is a sub-category of telehealth, which includes non-clinical features of a healthcare organization and remote medical service transfer.
The growing incidences of lifestyle-related chronic diseases, escalating healthcare costs, rising grants and funding by government agencies for telemedicine, increasing number of smartphone consumers, constant requirement for quality healthcare services, growing demand for self-care in remote locations, and rising geriatric population are major factors driving the growth of the global telemedicine market. The rapid adoption of 4G and 5G communication technologies, rising popularity of telemedicine in developing regions, and increasing investments by major companies in research and development of new technologies are likely to generate new growth opportunities for the telemedicine market players in the future. However, the high risk of privacy violation and stringent security laws may restrict the growth of the global telemedicine market.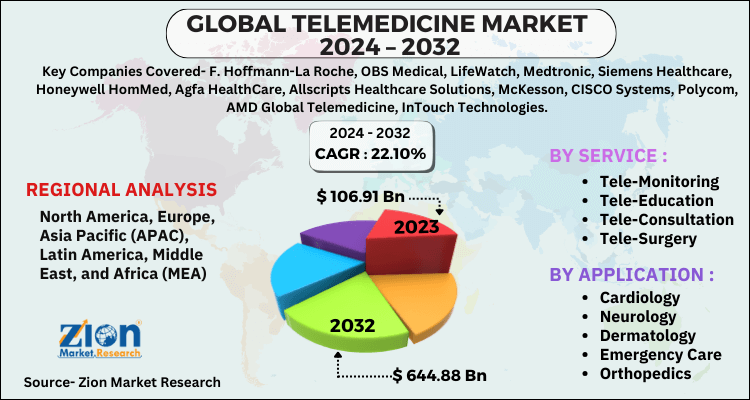 The global telemedicine market is fragmented based on service and application. Based on service, the telemedicine market includes tele-care, tele-training, tele-surgery, tele-consultation, tele-education, and tele-monitoring. Tele-consultation is expected to exhibit the fastest growth in the years ahead, owing to the increasing patient demand for early treatment by means of homecare, mobile monitoring, and disease monitoring applications. Tele-education, tele-training, and tele-surgery are recently added in the telemedicine services domain and are expected to exhibit exponential growth in the future. The application segment of the telemedicine market comprises internal medicine, neurology, cardiology, dermatology, orthopedics, emergency care, gynecology, and others. Dermatology dominated the market and contributed over 25% revenue share in 2018. Neurology was another leading segment in the telemedicine market in 2018, due to the increasing neurological complications, such as stroke, Alzheimer's, and Parkinson's cases. Emergency care and cardiology are other key segments that play an important role in the telemedicine market.
North America will be the leading region in the global telemedicine market in the future, owing to the growing regional implementation of telemedicine, positive government initiatives, rising investments witnessed in communication technology, and the presence of state-of-the-art healthcare facilities. Europe will be the second-largest market for telemedicine globally, owing to the rapid adoption of 4G and 5G communication technologies, increasing geriatric population, and rising prevalence of different chronic disorders. The Asia Pacific telemedicine market will grow rapidly over the forecast time period, due to rising government support, ever-increasing population, growing interest in telemedicine, and escalating research and development related to telemedicine applications.
Some key players of the global telemedicine market are OBS Medical, Medtronic, Siemens Healthcare, Agfa HealthCare, McKesson, CISCO Systems, Polycom, AMD Global Telemedicine, F. Hoffmann-La Roche, Allscripts Healthcare Solutions, Honeywell HomMed, LifeWatch, and InTouch Technologies.