Analysis
Tactical communication is a military communication system that transmits any kind of information, mainly military intelligence and orders. The information can be transmitted from one person or place to another person or place on the battlefield. It consists of diversified crucial information, such as written, auditory, verbal, or visual. In recent times, with the advancements in technology, military communication takes place electronically.
Increasing defense investments for mergers and acquisitions among major players in different countries like China, India, Germany, and the U.S. is mainly boosting the tactical communication market growth. With rapid advancements in technology, the adoption of advanced tactical communication devices, such as the German Enigma Machine, in the defense has increased. These technological advancements are anticipated to further drive the tactical communication market to a greater extent. The advancements witnessed in the economies across the globe through industrialization are presumed to be another major market contributor. Moreover, the innovations in technologies along with miniaturization of the devices are anticipated to fuel the tactical communication market growth over the forecast time period. The growing demand for tactical communication devices due to network issues is another major driver of the tactical communication market. However, concerns related to the elevated issues regarding cybersecurity may be a major hurdle in the deployment of tactical communication devices.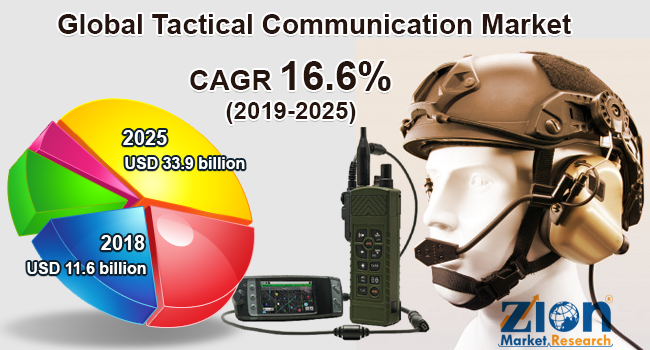 On the basis of platform, the market is fragmented into ship-borne, underwater, land, and airborne. The underwater segment is anticipated to lead the tactical communication market in the years ahead, owing to the growing government agencies' focus on technological advancements of the communication systems related capabilities of both submerged manned and unmanned systems. These efforts enable the underwater tactical communication systems to transmit and receive the broadcast of real-time situations, which will boost the underwater tactical communication segment.
The North American tactical communication market is anticipated to grow rapidly over the projected time period, owing to the growing demand for the procurement of advanced communication systems. These advanced systems are based on internet protocol (IP), satellite communications, and voice over protocol (VoIP). The tactical communication market in North America is also driven by the growing product demand in the U.S along with the development of faster and durable communication systems across the region.
Some key participants operating in the global tactical communication market are Harris Corporation, L-3 Communications, Raytheon Company, ViaSat, Northrop Grumman, Thales Group, Ultra Electronics, Tactical Communications Group, General Dynamics, and BAE Systems.