Analysis
An ostomy is a term referred to surgical procedures which allow the passage of body waste through a surgically created aperture or stoma into a prosthetic bag or a pouch which is placed outside the body. It is also known as continent diversion surgery and can be performed on patients of all age groups. Ostomy procedures are performed on patients suffering from medical illnesses like cancer, diverticulitis, birth defects, inflammatory bowel disease, and incontinence. This procedure is also performed on patients who are suffering from pelvic trauma and severe abdominal disorders caused due to severe injuries and/or accidents.
Technological innovations, rising ostomies among the geriatric population, and increasing incidences of gastrointestinal diseases and bladder cancers across the globe are some of the major factors increasing the demand for ostomy care accessories market. Moreover, raising awareness through a number of campaigns about ostomy and its care are expected to propel the demand for this market. Some of the major trends of the market include increasing partnership between manufacturers and distributors, growing market share of domestic players, increased sales through online sales, extensive R&D activities, and reducing operating cost by moving production to countries with low labor costs. But, unfavorable reimbursement scenario and rising pricing pressure in some of the underdeveloped countries are factors which are likely to hamper the market growth of ostomy care accessories.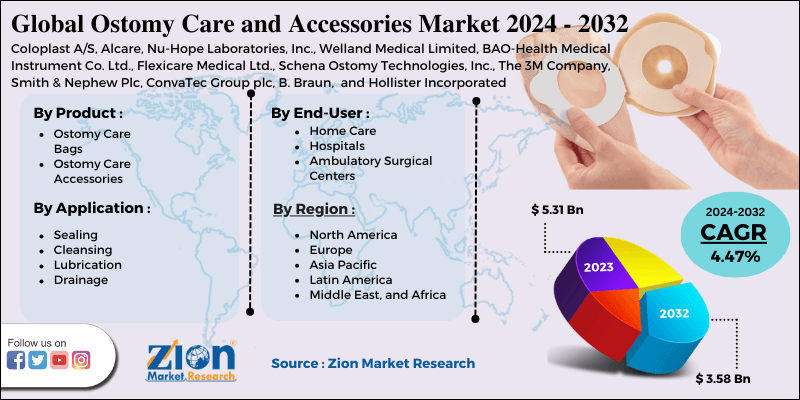 The ostomy care and accessories market are segmented based on product type, application, and end-user. Based on product type, the market is segmented into ostomy care accessories and ostomy care bags. The ostomy care bags are further segmented into surgery type which includes ileostomy, colostomy, urostomy, and other surgeries and by pouches. The ostomy care accessories market is further segmented into creams, cleansers, pastes and powders, tapes, and other accessories. The application segment is divided into sealing, cleansing, lubrication, and drainage. The end-user segment is divided into home care, hospitals, and ambulatory surgical centers.
Europe holds the largest share in the ostomy care and accessories market followed by North America. The growth in these two regions is mainly attributed to the high incidences of bladder cancer, colorectal cancer, and inflammatory bladder disease coupled with the developed healthcare structure in these two regions. However, Asia Pacific is also anticipated to be the fastest growing market in the forecast period owing to the rising government funding in the development of a range of products and the developing healthcare infrastructure in this region. Also, large patient population base and rising awareness about better healthcare are further driving the market growth of ostomy care and accessories in the Asia Pacific.
Some of the leading players in ostomy care and accessories market include Coloplast, Alcare, Nu-Hope, Welland Medical, BAO-Health, Flexicare Medical, Schena Ostomy, 3M, Smith & Nephew Plc, ConvaTec, B. Braun, Marlen, and Hollister Incorporated. Key manufacturers in the market are focusing on launching a range of skin-friendly ostomy products which are designed to offer extra security and increase wear time while reducing skin irritation.