Analysis
Stem cells are cells that can differentiate themselves into different cells of varied organs and tissues. The stem cell banking process involves the storage of different kinds of stem cells for clinical and research applications. Stem cells are classified into embryonic stem cells and adult stem cells. Embryonic stem cells are obtained from the embryo, whereas adult stem cells can be obtained at any stage of an individual's life.
According to the World Health Organization, cancer is the second most leading cause of worldwide deaths. The growing prevalence of cancer worldwide is fueling the research activities for the treatment of cancer. As per the National Cancer Institute, about 1,700,000 new cancer cases were diagnosed in the U.S. and approximately 600,000 deaths occurred from cancer in the U.S. in 2018. The growing prevalence of chronic diseases, such as cancer, increasing number of research activities that use of stem cells in therapeutics, rising number of government initiatives, and augmenting number of stem cell banks are some major factors fueling the growth of the global stem cell banking market. However, the high cost required for the preservation of stem cells may hamper the growth of the stem cell banking market globally.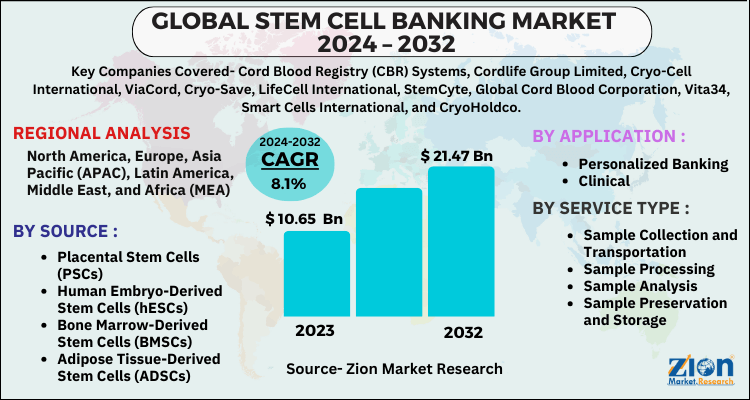 The global stem cell banking market is divided into source, application, and service type. The stem cell banking market is divided on the basis of application into clinical (hematopoietic disorders, autoimmune disorders, and others), personalized banking, and research (life science research, disease treatment studies, and drug discovery). Based on source, the market is fragmented into BMSCs (bone marrow), PSCs (placental), ADSCs (adipose tissue), hESCs (human embryo), and others. PSCs are projected to dominate the market in the future, owing to the growing establishment of placental and cord stem cells banks in North America and Europe. Based on service type, the stem cell banking market includes sample processing, sample collection and transportation, sample preservation and storage, and sample analysis.
The North American stem cell banking market dominated the globally in 2018, owing to the early introduction of highly developed equipment for research activities, the presence of highly skilled workforce, and an increase in the number of projects that use stem cell for treating chronic diseases. Asia Pacific is anticipated to show the highest year-to-year growth in the upcoming years in the global stem cell banking market, due to the rising investments made by government and renowned companies for R&D, growing awareness about the benefits of stem cells, and technological advancements related to research and development.
Some major players of the global stem cell banking market are Cord Blood Registry (CBR) Systems, Cordlife Group Limited, Cryo-Cell International, ViaCord, Cryo-Save, LifeCell International, StemCyte, Global Cord Blood Corporation, Vita34, Smart Cells International, and CryoHoldco.