Analysis
Spirometers are medical devices used to measure oxygen inhaled and exhaled by an individual, which also helps in the monitoring of normal lung functions. These devices are mainly used to diagnose various respiratory and breathing disorders, such as COPD, asthma, and bronchitis, among others. These also help in screening occupational environment but are mostly used to detect respiratory disorders and lung functions before a surgery. Spirometers also help to manage respiratory disorders. During the test, a spirometer generates pneumotachograph, which helps in the measurement of lung function. Spirometers are classified into volume measurement instruments and flow measurement devices. Flow measurement devices consist of pneumatic tachograph systems and mass flow meters. On the other hand, volume measurement instruments consist of wet spirometers and dry spirometers.
The growth of the spirometer market globally is driven by increasing prevalence of respiratory disorders like asthma and COPD and rising levels of environmental pollution. As per the Centers for Disease Control and Prevention report of 2017, around 6.2 million people aged 18 and above were living with asthma in the U.S. alone. Furthermore, the growing number of smokers is also expected to contribute to the spirometer market globally in the future. The increase in healthcare facilities and infrastructure has also propelled the growth of the global spirometer market. Moreover, technological advancements, a growing number of research and development activities, and strategic collaborations are likely to result in new product launches in the coming years, which will create new growth opportunities for the spirometer market. However, the lack of awareness and poor reimbursement policies may hamper the global spirometer market in the future.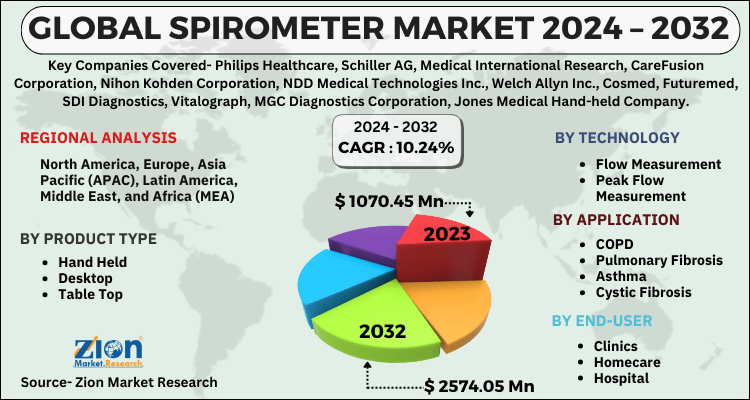 The global spirometer market is classified into product type, technology type, application, and end-user. The product type segment includes handheld, desktop and table top. Tabletop spirometers are expected to dominate the spirometer market in the future. The technology segment includes flow measurement, peak flow measurement, and volume measurement. The flow measurement segment is expected to dominate over the forecast time period. The application segment includes COPD, pulmonary fibrosis, asthma, cystic fibrosis, and others. COPD is likely to hold the largest market share in the years ahead. The end-user segment includes clinics, homecare, and hospital. The hospital segment is expected to hold a major market share in terms of revenue in the future.
By region, North America is expected to hold the largest share of the global spirometer market over the forecast time period. The Asia Pacific spirometer market is expected to grow notably in the future, owing to the presence of developing economies, such as India and China.
Some key players of the global spirometer market are Philips Healthcare, Schiller AG, Medical International Research, CareFusion Corporation, Nihon Kohden Corporation, NDD Medical Technologies Inc., Welch Allyn Inc., Cosmed, Futuremed, SDI Diagnostics, Vitalograph, MGC Diagnostics Corporation, Jones Medical Hand-held Company, and Midmark Corporation.