Analysis
Smart grid data analytics controls large data volumes that are created by smart grid technology. It is a key sector in the industrial IoT (Internet of Things), as it helps utilities to address key financial and operational challenges. This technology offers certain advantages for multinational corporations, retail stores, universities, enterprises, and hospitals. The technology deals with vast data volumes from the meteorological information system, electricity network, and geographical information systems. It also offers effective solutions for human society electrification with an increased penetration of renewable energy sources.
The rapid developments witnessed in cloud computing and digital technology over the last few years have contributed to the growing adoption of smart grid technology. The increasing need for an effective, efficient, and rational analysis of this huge data is driving the smart grid data analytics market internationally. Moreover, the continuous progress in the information and communication technology coupled with increasing R&D investments is also anticipated to fuel the smart grid data analytics market growth over the forecast time period. Increasing requirement for real-time data exchange with continuous generation of different types of data, such as digital images, social media chats and conversations, voice or video recordings, sensor data, and messages is estimated to further propel the smart grid data analytics market in the upcoming years.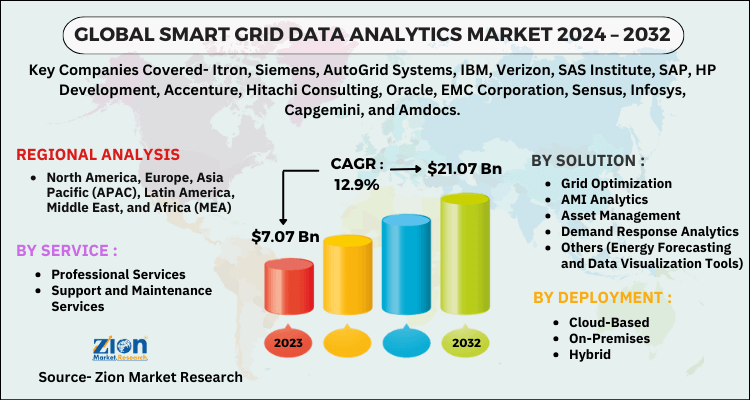 Based on solution, the market is classified into demand response analytics, AMI analytics, grid optimization, asset management, and others (data visualization tools and energy forecasting). AMI analytics is the fastest-growing segment and anticipated to maintain its major market share over the forecast time period. By deployment, the market includes cloud-based, hybrid, and on-premises. Cloud-based deployment is widely preferred due to its certain advantages. By service, the market comprises professional and support and maintenance services. Professional services are gaining high popularity across various developed countries.
The North American smart grid data analytics market is predicted to register a significant CAGR over the forecast time period. The Asia Pacific smart grid data analytics market growth is attributed to the increasing number of new entrants in the market with a strong focus on advanced technology. Continuous developments in the data analytics field to develop customized services for different end-users are estimated to boost the European market over the forecast time period. In Latin America, the smart grid data analytics market growth is primarily attributed to vigorous investments by key companies in the research and development. Increasing penetration of smart grid technology in various end-user industries is anticipated to drive the Middle Eastern and African smart grid data analytics market.
Some key players of the smart grid data analytics market are Itron, Siemens, AutoGrid Systems, IBM, Verizon, SAS Institute, SAP, HP Development, Accenture, Hitachi Consulting, Oracle, EMC Corporation, Sensus, Infosys, Capgemini, and Amdocs.