Free Analysis
Sheet face masks are the new trend in the beauty industry. Sheet masks are the type of skincare product used on the face to improve the texture of the skin. It is also used to recover skins conditions. Sheet masks are fiber-based masks with serums that are likely to contain several ingredients to tackle a variety of skincare issues. It prevents the skin from damage, easy to rehydrate, and improves complexion. The key factors responsible for the market growth is increasing demand for the sheet face masks in countries with air pollution and premature skin aging problems. This is projected to boost the sheet face mask market growth over the forecast period.
The global sheet face mask market is anticipated to witness extensive growth in the coming years. Global sheet face mask market is classified on the basis of product type, distribution channel, end user, and by price range. The distribution channel segment is classified as online and offline. By product type, the global sheet face mask market is categorized into cotton, non-woven, hydrogel, bio-cellulose, and others. Among all, the bio-cellulose segment is likely to expand with significantly highest growth rate. By end user, the market is segmented into business to business and business to customers. Depending on price, the market is segmented into premium and economic. The sheet face mask is more popular among the younger generation as it gives healthy and radiant skin. This will mainly drive the market growth as growing popularity among youngsters creates more opportunity to capture sheet face mask market with innovative ingredients.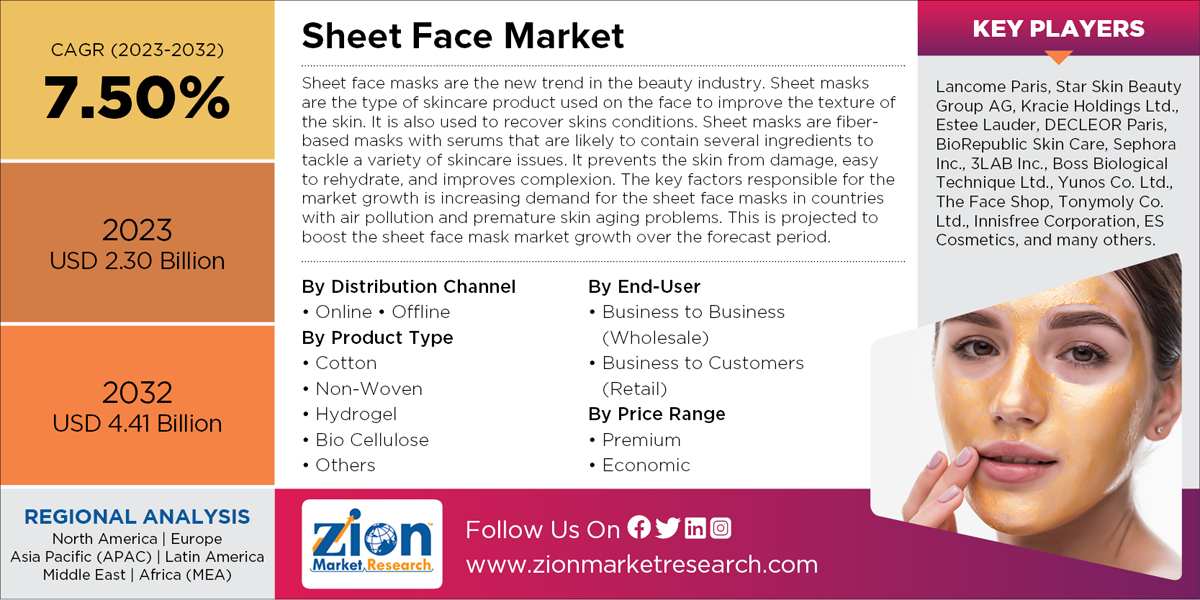 By geography, the sheet face mask market finds its market scope in North America, Europe, Asia Pacific, Latin America, and the Middle East & Africa. Asia Pacific region is expected to be the fastest growing region owing to the facts such as increasing demand for organic products which, in turn, will increase the demand for sheet face mask market. Increasing use of cosmetic products, rising standard of living, growing skincare awareness will fuel the growth of the global sheet face mask market. The rapid development in skincare/beauty industry in emerging economies such as China and India has increased the sheet face mask adoption in these regions.
Product development by key manufactures is the major concern for sheet face mask market. The key players operating in the sheet face mask market include Lancome Paris, Star Skin Beauty Group AG, Kracie Holdings, Ltd., Estee Lauder, DECLEOR Paris, BioRepublic Skin Care, Sephora Inc., 3LAB Inc., Boss Biological Technique Ltd., Yunos Co. Ltd., The Face Shop, Tonymoly Co. Ltd., Innisfree Corporation, ES Cosmetics, and many others. The report provides a detailed description of manufactures which consist of parameters for example company overview, business strategy, key developments, and financial overview of the company.