Analysis
Sepsis is a life-threatening condition caused by bacterial infection. This disease injures the tissues and organs. As per physicians, it is a three-staged syndrome disease—sepsis, severe sepsis, and septic shock. Severe sepsis is associated with acute alteration in the mental status and organ dysfunction, whereas septic shock is defined as severe sepsis with signs of rapidly falling blood pressure, organ dysfunction, and abnormalities in cellular metabolism, all of which are considered as medical emergencies.
The increasing demand for antibiotic-resistant bacterial strains and growing incidences of hospital-acquired infections are likely to boost the sepsis diagnostics market globally in the future. The rising incidences of HAI's (hospital-acquired infections) are anticipated to be the major growth driver of the global sepsis diagnostics market in the upcoming years. HAIs trigger sepsis mainly in individuals who have weak immunity or are at an increased risk of being diagnosed with chronic diseases. As per the Center for Disease Control and Prevention, about 1 among every 25 hospitalized patients has at least one healthcare-associated infection on a given day in the hospital in the U.S. Hence, the growing incidences of HAIs are likely to boost the sepsis diagnostics market in the years ahead. Other factors that are projected to drive this market's growth in the future include a growing number of pneumonia cases and increased funding for research activities related to sepsis.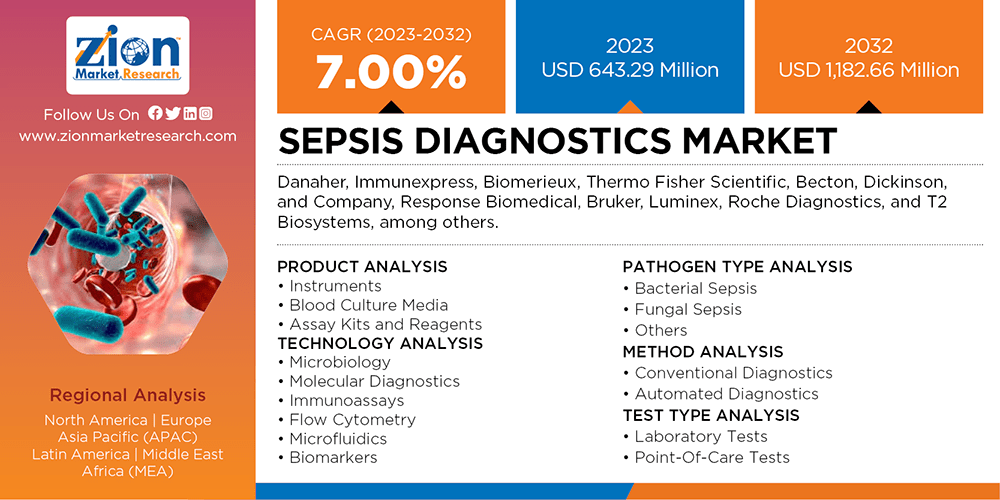 The global sepsis diagnostics market is segmented on the basis of product, technology, pathogen type, method, and test type. By product type, the market is segmented into blood culture media, assay kits and reagents, and instruments. The technology segment includes immunoassays, microbiology, microfluidics, molecular diagnostics, biomarkers, and flow cytometry. By pathogen type, the sepsis diagnostics market includes fungal sepsis, bacterial sepsis, and others. The bacterial sepsis segment is further segmented into gram-negative bacteria and gram-positive bacteria. By the method, the sepsis diagnostics market includes automated diagnostics and conventional diagnostics. By test type, the market is bifurcated into laboratory tests and point-of-care tests.
By region, North America is anticipated to dominate the sepsis diagnostics market globally and hold a major share over the forecast timeline. This can be attributed to the growing adoption of advanced and new diagnostic techniques, rising demand for better healthcare facilities, increasing incidences of chronic diseases, such as diabetes, cancer, etc. leading to increased hospital admissions, and high per capita healthcare expenditure. The Asia Pacific region is projected to register the highest CAGR over the estimated timeframe, owing to the rise in geriatric population, rapidly expanding healthcare infrastructure, and an increase in the prevalence of chronic diseases in China, India, and Australia.
Some leading players of the global sepsis diagnostics market are Danaher, Immunexpress, Biomerieux, Thermo Fisher Scientific, Becton, Dickinson, and Company, Response Biomedical, Bruker, Luminex, Roche Diagnostics, and T2 Biosystems.