Free Analysis
Renewable methanol is mostly produced from different raw materials, such as industrial and municipal waste, biomass, carbon dioxide, etc. It is majorly used for the generation of electricity via electrolysis process.
Renewable methanol is the second generation methanol that is derived from renewable sources of energy, such as biomass, industrial waste, etc. The major factor that has increased the demand for renewable methanol is the rise in environmental hazards caused due to increasing levels of carbon dioxide emissions. The increase in the generation of CO2 is causing various climatic changes, such as global warming. Various stringent laws are being implemented by the government to reduce carbon dioxide emission levels, which is supporting the growth of the renewable methanol market globally. Europe and North America have strict regulations related to fuel used for transportation. The renewable methanol has been witnessing a considerable demand from the automobile industry, as it can be blended into petrol along with ethanol apart from producing MTBE that is used largely in the automobile industry. However, the production of bioethanol and agricultural feedstock's supply for biogas generation may restrain the global renewable methanol market over the estimated timeframe. On the other hand, wide feedstock availability for generating renewable methanol is contributing to market development for renewable methanol on a global scale, which will provide new growth opportunities for the key players operating in the renewable methanol market.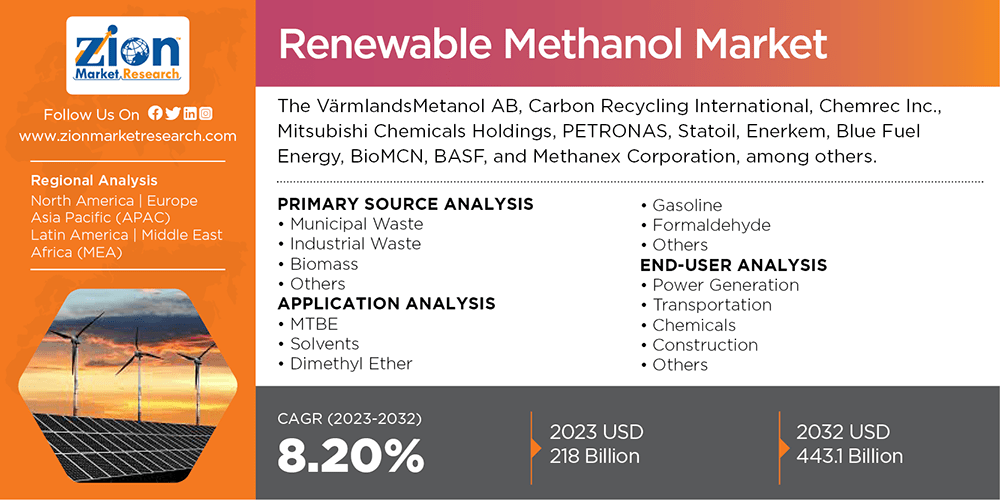 Based on the primary source, the global renewable methanol market is segmented into municipal waste, industrial waste, biomass, and others. On the basis of application, the market is segmented into MTBE, solvents, dimethyl ether, gasoline, formaldehyde, and others. On the basis of end-user, the market is segmented into power generation, transportation, chemicals, construction, and others.
By region, Asia Pacific was the largest market for renewable methanol in 2018 and held the highest market share in terms of both revenue and volume. This growth can be attributed to the growing demand for energy and fuel that is backed by a growing population, which will boost the adoption of renewable processes and sources of energy generation. The North American renewable methanol market is expected to witness a notable rate of growth over the estimated time period, owing to the various key developments witnessed across the region.
Some key players operating in the global renewable methanol market include The VärmlandsMetanol AB, Carbon Recycling International, Chemrec Inc., Mitsubishi Chemicals Holdings, PETRONAS, Statoil, Enerkem, Blue Fuel Energy, BioMCN, BASF, and Methanex Corporation.