Analysis
Recreational vehicles are motor vehicles equipped with living quarters and generally used for temporary accommodation. The recreational vehicles are largely used for luxury purpose while traveling or camping at touristy places. These vehicles come in various categories based on luxury and facilities available. They provide a transportable home facility while traveling to places. Some recreational vehicles have driver seats attached at the back caravan and some have separate driver seats.
Some high-impact rendering factors for the recreational vehicle market are high fuel efficiency as compared to conventional vehicles and increasing preferences by urban population for adventure travel and tourism. Additionally, the growing range of entertainment and comfort is among the significant factors influencing the recreational vehicle market. However, the license requirement by the recreational vehicle type might limit the recreational vehicle market. Nevertheless, the incorporation of solar technology in recreational vehicles is the innovative measure that can propel the recreational vehicle market in the upcoming years.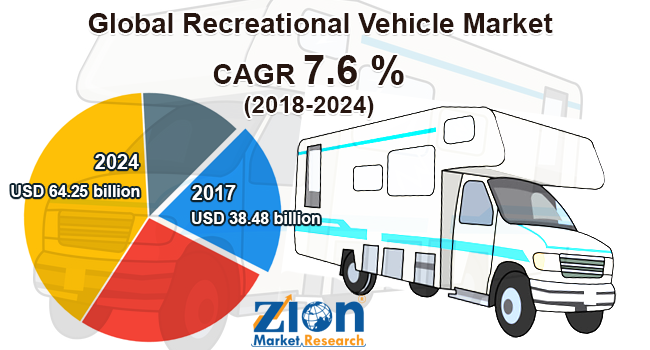 The global recreational vehicle market is classified majorly into motorized RVs, towable RVs, and application. The motorized RV type segment is divided into type A, type B, and type C. Motorized RVs are mostly luxurious RVs that have driver space and living space combined. The demand for motorized recreational vehicles has been growing in the last few years. Travel trailer, fifth wheel trailer, folding camping trailers, truck campers, and park model comprise the towable RV segment. Towable recreational vehicle segment dominates the market, owing to its use as a long-term home vehicle that can also be used during a natural calamity. By application, the market is fragmented into industrial, commercial, and residential sectors.
Geographically, the global recreational vehicle market is divided into North America, Europe, Asia Pacific, Latin America, and the Middle East and Africa. North America held the largest share of the recreational vehicle market in 2017. Furthermore, the region is expected to dominate the market in the estimated time period. Canada shows huge growth potential for the recreational vehicle market, due to the large RV exports from the U.S. International Trade Administration (ITA) between 2014 and 2017.
Significant players of the global recreational vehicle market are Thor Industries, Inc., Gulf Stream Coach, Inc., Eclipse Recreational Vehicles, Inc., Coachmen Recreational Vehicle Company, Heartland Recreational Vehicles, LLC, Starcraft RV, Inc., Skyline Corporation, Monaco RV LLC, Jayco Inc., Fleetwood RV, Inc., Forest River, Inc., and Universal Trailer Corporation, among others.