Free Analysis
Tea and coffee are one of the widely consumed drinks in the world. Tea and coffee processing has undergone lots of changes over the last 100 years, from loose packages to blended packages, tea & Coffee packets, tea & Coffee bags, instant tea & Coffee, and finally ready-to-drink (RTD) tea & Coffee. In addition, consumers look for healthier alternatives to soft drinks, RTD tea & Coffee has become one of the dynamic categories in the world market. Among all kind of beverages available, tea & Coffee has been long known as one of the most favorites for almost everyone from different culture and region. Drinking tea & Coffee even has been a part of special habit in several cultures. RTD tea and coffee are a part of the fastest growing product in the soft drinks industry. Tea & Coffee RTD drinks are not only perceived as instant energy drinks but also having importance as a part of lifestyles in major countries around the world. RTD Tea & Coffee is expected to show significant growth rate within the forecast period due to the enhanced nutritional benefits and compatibility of RTD Tea & Coffee with different flavors.
Ready-to-drink (RTD) tea & Coffee market is mainly segmented on the basis of the type of product, type of packaging and by distribution channel. On the basis of channel distribution, Supermarkets/Hypermarkets segments are the most preferred distribution channel contributing more than 36% of the global market in terms of revenue. Changing and improved distributions channels in developing countries are expected to show higher demand for RTD tea and coffee through Supermarkets/Hypermarkets channel. In terms of value, food service segments are one of the fastest growing market segment and expected to show CAGR of over 6% within the forecast period 2017 to 2022. The PET Bottle segment is expected to dominate the ready to drink tea and coffee market within the forecast period. The demand is totally impacted by packaging method; the PET bottle is getting consumed higher than any other type of packing segment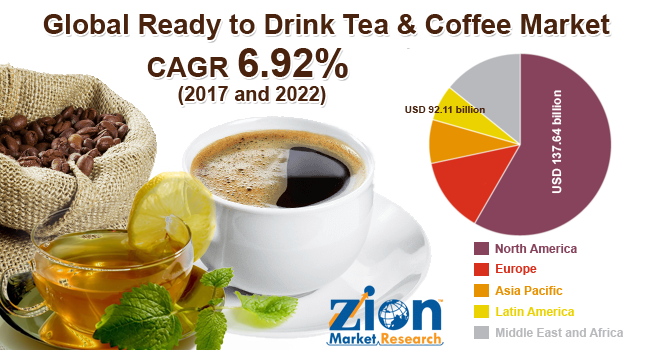 In terms of revenue, Asia Pacific accounted for the largest market share in 2016. The demand is mainly driven by countries like Japan and China which have a high number of tea and coffee plantations. Growing demand from countries like India Thailand and Indonesia during forecast period is expected to increase overall Asia-pacific demand during the forecast period. Middle East & Africa is also expected to show CAGR of over 7% during the forecast period.
Some of the key players include in PepsiCo Inc., The Coca-Cola Company, Suntory Holdings Ltd, Nestle S.A., Ting Hsin International Group, Sapparo Beverage Co. Ltd and others.
This report segments the global RTD tea and coffee market as follows:
RTD Tea and Coffee Market: Packaging Type Segment Analysis
Canned Packaging
Glass Bottle Packaging
PET Bottle Packaging
Others Packaging
RTD Tea and Coffee Market: Product Type Segment Analysis
RTD Tea and Coffee Market: Distribution Channel Segment Analysis
Supermarket/Hypermarket
Convenience Store
Food Service
Others
RTD Tea and Coffee Market: Regional Segment Analysis
North America
Europe
Asia Pacific
Latin America
Middle East and Africa